I know I'm a bit late for Hanukkah, but I'm in time for the other solstice mid-winter gift-giving extravaganzas!
I have a few books to give away – none of them mine – but all of them very nice!
I'll give away one every few days so I can get them shipped to you by Christmas (or whatever holiday you celebrate!)  Ideally, if you win one of them it will be a lovely gift for YOU!
This is another one of Iris Schreier's books which use her lovely Artyarns and focus on projects which use a limited amount of yarn.
The specifications for these designs were hats which use ONLY two balls of yarn.
I have two hats in the book, which makes me very proud and happy!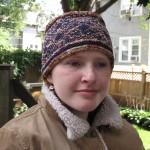 The first is a color work toque (square top) shape.  The lighter color is variegated, the dark is a semi-solid, with a squarish top and garter / i-cord trim at the bottom.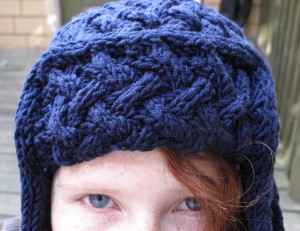 The second hat is inspired by a military hat, and because the side flaps can be worn up or down, I used a reversible cable technique.  It was my first time using it in a design, I feel that it worked very  nicely.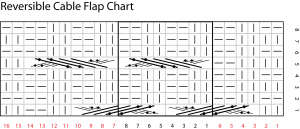 I created the reversible cable by working cables over a 2×2 rib, and being careful with the placement of the yarn as I form each cable.
Here's the chart (you may find it helpful, or it may make your head spin!) so you can get an idea of how I think through the reversible cables.
YOU could be the happy recipient of this book – all you have to do is leave a comment and tell me about your favorite hat of all time!  It doesn't have to be a knit hat, or even one that you've owned – just a hat that has meant something to you!
Leave a comment below, and I'll select a winner and send the book off on Friday.  If your name is chosen and you live out of the USA, I'll ask you to split the shipping charge ($5 from each of us), otherwise the shipping will be on me!  (When you put your email in the specified field, no one can see it but me!)
I'll have two more books to share with you over the next few weeks, now tell me about a great hat!