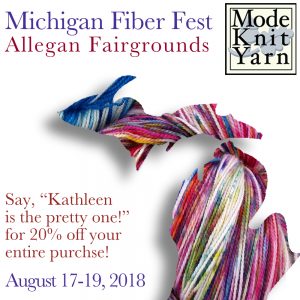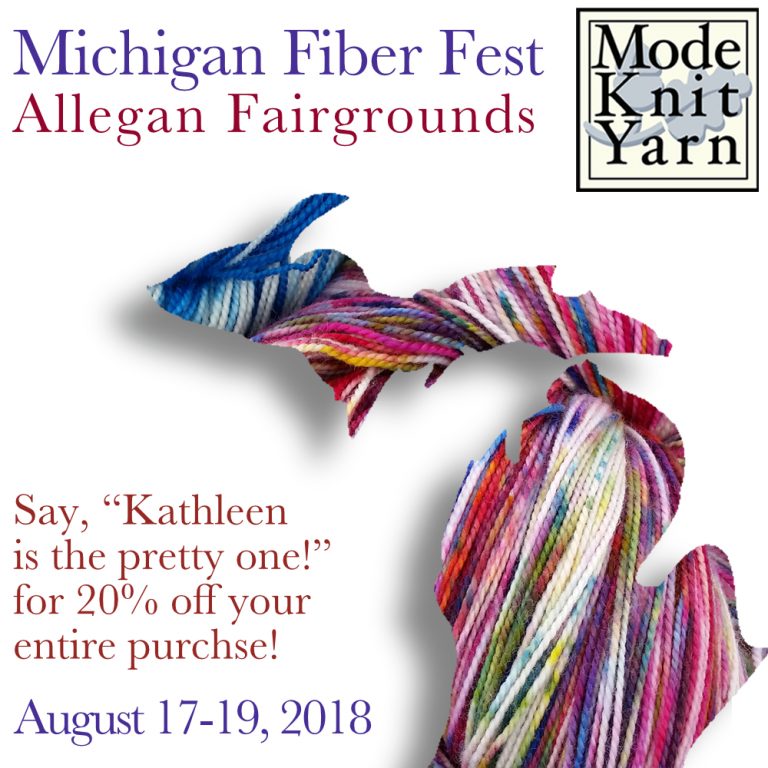 For 2018 Kathleen and I had decided that the ModeKnit Yarn calendar should be really crammed.
It seemed like a good idea at the time; try out a bunch of new shows (Iowa, Yarn Con, Houston) and stick to some old favorites.
Our schedule included The Michigan Fiber Fest (Aug), Wisconsin Sheep & Wool Fest (Sept), North Country Fiber Fair in South Dakota (Sept), an October meeting of the Minnesota Knitting Guild in St. Paul, SAFF in North Carolina (Oct) and back to Minneapolis for VK Live (Nov)  Kathleen and I bit off a LOT of travel for late Summer.
However, I'm facing the reality that this will not be happening for me.
Disappointing is way too shallow of a word for the deep, deep well of sorrow I inhabit.
I live for these shows.  I love seeing our customers, our friends, our reward for the hours of hard work I put in alone, the extrovert yang to my introvert yin side.
I had figured that after Houston Kathleen and I would have about 6 weeks to prepare for the second half of the Summer.  And I was obviously still in denial that there was something remotely serious going on with my health, even with all of the warning signs I'd been feeling since April, or even as far back as last October.
So I figured that I had the entire month of July to rest and ready myself and dye a bunch of yarn for upcoming shows.
Little did I know that instead of resting, I'd be writhing.  Because, Cancer.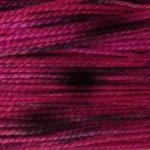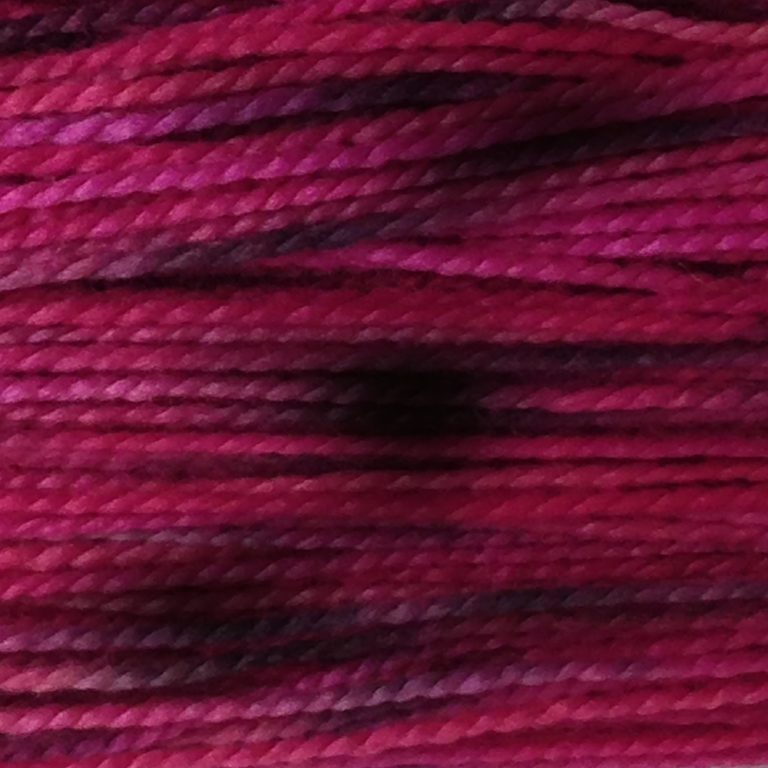 Allow me explain using the language of color and dyeing that's become my lexicon for the past 5 years.
MY BACK
is split, literally, into pieces and my spine is cracking with a large tumor that was growing free and unstopped within the T10 vertebra; it's a dark red pain, rich and full and velvet, but also lumpy with extra bits of unground pure pigment.  Thick, viscous pain.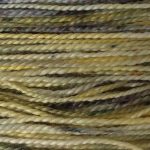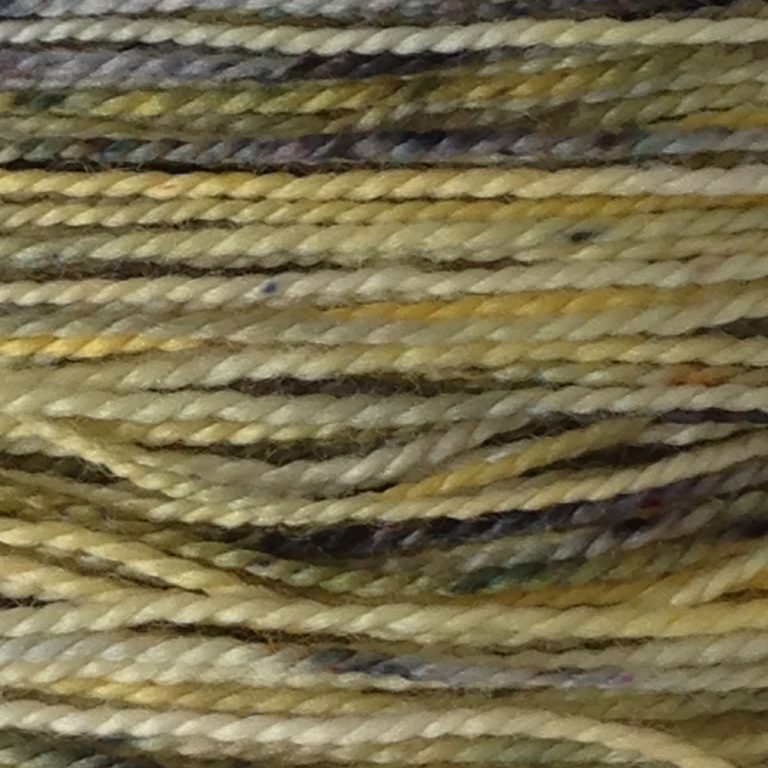 MY CHEST
and underarm area is permeated with lymph nodes, swelling and soft and tenderly painful, individual lumps of light, pale, soft, half-cooked dough with a peppering of dark grey.  There's a bright garlic sting, a shine of neon-yellow, in the center of each swelling and, if bothered, they explode into eruptions of glowing torment.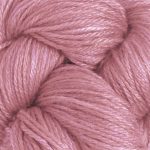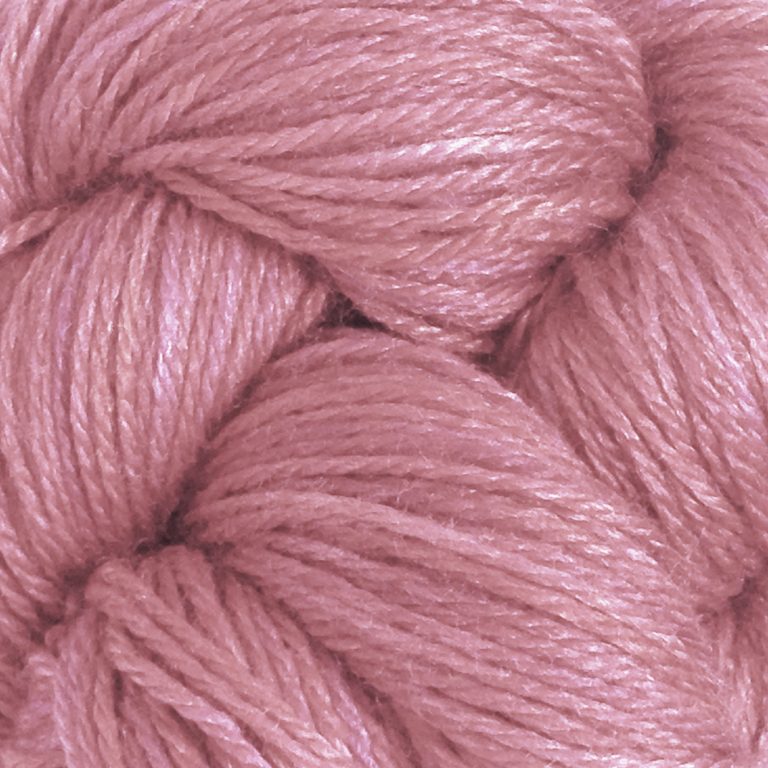 MY NECK
has a gaggle of tiny sarcoma floating around in the back, each one acting as a teensy sound amplifier. 
When a high pitched voice, the squeal of hospital cart tires on linoleum, a wailing oxygen sensor alarm breaks the silence by my bed, these rock hard little jewels light up and send that sound directly into the top of my skull, spine and jaw as an exquisite, thin, light pink flush of opal misery.
These three separate areas of metastasis were what alerted my docs that I do, indeed have cancer.  A needle biopsy under my right arm on Tuesday, into one of those tender little gnocchi of suffering along my chest, was what was required to determine origin.
The source of the cancer is one of the most important pieces of the puzzle.  It felt as though I spent most of Tuesday, Wed & all of Thursday swaddled in the fallopian tube of an MRI machine, wrapped in warm white blankets with earphones and a contrast drip while they searched through my organs and bones for some sign to tell them more about my "Cancer of an Unknown Primary"
The waiting period for that diagnosis was wretched.  My biggest fear was that the culprit would be a solid mass tumor in a yet uncharted organ.  Liver, I thought, would be worst.  Colon not so great, either.  As each organ was observed, photographically sliced and metaphorically grilled (with a fava beans and a nice chianti) and rejected as the Primary, I sighed with relief, tapping my foot, waiting for the biopsy results.
FInally, late on Friday the initial diagnosis revealed:
Diffuse large B-Cell Lymphoma, Stage 4
It's a very violet diagnosis, don't you think? It's only initial, but it's oh-so-HOEPEFUL!
Nuke Me 'Til I Glow / Let me Rest so Health will GROW
I will NOT be doing any dyeing in the near future.
(And, if I have anything to do with it, I won't be doing any DYING anytime soon, either!)
And I won't be visiting any yarn shows or fiber fests, and I will not be teaching any time in the near future.  Not only will I NOT have the energy or physical ability, but I need to dramatically reduce my association with the masses because my immune system will be shot.
Aside from the physical barriers I'm dealing with right now, I can already feel my sense of humanity —Self?— draining away. After only one week of radiation I am tired, foggy, absolutely exhausted and confused.  Of course, that confusion is also due in part to the to the head spinning rapidity of the events of this week and the liberal use of opioids which allow me to successfully pretend there's not a gigantic tumor sticking out of my back.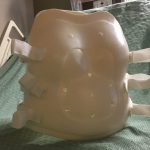 TREAT THIS, MF'er!
So here's an outline of the plan of my treatment, as it stands, and it will change.  These things are never carved in stone.
The first, most immediate step was to immobilize my back so that the tumor that was causing the cracked vertebra wouldn't create more damage, and so that I wouldn't bend over in some odd way and cause 'catastrophic damage' to the spinal cord.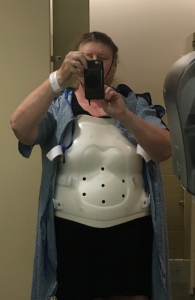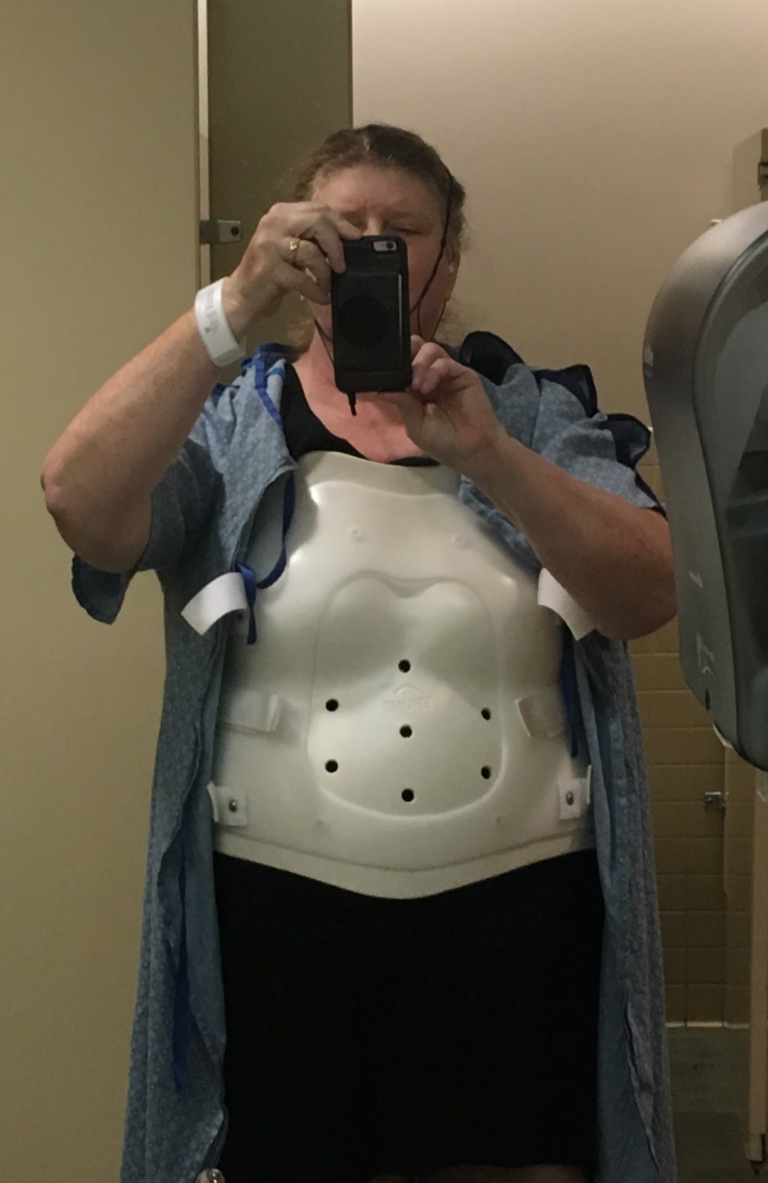 A huge, white back brace was built for me in a day, and allow me to tell you that IT IS STUNNING.
Like a Valkyrie rising high above the stage in the incomparable Death Star Production of The Ring Cycle, I glide through the hallways of St. John's Hospital in Maplewood, MN like a slowly moving diva.
Or, this halloween I'll make Gerry a wiffle bat costume, and we'll be a matched set.
For the past week I've been undergoing radiation to shrink the tumor on my spine.  This will continue for another week and a half, and at that point they'll assess the situation to see how successful it's been.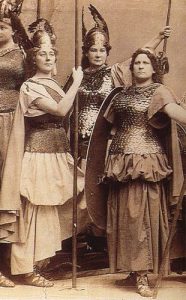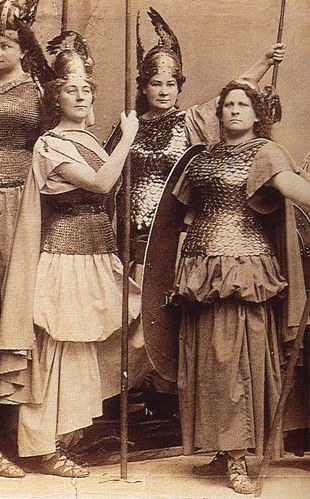 After a short break for some more testing (Spinal Tap, anyone?) and to let the radiation "settle" I will begin a course of chemo therapy to work on the lymphoma.  All while wearing this spectacular brace. How could a girl get any luckier?
Gerry realizes he already IS one lucky guy because he snapped me up (and got that $5 ring on my finger!) 25 years ago this Aug 21.  We are lucky we met, and lucky we're still here together.
Hell, I'm damned lucky that last Sunday, before I entered the hospital,  I tried to manually raise the garage door on my own.  It could have gone very wrong, I could have snapped my spinal cord.  Literally,
I am VERY LUCKY.  Ever since we fought against, and found peace with, Multiple Myeloma in Gerry's 12 rounds (and counting) we've considered ourselves one of the luckiest families on the planet.  That luck holds.  The good news is I only have to wear the brace when I'm walking for any distance or up and down stairs.  And for Sunday and Wednesday matinees.
The chemo will be tweaked to determine how often I need it, how much I need, how much I can take and all those other mysteries of medicine.  And I guess after that I just keep doing what they want me to do.  And, most important, I think I get to go home today.  It's been a week, I'm ready.
They told me to expect my port to be in for about a year, chemo could run shorter or longer than that, there are still SO many unknowns that making any kind of guess about duration and depth of treatment would be a fool's game.
I am terrified, but I am ready.