I've been trying to get my ducks in a row, using organizational skills to help me re-align my always-too-high expectations of myself.  It's working, but mentally it's difficult to re-frame how I view myself.
I realized the other day that I have been having a very hard time remembering what I do from day to day as I knit up pieces.  Work I'll do on one day will seem like it was done by a stranger when I pull it out the next day. (That may be because I've been crocheting instead of knitting…)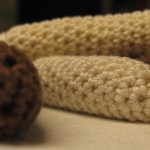 So my worksheets have become my best friends, I take copious notes of everything that I do (I'm a HUGE fan of the iWorks application, Numbers – I'm a groupie!) and I'm realizing that this may be the best way to work for the time being.
The two projects I've been working on lately (a doll for Interweave Crochet and a cute little duster cover in knit AND crochet) have taken me longer than I'd expected due to the constant notation.
I'm one step away from the old guy who writes down every thing that he eats every day.
But both projects are rather small.  Working and re-working them is a good way to ease into a new mindset about my productivity.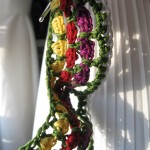 I'm trying to view this as an example that everything is in constant flux.  Nothing is carved in stone – not even STONE
Just ask the Old Man of the Mountain!
It's not a bad lesson to relearn every now and then.  It's good for the soul.
My online classes are doing very well – I'm SO happy with the students I've had (I've been very lucky!) and a recent survey I sent out to former class members is bringing me a lot of great food for thought.
If you'd like to take my classes in April, though, you'll have to move fast.  This is just a friendly reminder that I won't be offering the Guided Combo or Handbag class in May or June, so April is your last chance to take either before July. 
The Self Guided class will, of course, be able to carry on without me while I travel to Ireland and Ohio.  Work amongst  yourselves…

SPEAKING OF OHIO
I heard today from TNNA that they've turned down my teaching proposals.  To be honest, I hadn't expected they'd take them.
I've been pretty outspoken here in the blog (and to the Offinger powers that be) that I feel it's important to treat knit and crochet instructors as valued members of our industry.  I feel TNNA/TKGA has relied on the love teachers have for our craft to offer them less in compensation/travel & accommodation than the average yarn shop offers.
That, and my classes probably didn't excite them very much.
All's well, though, as the design group I belong to, The Stitch Coop, has decided to rent space and teach some alternative classes in Columbus.  These will be open to the general public (and any TNNA members who'd care to join us) and will run June 10 – 13.
Stay tuned here to my blog for registration information, and let me know if there is a class you've been wanting to take with me (that is, if you'll be somewhere near the Hyatt Regency in Columbus, OH in June!)
Ultimately, I think it will work out as a win/win; more folks can take my classes, and I can keep more of the earnings for my own offerings.
AND SPEAKING OF OFFERINGS
Max and Hannah do their chores around the house in exchange for their allowance, sometimes Max dusts & Hannah sweeps, sometimes it's vice-versa.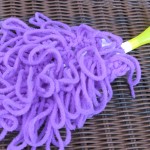 But I've noticed that since I bought a name-brand duster with a handle, both kids want to dust more.
But those paper refills are really expensive!  So I worked up a crocheted version using PolarKnit polar fleece yarn (a veritable dust magnet!) and after a few washes it's still working well.
Here's the pattern for the crocheted version, and a knit version, too! If you use one of these handle-with-prong dusters, maybe this will work well for you, too!