This has been a hard post to frame, and not because it's a touchy subject, or I'm dancing around something I think may upset some folks.
This has been a hard post to write because I can't think clearly.
This isn't just, "Where are my keys?" or "My glasses are ON MY HEAD??" fuzziness – it's a scary kind of, "What neighborhood am I in?" or "What is Gerry saying to me?" weird out-of-body feeling.  It's been coming on for a while, I've been ignoring / joking about it, but I have to face that it's something noticeable now.
How do I know it's noticeable?  Folks are telling me.
A little history:
2007 – I realized that my inability to remember phone conversations was getting worse.  Originally this had happened after my hysterectomy in 2002, but it came back with a WHOMP in 2007.  I also sort of chalked it up to the stress in our lives (see archives, 2007)
2008 – I began wearing out more easily when I taught, and curtailed my engagements – that was widely known.  But what I didn't make widely known was that I'd started getting LOST all the time.  If you know me, you know that my sense of direction is one of my great prides.  But now when I'd drive somewhere, the chances were good I'd end up lost.  Gerry got me a gps, and life was better
2009 – Doing things like writing patterns, making appointments, anything to do with numbers and a bit of memory became more difficult.  I changed how I wrote my patterns, switching back and forth between worksheet programs because I kept forgetting how I'd set up a previous worksheet.  Obviously I wasn't making the situation better.
Around this time I began finding my database work (which I love) and my very elementary html work on my webpage became very confusing.  I chalked it all up to carrying so much on my plate at one time, sole income earner, the whole thing.
…and now along with the whole Fibromyalgia diagnosis, I've started forgetting things that I've written down AND have added to my calendar.  I've also been going through another flare up with pain and all that goes with it, so maybe it's related.  However, three things happened last week that made me feel – well – despondent.
1) I missed another doctor appointment.  This is happening with alarming frequency, and this was one I was really looking forward to.  I wrote it down in several places, and had reminded myself of it early that day.  But it was also a day that we had to go to the University dental school to see how much Hannah's braces would cost, and in that excitement the appointment slipped my mind.
Not a big deal, I know, but it was just another little stone on the scale.
2) Then I realized that I hadn't changed my class limit counter on my shopping cart, so anyone who tried to sign up for my online classes in March found a "class full" email waiting for them in their email box.  The notification emails to me?  Oh, I'd set THOSE up to dump into a mailbox in my email application.  I'm so automated I'm dangerous.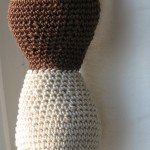 3) The last stone – MORE WEIGHT – was an email from a [wonderful] editor to whom I'd emailed photos of a project I'd just finished.  I was SO proud, SO excited to hear her comments back.
She was kind, she was positive, and then she reminded me that the finished product was quite different from what we'd originally discussed.  AND what was in the contract.  AND what I TOTALLY REMEMBERED – just not when I worked up the project.
My project was supposed to be a blend of knit and crochet, but I'd only crocheted it.  THAT was my Giles Corey moment.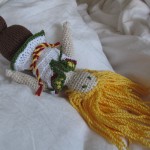 I had an idea a while ago for one of those Topsy Turvy Dolls, I pitched it to IK and we decided it would be adorable to work it as a half knit / half crochet doll.  Wonderful!
But when I started working it up, the idea of doing any of it in knit totally left my mind.  It was as if I was on auto-crochet-pilot.  And I just kept going.  I even worked up one doll I didn't like much, so I set it aside and REWORKED the entire thing!
When I finished the whole-cro doll I was so jubilant.
Then I was reminded of my brain-cation and I was very, very sad.  So sad I didn't feel like doing much for a day or so, I felt very low.  But, obviously, not as torn apart as the doll did.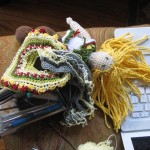 The past two days have it's been Doll Central here – I've been knitting AND crocheting to
complete the project in a timely manner, taking copious notes along the way to help me remember from day to day what I'd done, what I'd changed, and what hadn't worked.  I've barely moved from my cozy chair in the living room, so much work on such a tiny, little item.
The doll is darling.  I love her, she's very happy with me and I'm very happy with her.  I send her off tomorrow for her dark-box USPS trip to Colorado, and Gerry and the kids take off for a few days at Mt. Rushmore while a friend house sits.
Maybe some days driving on the Prairie will clear my brain?  I'm taking socks (due at the end of April) and a new lace project which I'm swatching as my car knitting.
And I plan to let my mind wander a LOT.
My rheumatologist sent me to a neurologist for some tests, an MRI (I'm dandy) and other stuff.  So far nothing is noticeable.  Except my inability to think clearly.
Brains... BRAINS!
IN OTHER NEWS
I'm very happy to have a sort of mindless knitting project, a new garment for a new online class, and it's pure delight.  I'm creating a new "Twisted Float Circular Shrug" class (stay tuned, you'll know when it's read for sign-ups!)
I'm returning to the original fiber used in the Vogue version of this, Lorna's Laces Shepherd Worsted.  It's even nicer than I'd remembered!  The yarn is soft, the definition is great, and the colors are enchanting.  I'm using Zombie Bar-B-Q and Charcoal, and when I work on this I'm in PURE HEAVEN!  Thank you Beth!
And now, back to my previously scheduled pile on.  Sorting through stuff I need to get done, and trying to organize it in a way that makes at least a tiny bit of sense!