Mistakes are inevitable, as we are humans.  I ask in my class if there are any deities who signed up, and usually I hear, "No…" Then I explain that as there are no deities in the room, I fully expect mistakes to be made.
Whether we wallow in them, use them to beat ourselves up, or learn from mistakes is our choice.  Making that choice allows us to grow as human beings.  It allows us consider our missteps as 'lessons' more than mere 'mistakes'.
I'm still feeling my way though this Fibromyalgia adventure, and I have a feeling I'll be doing that for – well – probably for a very long time!  The main difference between someone like me having fibro and someone who hasn't create a platform (blog) for themselves is that I make my mistakes, learn my lessons, I do it publicly.
Since my full-out flare up that started this past October 2009, through my official diagnosis at Christmas and my surge of increased physicality following an increased intake of Vitamin D3 in early 2010, I've been blogging about my fibro stuff as well as my knitting, my family, and – yes – my politics!  (I see them all together – all different parts of me – especially with this last battle over health care delivery.)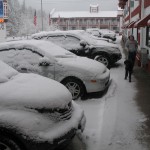 Road Trip
Ever since we moved here to Minnesota Gerry's been talking about going to see Mt. Rushmore.  After all, it's only in the next state, right? Intellectually, we knew how far it was, but I think Gerry was kidding himself. 
(My first hint of this was when he thought we'd drive out on Wednesday, see the prez's, and drive back on Thursday.  Yeah, right…)
I knew we'd be gone at least 2 days, I knew it would be a lot of driving and that I'd be doing a bit more than half of it.  I also knew this would be a chance to compare my current health during a long car trip to my former long-car-trip health.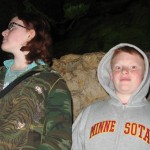 Our first day's drive was long, long, long – and Gerry did the whole thing.  I tried to knit, but my mind wandered and my shoulders hurt horribly.
When we arrived in Keystone, SD, it began snowing and I felt incredibly achey, just dismal, low, physically unable to think clearly.
Lesson: I can't sit still for long periods of time without suffering all over aches.
On Friday there was quite a bit of snow on the ground, more coming down, and all of our spirits were a bit low.  We stopped by Mt. Rushmore, but we couldn't see a thing.
After all those hours in the car, this was a definite low point.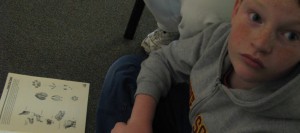 But we rallied and headed off to Jewel Cave, took a short tour and Max earned his Jr. Ranger patch and pin. This was a red letter moment for all of us!  Great thanks to Ranger Dave who helped Max (and gave us our tour) – he was a mensch!
I was the designated driver from this part on.  I have more experience on snowy hills, and I could tell that Gerry was having his own exhaustion and pain demons plaguing him.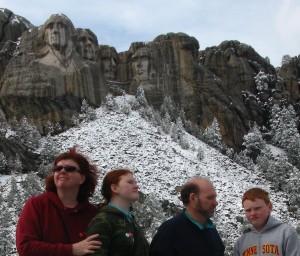 Back to Mt. Rushmore for a really beautiful, sun-filled (and snowy) view of the Presidents. 
As the snow melted it looked as though they were weeping.
We were duly blown away by the sheer size and skill it took to create such an endeavor.
If you'd asked me before Saturday if I thought carving 4 men on a mountain was silly, I may have said, "Yes, sort of…" Now I would say, "NO!"
Lesson: Seeing things in person is important to a full understanding, the long trip is part of the comprehension.

I found it very moving, and I still can't quite tell you why.  It just was.
I'm so glad Gerry proposed that we go.  But I've seldom felt so tired in body and mind – and I hadn't DONE anything physically, not anything very strenuous!
Lesson: I need a certain amount of physical (aerobic) exercise every day to keep my mind clear and to keep my body functioning.  The last thing I felt like was exercising, but I needed it.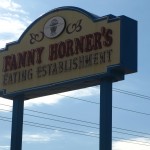 Coming Home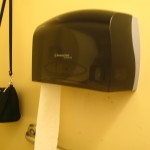 Our breakfast at Fanny Horner's (this is for my UK fans, enjoy!) was excellent, the Corn Palace was corny (bizarre to see a Segue portrayed in ears of corn…)
And I have proof that there are NOT old cobs in the restrooms!

[Forehead slap] If ONLY we'd stopped on the way TO Mt. Rushmore we would have had no need to drive all that way!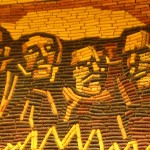 Our last stop was De Smet to experience a bit of Larry Winston Ingall (as Hannah kept calling her) Unfortunately, it was too early in the year so – it being Easter Saturday – everything was closed up as tight as a barrel of salt pork.  Summer hours don't start until May.
As a Jewish family from New Jersey, we're still not quite used to the whole counter-culture that thrived on the East Coast whenever there was a major Christian holiday.  It feels odd to me when EVERYTHING is closed on Easter, but it's also kind of nice.
Finally back home, driving straight from DeSmet to the Twin Cities.  Every mile it seemed that our surroundings grew greener, more beautiful.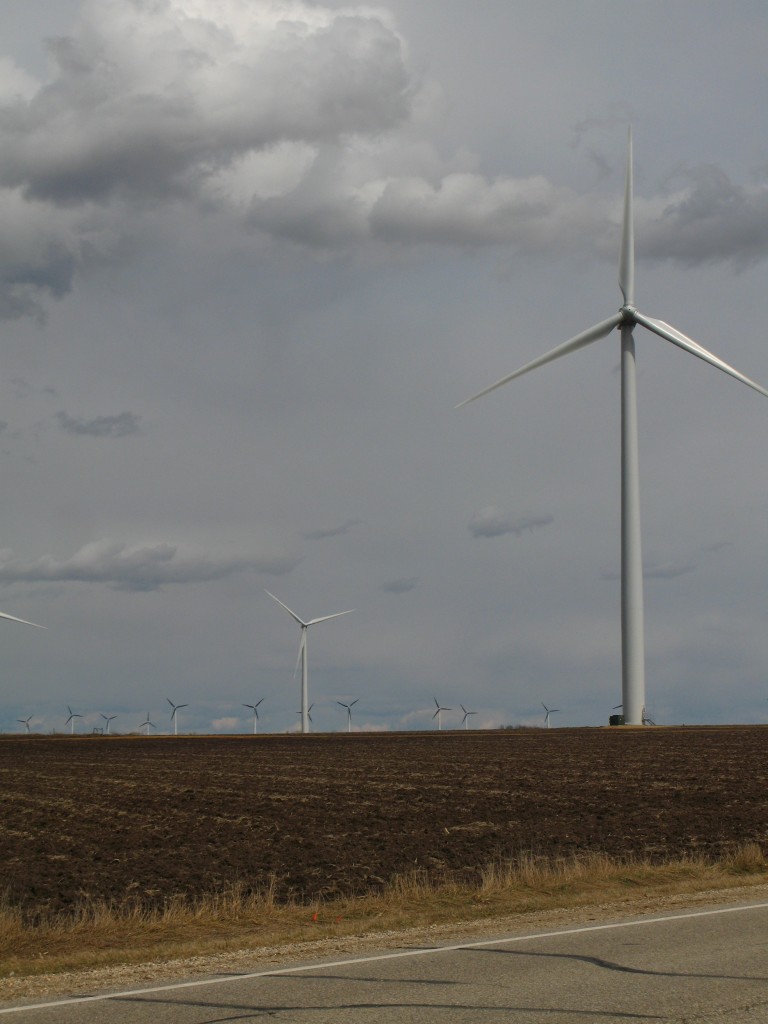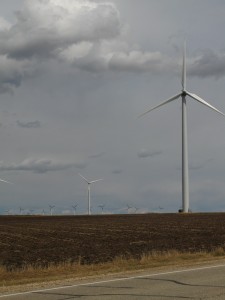 My pain made me stop every hour or so just to get out of the car and walk around, take a picture, get gas, just stand up.
We were VERY happy to pull into our own alley, good to be home!
I was a wreck, physically, though.  I felt like I had the worst flu, I felt confused and sad and in pain.  I went to bed, Gerry made dinner and the kids were wonderful (Max was recovering from his own sore throat, too)
Lesson: Even a very small infection can grab me hard and shake me until I cry UNCLE.
Today I continued my resting, sitting in the sun and working on patterns.  When I felt up to it I went for a bike ride, about 3 miles, and immediately felt much, much better.  Better than I had in days.
Lesson: I NEED to find a bike to ride whilst we're in Ireland.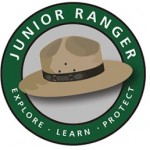 So those are my lessons from this trip.  All in all it was a grand experience, the lessons were very good.
I realized as I was riding around that my experience was, in small part, similar to TR's discovery of his better health when HE traveled out to the Dakota Badlands and grew into a rougher, healthier man.
As I rode around St. Paul this afternoon, I felt like a hardier woman.  Bully!