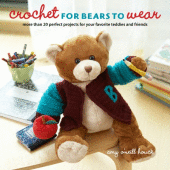 A good friend (Amy O'Neill Houck) sent me her new book, and although I don't have any teddy bears (I have a stuffed poodle), I thought it was an adorable little volume of patterns that can be crocheted for any size teddy bear.
But the REAL power of the book escaped me at first, it took a special kid to help me see the true value of this collection of adorable patterns.
Last year I taught a young friend to knit.  It was one of the most fulfilling teaching episodes of my life, as this boy is very energetic, has difficulty focusing, but I could immediately see what a calming effect knitting had on his mind and soul.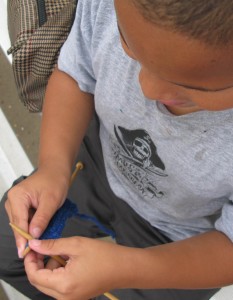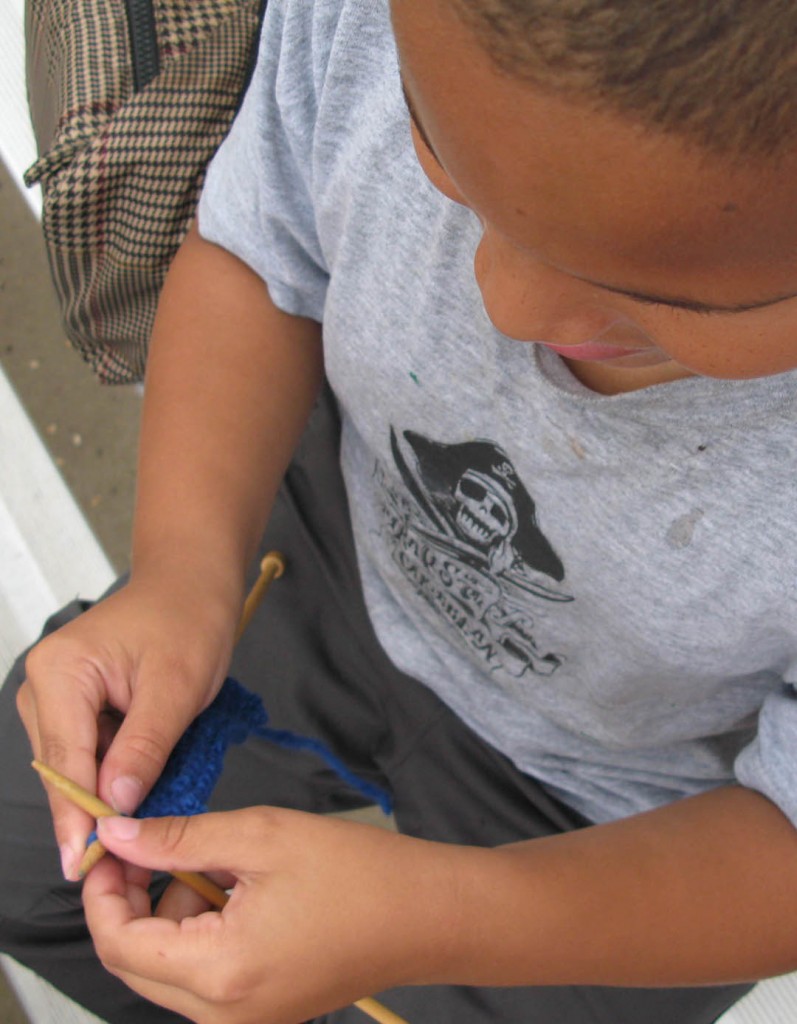 And on his mother, who was pregnant at the time with her 3rd child and could use the respite of her son's knitting!
So this year, just before the bear book arrived in the mail, my young friend dropped by (we watch the Amazing Race together each week) and noticed me crocheting like a madwoman (remember that doll I worked up 3 times?)
"What are you doing?"
"Crocheting"
"It looks like knitting…"
Which was a perfect segue into explaining that knitting and crochet are like cousins, with a lot of similarities.  The main difference is that with knitting each stitch is left live after it's worked, but in crochet each stitch is bound off as you work it, making for a thicker fabric which can be more sculptural.
My brilliant explanation totally flew over my young friend Ben's head, he just wanted to get to the YARN.  I showed him how to make a chain, and we made a passable start at learning an actual single crochet, but I could tell the spark wasn't there.
Then Crochet For Bears To Wear arrived in the mail.
When Ben arrived the following Sunday for our regularly scheduled TV appointment, the book was sitting on the table and he gravitated to it like the moon to a planet.  He devoured it, he looked at every picture, commented on the designs, the possible difficulty of some of the pieces, and – of course – how cute  it all was.
As I said, this is a very special kid with huge amounts of creativity AND sensitivity that can hide themselves in an energetic exterior.  But he's smart with his hands, and he was itching to try some of these projects.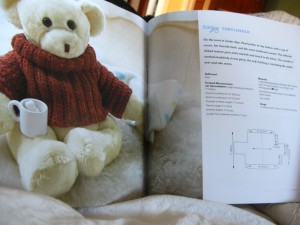 Crochet For Bears To Wear is NOT a child's book, although anyone who can crochet would enjoy working up the patterns.  It does, however, have such a wide ribbon of whimsy running through it that it would engage anyone.
Passion, fun, joy – these are thereasons we knit and crochet.  Any book that can bring so much of all three to a new – or established – crocheter is well worth owning!
In full disclosure I should say that I'd intended to offer my review copy as a giveaway to a worthy reader, but I'm afraid it's spoken for – it will go to Ben!
[UPDATE: I WILL give a copy of the book away, just not THIS copy!  Leave a message saying that you'd like the book, and I'll pick one worthy winner.  I'll need to contact you (I can see your email address when you log in, no one else can) and you'll receive the book from Amy's publisher as soon as they can get it out to you!]