We arrived in Dublin yesterday and whilst Hannah and Gerry rested, Max and I wandered along the Liffey, seeing the sights and getting our bearings.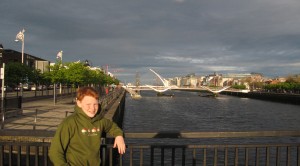 Gerry and Hannah both seemed to be suffering from some travel illness, so this morning instead of the three of them heading off to sight-see, G&H stayed home and rested.
The class at This Is Knit could NOT have been better!  Engaged and GIFTED knitters who responded well to what I had to teach them.  I felt like such a piker, teaching IRISH women to knit – who do I think I am?  But they found me amusing, and I found them charming, and it was a love fest all over!
Max and I walked home, picked up Hannah who was feeling a bit better and headed to Marks & Spencer to get Han a new hoodie and dinner for Gerry.  Back home, dinner in the oven, and I took the kids to the corner pub so I could enjoy a bit of wifi (the only free spot open near us)
For whatever reason Max had a meltdown.  I think it was just too much excitement, too much missing out on what HE wanted to do (ride a double decker bus) and too much following me around and helping me today.  He got terribly upset over some stupid joke Hannah and I were telling, and it made me feel like a piece of shite.
But the fun wasn't over.  We went back to the apartment and after a brief discussing decided we'd sally forth, get a bus/light rail pass and just ride around on double decker buses to pay Max back for being such a big help to me today.
While waiting for a bus that never came, Hannah set down my bag.  She'd offered to carry it for me because I was exhausted, and I didn't think twice about it.
Unfortunately, when the bus didn't come and we walked away to go to the next bus st0p, the bag remained behind us.  It was just too much responsibility for a 13 year old girl.
I realized it was missing about 2 blocks away, Hannah run like the wind back to the stop, the bag was there but my wallet and cell phone were gone.  I'm still a bit in shock.  As luck would have it, and for the FIRST time in my life, I had Gerry's 2 credit cards with mine in the wallet, so we've lost all our cards but the one he still had with him.  It's bad news.
Fortunately, the bag was there, Max & my passports were there, my camera was there AND my current knitting project was there.  And my makeup.  So the vitals.
I feel so foolish, so irresponsible.  Hannah felt like a bit piece of shite, too, and it took a lot of talking down to get her to understand that it really was MY responsibility.
Police reports were filed, after 2 hours online the credit cards are cancelled.  We have no phone service here and we're hoping the bus service will take American Express for the tickets tomorrow.
The US Embassy is closed tomorrow, we're supposed to go to the police department and get some form and take it to the embassy so I can MAYBE get a license to drive here.  MAYBE.  But that won't be until Tuesday, and that means another night in Dublin.  Ch ching.
And here we sit at the corner pub, me with my last 6 euros, posting to my blog.  At least I have my priorities straight…
At the advice of several readers, here's a button if you'd like to donate something to help us offset what we lost.

Everyone here in Dublin's been most kind, but it's a very hard situation to be card-less & euro-less on Bank Holiday in a foreign country…