The best part of this trip, in many aspects, is the way that it compels us to look at how we – as a family AND as Americans – use resources.  Our host family is circumspect in their carbon footprint, and although I never thought of our family as profligate, I realize now how much extra energy we DO use, and how wasteful we have been.
Will we be able to carry some of the knowledge back to our home in St. Paul?  We'll try.  I plan – at least during the warmer months – to dry some of our clothes outside.  I'm pampered enough to want to continue drying the close-to-the-body items in our nice dryer (making them soft and lovely) but there's no reason we can't dry all other things on a line, and our back deck would be the perfect place to do it.
We've been economizing in other ways here – partly due to our own natural frugality, but mostly due to our limited funds.  For the past two days our forays out into wider Ireland have included a home packed pic-nic lunch with a thermos each of black and cream tea.  The savings are such that we feel able to spend on things that we can take home and use and will remind us of our trip to Ireland.
OBLIGATORY BREAKDOWN
I've come to believe that any family trip lasting more than 1 week demands at least ONE obligatory break down, usually by – but not limited to – one of the parents.  I had mine yesterday.  It wasn't big, it took all of 10 minutes and happened in the front driveway, in our car, as we were pulling out for our day.
The upshot was that I was feeling a bit little-red-hennish.  As the organizer, chaffeur (mostly), tour guide, chief cook and bottle washer of the trip, I was feeling run down AND unable to come up with more stuff for all of us to do that would engage each of us.  A tall order, even in an enchanting place like Ireland.  I needed help.
I'd been asking for weeks for Gerry and the kids to become engaged, to look up things for us to do, to explore, to plan – all to no avail.  I downloaded walking tours of Dublin, driving tours of Ireland, I'd taken out tour books & videos from the library, but I seemed to be the only one who cared.
The result was that I was putting together all of the itineraries, which spread me thin and make the days seem a bit thin, too.  It also made the rest of the family feel pushed around, disengaged, disappointed, and – at times – complaining.
So we had a summit in the driveway, and the family agreed (for Mommy's mental health, if for no other reason) that they would become more active in the planning of our final week in Ireland.
PAST DAYS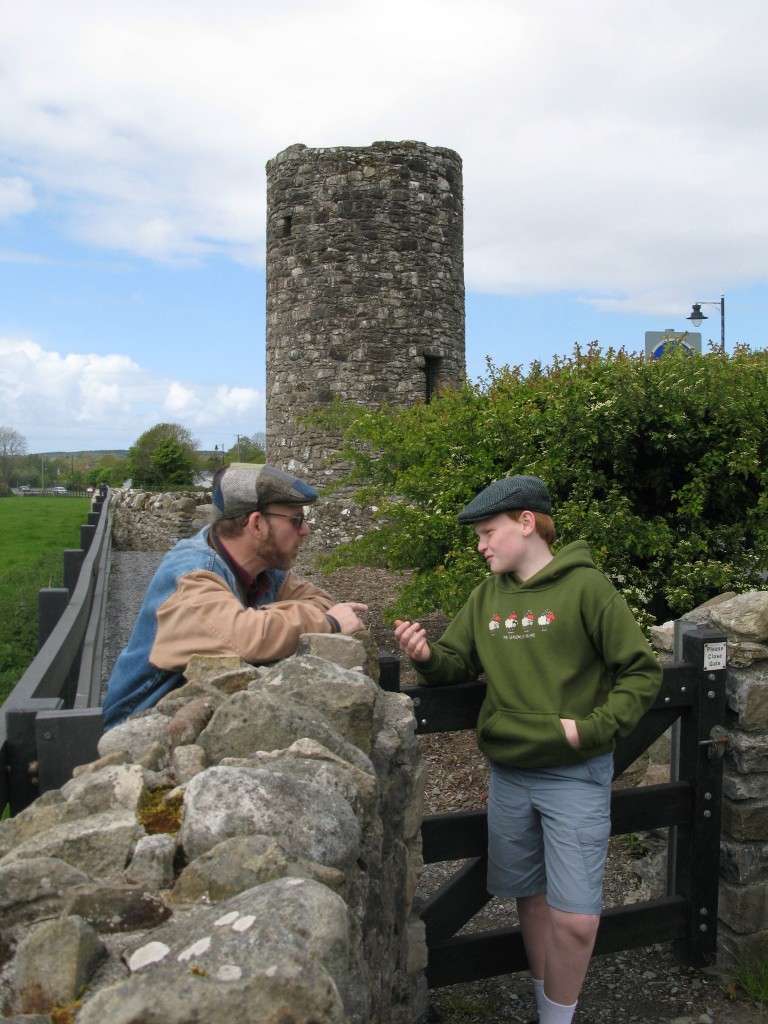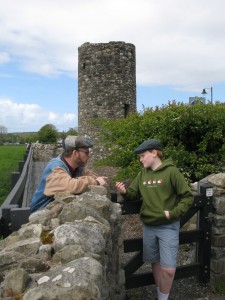 In the past few days we've done some lovely stuff, which I will write about at length tomorrow.  But suffice to say Gerry is now comfortable driving a stick shift on the opposite side of the road, too, and we visited Donegal Town, Donegal Studios, and many points between.  Yesterday was Sligo, Yeat's gravesite, Glencar falls & Carrowmore Megalithic Cemetary.  A brilliant day.  And we bought hats for Gerry & Max, a matched set, which they share.
THIS WEEKEND
Today we head up to the Northern Coast, which we'll do in two days.  We'll hit Carrick-a-Rede (rope bridge) and Hezlett House, then swing back to Springhill (owned by an offshoot of my own Cunningham family from Ayrshire) and we'll hope to see the ghost…  We'll finish at Wellbrook Beetling Mill to see how Linen is made and pass by Oakview Park in our own Raphoe on the way home.
Tomorrow we'll head to Belfast for the Transit & Folk Museum, then come home via the North Coast (again) following a driving tour by www.mytalktour.com  We'll let you know how it goes, the tours cost about £5 each, and we can play them in the car on our mp3 (we have a cord that allows us to listen to my ipod through the car speakers)
It stays light SO late here, which is lovely for vacationing.  It's also lovely as I don't relish driving on the very narrow rows after dark!  Gerry's taken the wheel a few times, and it's good to have TWO drivers.  But it's very wearing on him, I can tell, and it takes it out of him.  When I volunteered to do the bulk of the driving yesterday he was grateful AND he fell asleep immediately, so I was definitely good that he was in the passenger seat…
PICTURES
The internet chez Manse is good, but slow.  It took hours to download our driving tour yesterday (which is why we didn't TAKE that driving tour yesterday)  For that reason, it's hard to upload the photos I'd like to put into the post, but I HAVE been adding photos to flicker as I can.  You can check my flicker page, specifically my Irish trip set, to see all that we've been up to!