Today was Dublin Redux day, a day for a do-over for our family and Dublin, and it was a magnificent one!
Because Max & I are flying out Sunday and Gerry & Hannah are flying out Monday (idiotic mistake on my part…) we knew we'd have to stay over in Dublin at least one night.  The flights are morning flights, so that added a day, too, so Gerry & Hannah will be here in the Dublin area for 3 days.
All the hotels I'd looked into were booked (perhaps because it's the last weekend in May), so I went with a recommendation I'd received from a travel video (BIG mistake) and booked us into the Bewley's Hotel at the Airport.  BIG MISTAKE
Please, whatever you do, AVOID BEWLEYS.
I've heard of the "Nanny State" – but I'd never experienced the "Nanny Hotel" until now.  At each turn I feel as though the hotel guests are treated like naughty children who can't be trusted.
When one checks into the Bewley's one is met with the frustrating inability to open the window more than a crack.  I know this isn't unusual in European lower & mid-level hotels, but until now I've usually found a fan in the room.  Not here.
Our room is SO hot it's difficult to be in it without having the door open onto the slightly-cooler hallway.  We can't BUY a breeze, a passing whiff of air, nothing.  No fan is available and there is NO air conditioning because – as the woman at the desk smugly told us – "We are eco-friendly…"
The implication was clear, "We are eco-friendly, you fat sow from the US who can't live without central air for more than 1 day…"
Or maybe I just read that into what she'd said – after all, I was very hot.
Did I mention this was after a VERY hot 4 hour bus ride from Lifford to Dublin Airport in a non-air conditioned Eire bus?  Before you think I'm just being a fat sow of an American, EVERYONE on the bus was sweating and a brief survey at the ladies room during our rest stop netted the results that NO ONE had experienced such a hot bus before.  HOT, baby.
But back to Bewleys.  So we can't open the window because their "insurance won't allow it." Read: "We get a break on our insurance if we don't let folks actually USE the windows…"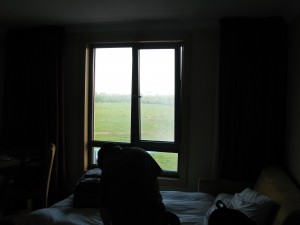 And we can't really use the windows for their other intended purpose as they are SO dirty it's hard to see out of them.  Why even HAVE windows, Bewleys?  Just to torment us?

Okay, we figured that we could just spend time in the FRIGID lounge area (no air conditioning?  Yeah, right…), paying twice as much for a cider as in any pub in Dublin, and it was only for 2 days.
Besides, it had taken SO much effort to get all of our luggage into the very tiny room (they call it a "family room" – but it's the same size as any other room, just with an extra bed in it and costing €20 more) that we quailed at the thought of finding and moving to a different hotel.
After one of the most expensive dinners we'd had while in Ireland (and we ordered from the cheap bar menu) we headed back upstairs to drown our sorrows in some fine, fine television.
Except…  The Nanny Hotel won't allow us to raise the volume high enough to hear the damned TV.  Some channels (sports, live audience shows) are relatively loud.  But the shows we want to watch (science documentary or movie) are so quiet that we have to – literally – gather around the TV so we can hear it.
Whatever it takes to bring the family together, right?
When I called the front desk to ask if there was a problem with the TV we were told that this is how all the TV's are programmed (only to go to 50% volume.)
Why?  So we don't disturb the other guests. Naughty, naughty guests, to make SO much noise with your TV-weevy…!
However, as I write this neither kid is able to fall asleep because the music from the disco below is SO loud that it actually drowns out the quiet science documentary we're trying to watch (we put the TV on to drown out the DJ and the party downstairs)
My first call downstairs was met with, "Disco?  We don't have a disco.  Or any parties tonight."
It was like Agnes of God.  Baby?  What baby?
I told the fellow at the desk that I'd been downstairs 5 minutes earlier and the music from the disco/party was so loud folks had to shout at the desk to be heard.  So he conceded, "Yes, I will speak to the DJ…" That was 40 minutes ago – no movement in volume.  Perhaps the DJ couldn't hear him?
But enough about the annoyingly smug and non-user-friendly Bewleys.  "Eco-friendly" my aunt Fanny. Back to Dublin and our lovely day there!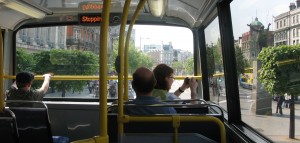 Since we're at the airport, we had to take the hotel bus to the airport, then buy a €10 family all-day pass to ride the bus into the city, all over the city, and back to the airport from the city.  It turned out to be quite a bargain, we really used the busses today!
We visited Trinity college, saw the Book of Kells and walked all over Georgian Dublin.  We visited Merrion Square Park and the statue of Oscar Wilde, the National Library and the National Museum.  Mostly, though, we just enjoyed riding around on the top level of double decker busses – something Max had wanted to do the entire trip!
After investigating the city center to our fill, we took the bus to Phoenix Park where we rented bicycles and rode through a lovely landscape (VERY reminiscent of Prospect Park in Brooklyn) for an hour.  It was, without a doubt, the highlight of my time in Dublin and I owe great thanks to whichever of my students suggested it during my class 3 weeks ago.  THANK YOU!
Unfortunately, we had a casualty when Hannah took a spill on her bike and not only scratched up her knee pretty badly, but ripped her favorite pair of jeans.  It's hard to tell which she's most upset about!
I was very proud that even with her aches and pains, she hopped back on the bike and made it back to the bike rental station where we did an initial cleaning of her wound and bandaged it loosely.
Then back on the bus to dinner, and a brief walk to a lovely cafe for tea and dessert (we like to split up our meals when possible as it allows us to see more of the city an experience more restaurants.)
One wonderful thing that happened this evening was as Gerry was experiencing a bit of his ulceretic colitis flare up (that wasn't the wonderful thing) we happened on the idea of visiting the chemists we'd passed which advertised a "Doctor On Duty"
The doctor allowed Gerry 2 days of his Asocol, the drug he takes back home but which he was running out of, and that seems to have done the trick.  We felt so lucky to find the doctor/pharmacy.  Yay!
Update: It's 12:40 and the drums have stopped.  Does this mean they'll be attacking soon?  At least we can sleep…