I've meant to write about Ireland for a few days now, but finishing up a new design AND a sudden Fibro Flare-up have shut me up for a few days.
Not always a bad thing, some might say…
It's so weird to have the fibro sneak in when I least expect it.  I had a few days in Ireland of a flare up, but it passed quickly and most of my time there was simply dedicated to experiencing such an amazing country.
I have been trying to watch my diet, to get in as much walking and biking as I can, because that's been a help with the fibro, however I realized today (as my shoulders started aching and my throat became sore) that I'd skipped my vitamin D for at least 3 days, and BOY am I feeling those effects.
Not the nicest way to confirm how helpful the Vit D3's been, but it's a DEFINITE confirmation!  It has seriously been like a miracle drug for me.
DESIGN
I'm finishing up a small accessory crochet piece for Interweave (I'm having a hard time making the working up of it as elegant and fun as I'd like, I don't like the patterns to feel too kludgy & overworked) but what I have REALLY spent a lot of time on in the past few weeks is my first piece for Twist Collective.
I'm SO excited!  I love the whole idea of Twist Collective, love that they (along with Ravelry and Pattern Fish and Interweave) offer designers a much more fair percentage than the 10% Soho Press (Vogue) seems to fee is appropriate for online pattern sales.  I credit TC (along with my own beloved Stitch Cooperative) with creating a new sense of empowerment among designers – empowerment is GOOD.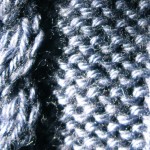 The cardigan I'm working up for TC is done in Valley Yarns Colrain, which is an absolute DREAM to knit with!  I meant to get a lot of it done in Ireland, but I ended up driving more than I'd expected, so most of the knitting took place on the plane and back home in my knitting chair.  Body comfort definitely affects knitting speed.
It's a simple design, a slouchy kind of pull-it-on cardigan, but I think it will be appealing and it's DEFINITELY fun to work up. 
Plus it has a cool belt, but that's all I can say – you'll have to wait until August to see the entire kielbasa…
IRELAND
The Emerald Isle, the trip of a lifetime for my family, deserves an entire blog post (or five) of it's own.  And my shoulders are killing me.  So while I rest up and allow the vitamin D3 to work it's magic, please feel free to check out all the pictures from my Flickr account from Donegal, Ulster, Dublin and all points in between!
CLASSES
I'm not teaching a lot in the US this year, I'm not teaching a lot at ALL, but I WILL be teaching in Columbus the first week in June!
The entire Stitch Coop will be offering some FABulous classes, with a special discount offered for those who sign up over this holiday weekend. We're teaching at the Courtyard by Marriott in downtown Columbus, and the classes are open to EVERYONE – TNNA attendees AND any knitter who'd care to come along for the ride!  Sign up this weekend for a juicy 10% discount!