Geeze, I cannot tell you how out of body it is to have your computer cease to function when you depend on it so much!  The only thing I can relate it to is – and I'm just guessing here – having a lobotomy.
Actually, someone recently told me that (it may even be in my blog comments) but I have forgotten.
So much for my OWN CPU in my brain
So I'm on Gerry's computer.  My hard drive is showing all kinds of errors so it's back to the manufacturer for a refund.  In March it became clear that I was outgrowing my hard drive very quickly. So Gerry bought and installed a new 500 gb drive for me, and it worked like a charm – until it didn't.
Apparently the drive itself is wonky.  It hadn't been acting weird, although iMovie was running weirder and weirder (I just figured it was iMovie, a rather buggy incarnation – I don't like iMovie 09 at all…)
I lost some stuff, but not much – not really.  Not a lot when I think of what I MIGHT have lost.  The worst thing I lost was 2 weeks, and a feeling of comfort that will take a bit to get back.
And, as I like to say, the only true mistake (or misstep, or minor computer tragedy) is one from which you learn nothing.  So here's what I've learned;
1. Backup.
They tell you this – the magic "they" – and they are right.  I used to use Mozy, but found I was having a hard time backing up completely and when I'd contact customer service they'd insist there was NO problem, but suddenly, magically, my files began backing up on their server again.  Coincidence?  Who knows.  But I was getting tired of the game playing so JUST LAST MONTH I began using Carbonite.
Carbonite could be better, but it's pretty darned good.  I think it's a good price for that peace of mind I had in the midst of my traumatic two weeks.  If you are interested and you click on this link, you get a month free.  Just sayin'
I also backup regularly on a separate hard drive.  I do this so I can keep yearly 'snapshots' of where my work is.  I do it at least once a year, usually every 3-4 months.  It's been very helpful at times to return to something from 3 years ago to see EXACTLY how I worked out a pattern, or where I might have gone wrong with something.
Not everyone has extra hard drives lying around, but my husband is a bit if a geeky guy, so we do.
2. Don't Get Flustered – just walk away
When I realized my computer world was heading south (in the middle of editing a video for one of my classes) I kind of freaked out.  I went through the 5 stages of grief and added a 6th stage; a full pint of Hagen Daas.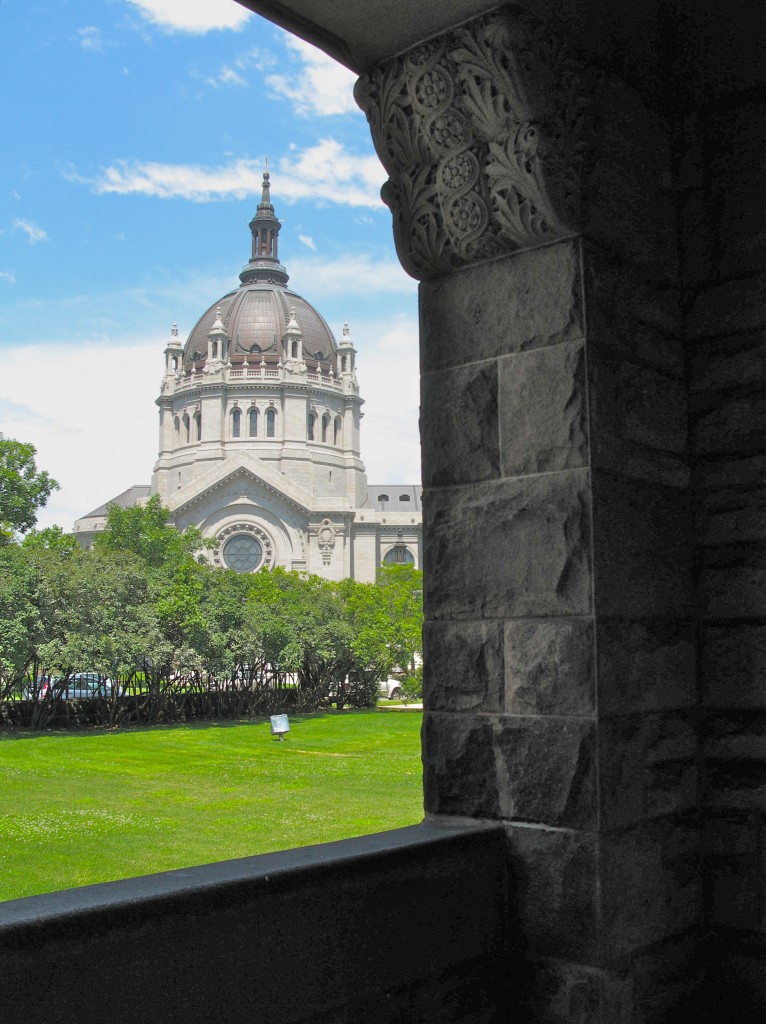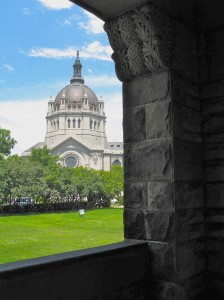 The next morning I got up early, fuddled and bemused.  In denial.  But Gerry had hooked up my old hard drive (yes, we kept that around, too, in it's own little easy to hook up case!) and somehow one of the first things I did was – don't ask me how – installed the newest operating system on my new/used jailbroken iphone.
And, of course, THIS is the operating system for which there is no jailbreak.  So I was without computer OR iphone/ipod, and it was stunning how that hit me.  All because I overreacted and began downloading things with wild abandon.  The next time this happens I will SIT ON MY HANDS for 24 hours.
3. Create Distance
Similar to 'walk away,' this is more active.  I worked hard to put myself in a zen place where I moved my brain away from the computer, as much as possible.  I am unlike most of the world, I work on my own schedule, so I can choose to have a few weeks where I am less productive.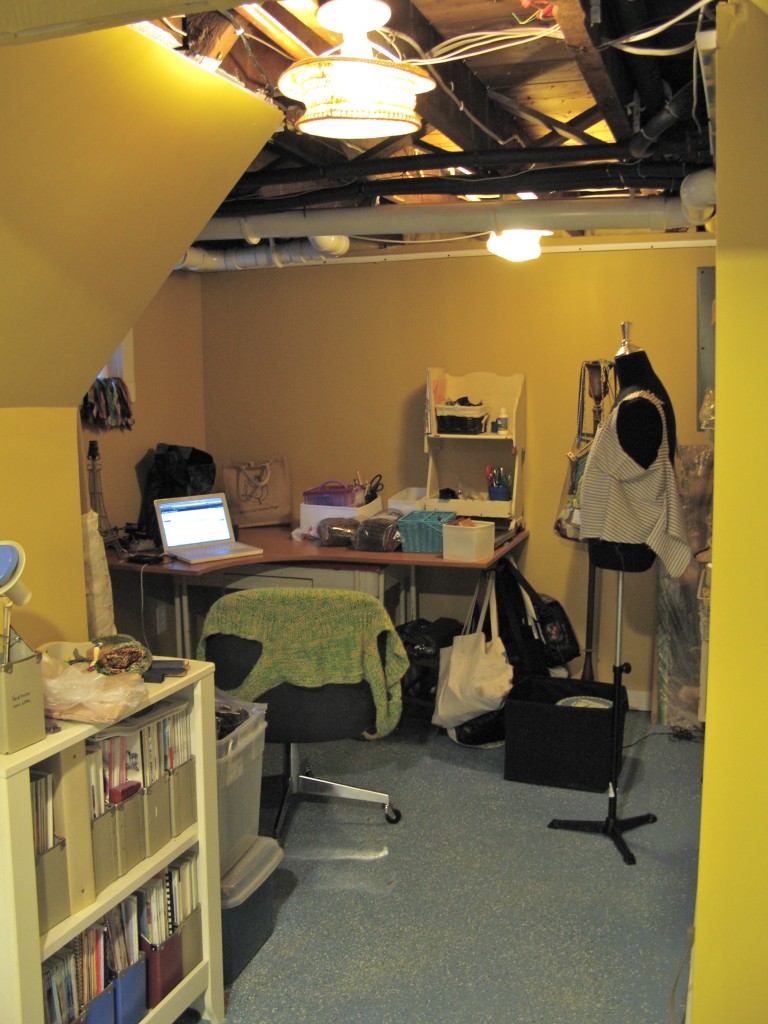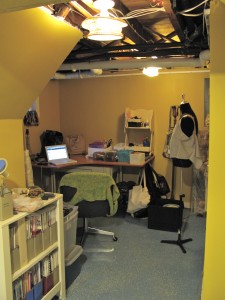 But by compelling myself to actually GO do yoga, ride my bike a bit each day, go for walks, work up swatches of
new yarns, all totally NON computer stuff, I allowed myself to see how much my worth is NOT tied up in my wonderful little MacBook.  It was a step back that's been very healthy for me, I think I'll make sure I take a computer break more often, and I've committed to attending yoga at least 3 times each week.
I'm also gifting two friends with making their wedding dresses (of fabric, NOT knitting them…)  It's something I can do well, and these are two friends who mean a lot to me.  So I made myself get some work done on the patterning, and in the process I've gone miles toward creating a workable space for myself in the basement.
See how much I can get done when I'm not sitting at my computer all day?

4. Clouds
I've slowly been moving much of my work onto off site areas, keeping my calendars at Google (syncing them with my ical every day), keeping my videos, handouts, and some of my databases on my server (yet another type of backup), stuff like that.
But I'm going to get even more serious about keeping my working files on some kind of cloud system so I won't be completely stymied if I lose the use of my hard drive (or lose my computer, heaven forbid!) I'll be using google docs more for the kind of work it's good for, box.net for sharing files.
I honestly don't know what I'd do without Flickr.  My premium membership has always been a good investment, NOW more than ever!  Because the hard drive replacement happened before our trip to Ireland, many of those images went missing in the whole experience.  HOWEVER, I had uploaded all of the ones that mattered to me to my Flickr account.  I am happy.
Gerry's felt pretty awful about this.  I don't blame him AT ALL, but he was the one who put the new hard drive in, and he tends to take blame on himself like burrs on a wool hiking sock.
He acquired a wonderful new computer through a program to get disabled folks re-educated so they can get back to work (he wants to do computer conferencing stuff since he can't really do TV production any more.)
So after he finished with his final exams last week he kindly lent me his computer to use while we wait for my NEW big ol' hard drive to return.  At least the hard drive was under warranty.
It is pretty ironic, he has this honking big hard drive of which he uses maybe 5%.  I had a teeny tiny hard drive (before the switch) and I was constantly ripping things out and moving them to new places just to keep enough space so I could operate my business.  So now I'm on HIS computer for a few days (weeks?) and I'm enjoying every minute of it.  It's like someone letting me borrow their Saab.
Today is the first day back 100% on my game, back with all of my working files installed into Gerry's computer, back using the software I'm used to.  I feel like it's the first day of the rest of my – Summer? I've started creating a working timeline for History on Two Needles, I'm actively pursuing a tech editor to see if we might be able to work well together (harder than a marriage!), I feel like I'm getting back on my game!
Imagine how cool it was to read THIS horoscope today:

Virgo
(Aug 23 – Sep 22)
You may feel as if a new race is officially beginning, yet you are barely stepping up to the starting gate. Balancing your need for perfection with your desire to reach the finish line can be tricky business, especially if there are others involved. Eagerly pushing ahead won't work any better than lagging far behind. Seek a sustainable pace that works for you and don't measure your progress by anyone around you.