On Monday my knitting group will be coming to my home for our monthly knit & chat.  Since they invited me into their warm circle in 2007, I've appreciated this kind, kind bunch of women for what they are – true Minnesotans.
They are cheerful, helpful, resourceful, and just damned funny people, too!  I love my knitting group!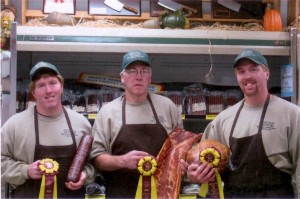 So – with appropriate grill options for the non-meat eating among us – tomorrow Gerry and I are making a pilgrimage to one of our favorite brat resources. 
We passed Greg's meats on the way to the Mayo so many times, but it wasn't until this year that we stopped in.
Oh, man, it's an amazing place. Well, if you like bacon it is.
AND they took the Grand Champion at the MN state fair in Bacon, Ham & Summer Sausage.
And [drum roll] the prices are so good they make the drive down totally worthwhile.
Now, you have to know that until we moved to Minnesota I had never eaten a bratwurst.  I know, what was wrong with me?
Now I love them, I could eat them every day (but I don't) and Greg's has some of the finest brats, sausages, bacons, meats around.  Just delicious.
As a thank you for the kindness my knitting group has shown us over the past few months, we're going to kill the fatted brat and grill up a bunch, we'll have a cookout for the knitters!
(And, as mentioned earlier, we'll make a side trip to the Mississippi Market for some vegetarian / vegan options.  As a matter of fact, I think I'll ride my bike there right now!)