I'm a cardigan lover.
I like sweaters that close in the front, sweaters that I can leave open – it's just what I like.  Of course, I design all kinds of garments, but when I'm choosing a sweater for me, it tends to be a cardigan.
So it's with great excitement that I announce not one, but TWO new cardigans that are out and available for purchase!
TWIST IT, BABY!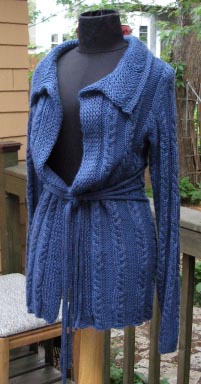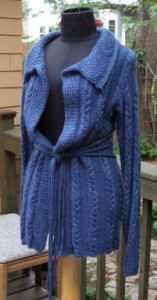 Aliquot is my first piece in the brilliant Twist Collective, and I'm very proud to be in such fine company!  I was inspired to do a three strand belt from a jacket Lucile Bluthe wore in an episode of Arrested Development (best TV show evah!)  I changed the idea a bit, and turned the jacket into a long knit cardigan with no closures, but the triple belt idea was a gift from the costumer of AD.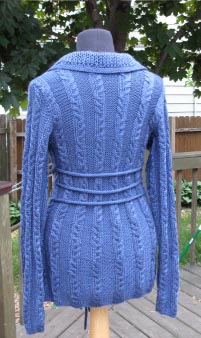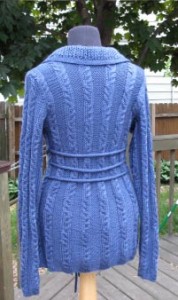 Of course, you don't HAVE to use the belts, or use just one, or two, or five.  And the way they're attached to the sweater (through side cable twists) you can adjust them for your own natural waist, or for an empire look, or even for a very low-waisted look (that's for the long-torso'd Angelinas out there…)
The front plackets and collar are worked with a double knit dropped stitch, meaning you wrap the yarn twice around the needle to create a very long stitch, then just slip it on the reverse side to create a two-sided Stockinette Stitch fabric.  It's not a hard technique, but DEFINITELY worth swatching so you get the hang of it!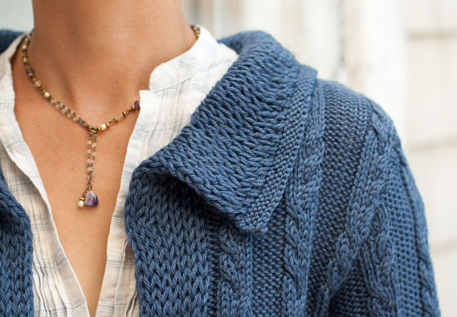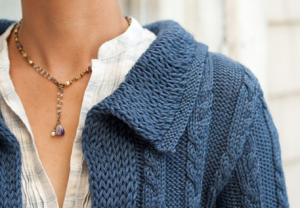 I used the same concept for the collar, with a – wait for it – twist.  I couldn't help myself…
The collar has two layers, an OVER collar and an UNDER collar.  A portion of the under collar is worked with a single wrap while the over collar continues to be double wrapped as in the facing.  This shortens the length of the stitch, and thus the under collar, which pulls the over collar into a nice, gentle fold.  The over collar / under collar technique is how most collars are handled in jacket tailoring, and I was happy to see how well it worked in knitting!
Closer to Home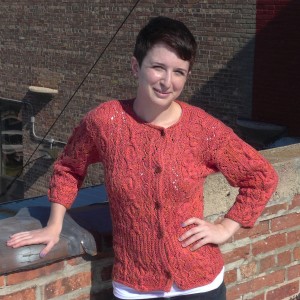 A few years ago I design a piece called Karis, a short cardigan with an asymmetrical front opening.  Recently the good folks at Lorna's Laces asked me if I'd upgrade the pattern and make it a LONG cardigan.  So I did.  And here it is!  Carissa!
Modeled by one of the beautiful staff at LL, it features their new yarn, Honor (70% Baby Alpaca, 30% silk.)
I didn't knit this up, which was kind of a luxury.  I should try this more often!
Seeing this great photo has inspired me to get my hair cut – so I'm off tomorrow to chop it short before leaving for Scotland.  It's fun long, but I just get tired of it.
So let's keep our fingers crossed that I have a good "Annette Benning" type of haircut (that's what I'm going for) and a good color like I got last time at the Aveda Institute.  After all, I have to look good for…
Martha Blogger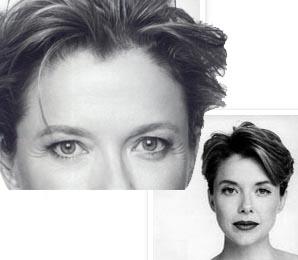 Martha Stewart is having a party for women bloggers, part of the blog her convention in NYC.  As I happen to be passing through NYC, and as I have a friend who's very kindly allowing me to stay with her on Thursday, and since I was invited (yay!) I'll be going!
I hope it's not too hot.  I'm trying to figure out something to wear that's stylish, flattering AND cool. I've crocheted a simple wire necklace & earrings that will go well with short hair, now I just have to figure out the rest of me!