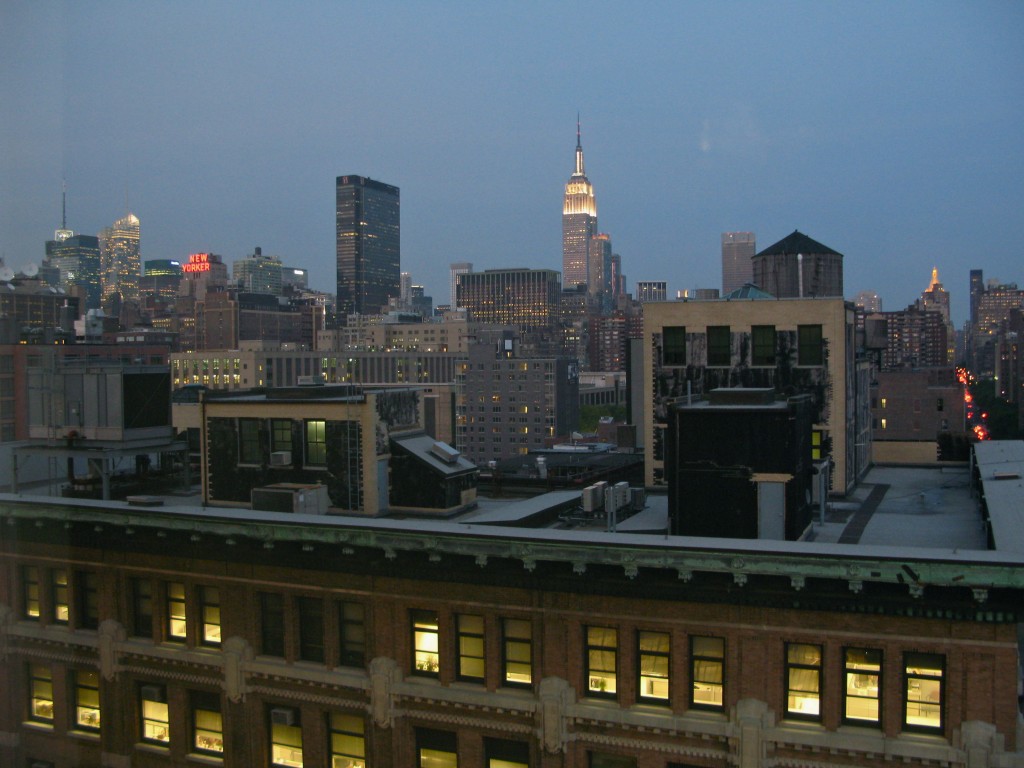 What a day.  What a great, hot, steamy, crowded, busy, head-achy, memory-lane-strolling day this has been.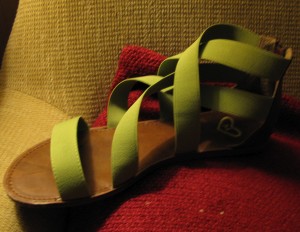 I'm in New York.  I'm sitting in my friend's apartment – the SAME apartment she had after we left college (we were briefly college roommates.) And let me tell you, I have spent MANY happy hours in this apartment!
So odd – so wonderful – to be here.  The blisters from my new shoes are NOT so wonderful.
When I moved to New York in 1982, it was into the Upper West Side.  I loved it here, I lived here for many years, then I moved to Texas for a year and when I returned I had been priced out of the UWS.  So it was Brooklyn for me  – which I also grew to love – but I never forgot how strongly affected I'd been by living on the Upper West Side.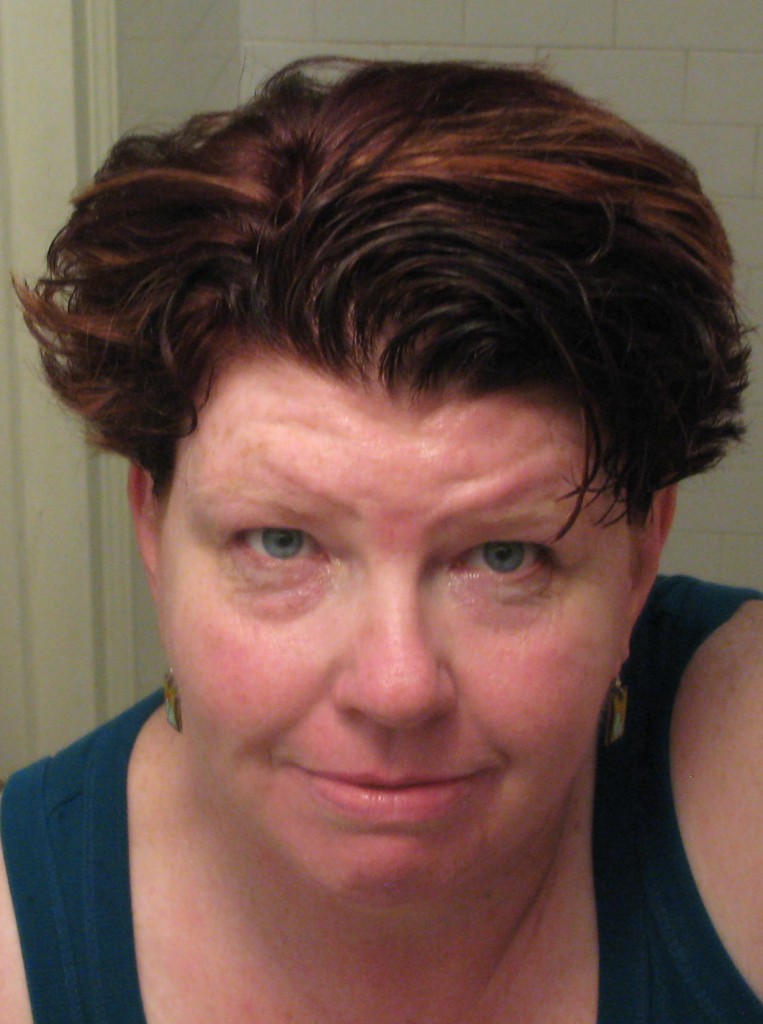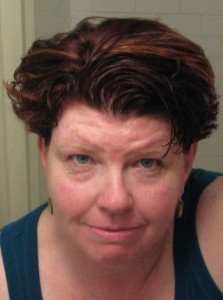 My friend is kindly allowing me to stay in her apartment, even though her family's away this weekend, and I'm very grateful.  So I was able to add an overnight layover to my flight to Scotland so I could be in town for the Martha Stewart Blogger event – coordinated to be attend-able by many of the bloggers from Blog Her 2010.
I used to work for Martha Stewart Living [Omnimedia] and it was with more than a little apprehension that I boldly accepted the invitation to the event (I'm still trying to figure out how my invitation slid under the radar…)
But I was interested – I was curious – and it seemed the planets were in alignment for me to come.  So I said yes!  And, well, I was also flattered.
Arriving not-too-fashionably late, the lobby of the MSLO* offices were crowded with bloggers eyeing each other in a 'should-I-know-you' way.
It was hot and stuffy, and the idea of lining up in a snaking mass for a party compelled a few folks to leave.  But I had nothing better to do – and as hot as the lobby was, it was much hotter outside!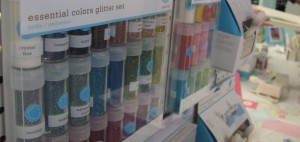 Finally it was time for my section of the line to troop into the little elevator and head up to the party.  There we waited in another line, a shorter one, but an AIR CONDITIONED line.  Hooray!
Walking through the offices to the party room I passed the video editing department – what memories – and many of the crafting areas.
It really WAS fun working at MSLO, between the tears.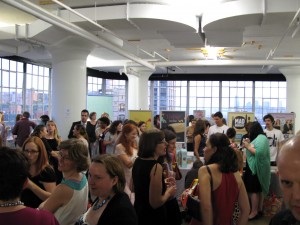 I was pregnant for a good part of my tenure (hormones, anyone?), and I was a BIG pregnant woman (It didn't help that while I looked like I was having twins another pregnant co-worker, more in keeping with the MSLO aesthetic, looked as though she'd simply had a big lunch.)
So my sense of loving my job was mixed with the bittersweet feeling that I just never quite 100% fit into the seven-sisters size six swans who filled the hallways.  But that was 12 years ago.
Today was the fête, and it was set up as a series of stations where bloggers could learn about new MS products or services with which she's affiliated while circulating, chatting and drinking.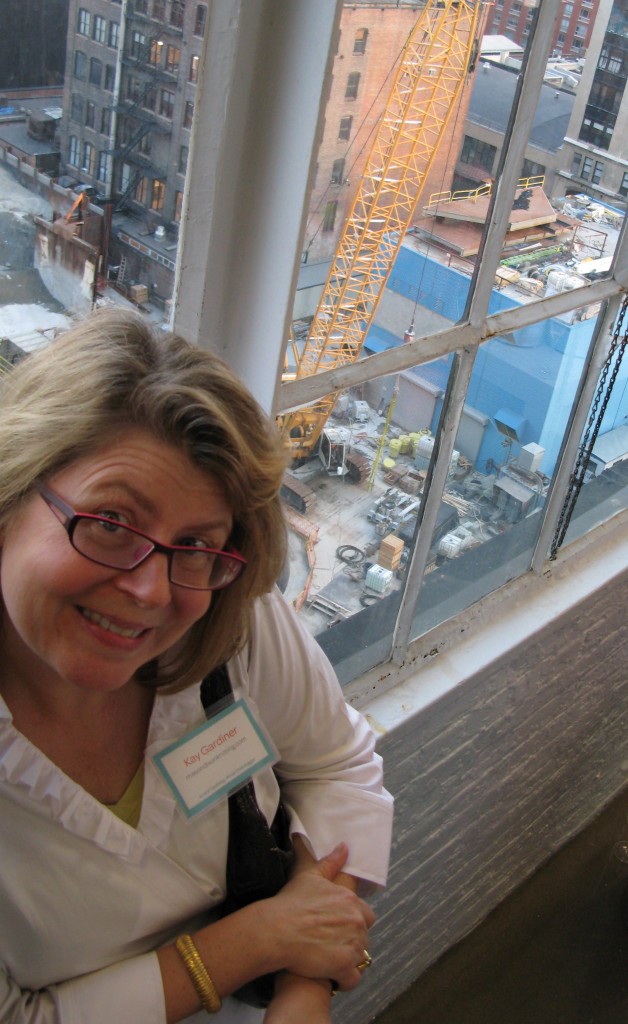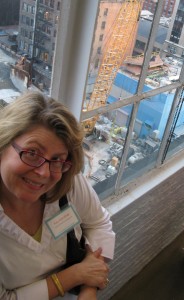 Immediately upon receiving my first glass of champagne, I ran into Caro (she took my picture!) and we chatted.  How nice to see a friendly face right off the bat!
I wandered into the main party room and who should I see but Kay Gardiner! We're having breakfast tomorrow, I'm SO looking forward to a chance for a nice, long chin wag!
It was flattering that several folks knew who I was, seemed happy to see / meet me and some had some really lovely stories about designs of mine they'd worked up.  It was totally unexpected, but balm for the soul.
And for almost the first time since going gluten free, I was SORELY tempted by the cakes, pies, pizzas and s'mores that were flowing like champagne.  But, as long as there WAS champagne (and spiked watermelon on a stick, and some green savory cocktail) I was a happy woman.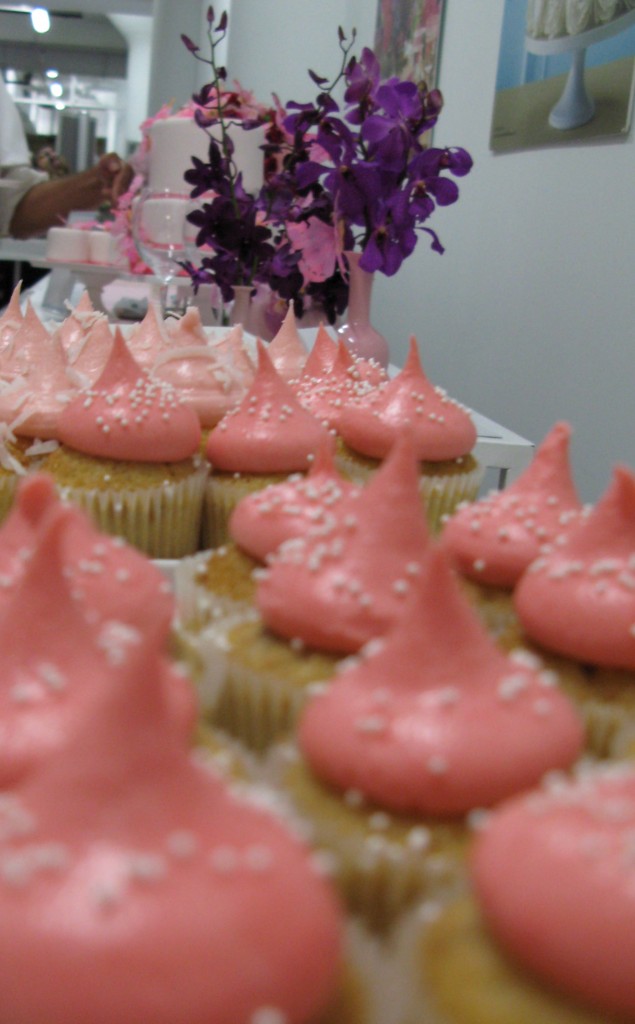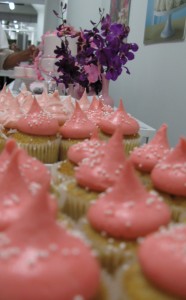 I wandered over to Lucinda Scala Quinn's table to chat up her very attractive sons (and to scam a scraper – and a T shirt!) and we immediately bonded when I let slip that I'm from St. Paul.  (And not just St Paul, but Crocus Hill where the wonderful store, COOKS, can be found.  I bike past it every time I go to Yoga!)
Apparently when Lucinda had a recent signing of her book, Mad Hungry, at Cooks, it was a delightful event and she and her sons fell in love with St Paul.  Obviously I'm sympathetic to that sentiment – it was a brief visit to St. Paul that ended with our family moving there – it's an easy place to fall in love with!
I ran into Hannah Millman, the soul of so MANY wonderful projects from Martha's books, shows and magazine.  She was happy to see me, I was thrilled to see her, and I was able to give her a copy of Twist & Loop (I brought it just HOPING I'd see her as she would really GET all of the wire work in the book!) Mission accomplished!
I love parties, I love to be silly and chat with folks and make them laugh.  I love to drink, I love to have fun, and this was so much more fun than I'd expected it to be! I'm afraid I was just drunk happy enough to totally forget the names of two lovely women I spoke with from MSLO, both of whom I gave books!  Shout out, ladies, I'd love to keep in touch!
A very odd sort of coincidence happened when I wandered over to Mara Zepeda's table where she was calligraphing – that's the word she used, 'Can I calligraph a card for you?' – special dates for folks.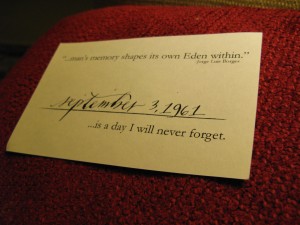 The woman ahead of me asked that September 3rd, her birthday, be written on her card.  I said, "Oh, that's my birthday, too!"
And how bizarre when we learned that not only did we share a birthday, but we were born in the same year!  Very cool – very unusual!
On the way out I was chatting with a very tall fellow who looked familiar to me.  It ended up that I didn't know him, however one of his best friends is a very talented designer [Tracy Christensen] I remember so fondly from grad school – very small world!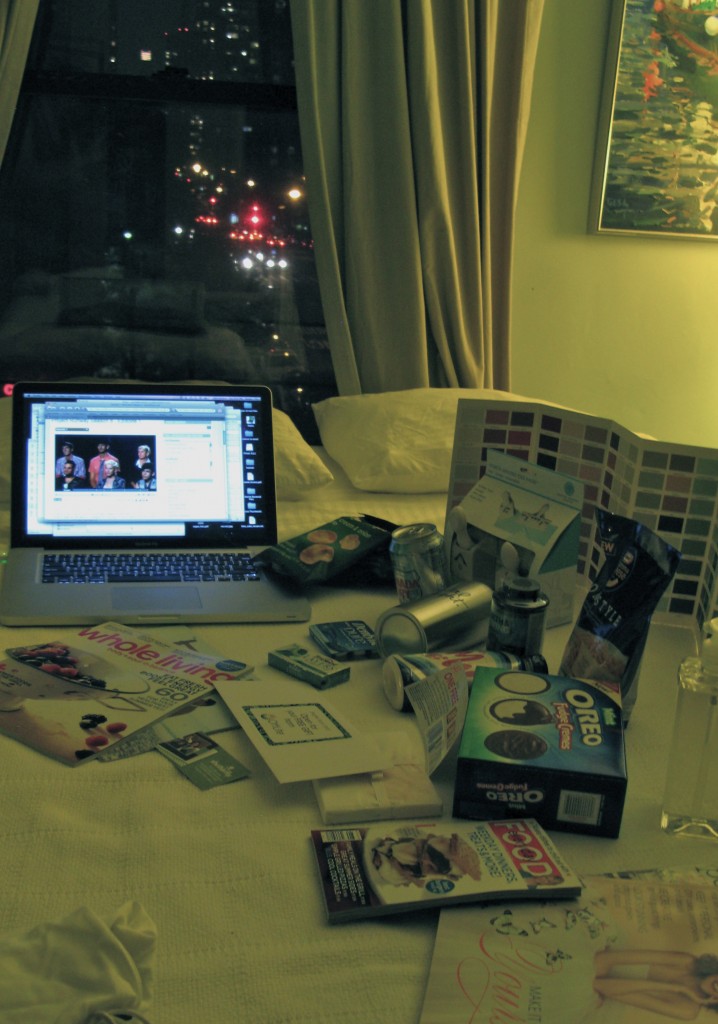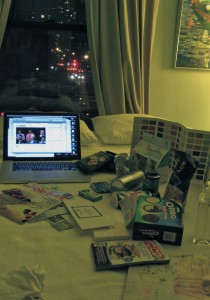 Jeff has been writing an interesting blog – sort of a MSLO twist on Julie & Julia – and I look forward to reading the archives!
And that's the kind of day it's been.  Pretty great.
I got home and poured out the goody bags.  Lots of little stuff, ads, discount coupons, but enough cool stuff to make me feel a little giddy.  I will leave most of it for my kind hostess – I hope she likes Miracle Whip…
I'm losing steam as I write this – evidently a bit too much champagne – and at 11:00 I'm ready to call it a night.  I'm such a lightweight – this would have been getting started time when last I was a guest in this apartment.
*Martha Stewart Living Omnimedia