For the first time since last October, I taught two classes back to back today.  It's something I used to do with very little thought, but now it's a huge consideration.
The classes were both amazing – such wonderful, kind and funny knitters, so eager and ready to learn, so thrilled with the tiny tips we all shared among ourselves.
The first was my Combination Class, always a good one.  This was a very smart group, though, so I was able to toss a LOT of stuff at them.
My afternoon class was supposed to be Lorilee's Continental Knitting Class.  I felt as though I might be letting the women down a bit, not being Lorilee, but by the end of the class I felt secure that I'd given them a good time and they learned a lot.  Good times!
Today were some of the most enjoyable classes I've taught, and the location cannot be beat!  Stirling is an amazingly beautiful place.  Before lunch yesterday I rode around the loch, a lovely trip, and then rode around campus.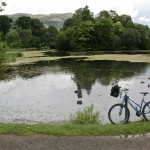 Today I went for a nice ride into Bridge of Allan, then headed off to the Tesco in Stirling (I passed over the old stone bridge to get there)
Why am I riding?  Partly for sanity – being on a bike keeps me focused and happy.  And partly for pain.  I cannot lie, I'm aching and just sitting on the edge of a mighty flare up.
I'm being sensible, missing some of the fun stuff I'd like to engage in (the Stitch & Bitch talk tonight) and using the energy I have to do some stretching and bike riding to keep the pain levels in check.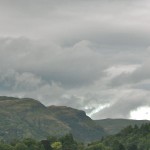 I'm certain I'll be dandy, the beds here are very comfy and every morning I wake up a new person, but right now I'm feeling the fibro in a HUGE way.
There are several women here who also suffer from fibromyalgia – we've been comparing notes on what works for us, it makes me feel less alone.  I wonder if we'll have a chance to just sit and chat during the next few days!
While on my bike today I took some great photos, the decision to rent this was wonderful, I'm SO glad I have it!