Virgo
(Aug 23 – Sep 22)
If you have been working too hard, now it's time to start claiming your slice of the fun. But the Moon is in your 4th House of Home and Family, suggesting it might be nice to have a short "staycation" instead of going out of town.
You may even end up getting your kicks today by undertaking a simple domestic project or, perhaps, by inviting a friend over to share some quality conversation.
Yay, Rick Levine – thank you!  Well, I'm staying put, that's for certain.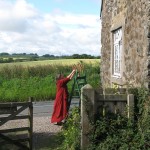 I was green yesterday.  Green from having a bit too much cider the night before, but mostly green from recovery of a week of teaching.  I haven't taught for an extended period since my fibromyalgia diagnosis, and now I know why.
It was a rather intense week of classes – 2 a day – with events with students in the evenings, wo/manning a booth at the marketplace and appearing in the Luminary panel (which was lovely, but quite hot…)
My students were wonderful – seriously astonishing – and I hope I lived up to their expectations for the classes.

But being "on" for a week takes its toll, and I've become expert at pushing away the tiredness for the present – only to have it come back and bite me hard when the dust has settled.  And that's exactly what's happened to me now.  The massive quantities of cider I imbibed on Monday evening didn't help things…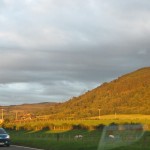 Yesterday I was so not myself.  Exhausted – shattered they say over here – and almost as if I were walking around in a different body.  American Express [car insurance] couldn't have been nicer or more comforting, and that's a very good thing.
But my muscles and joints ache, my throat is sore, my ears are ringing – in short, I'm in a flare up.  Di knows about this, and thankfully she also understands that what I have isn't communicable, it's just my wacky auto immune system on the fritz.  Sometimes she has similar issues, and this helps draw us together.  Love of fiber, hatred of fibro…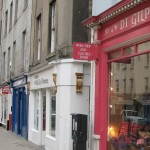 So after collapsing at Di's on Monday, and changing from light to dark to middle green all day yesterday, she and her wonderful husband have kindly invited me to just STAY PUT for a few more days.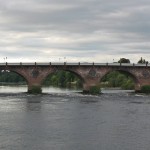 I've got control of the caravan next to the house, it's my haven and my refuge, and I think I will be doing more sleeping than I've ever done before.  This is my haven right now, I am quite fortunate.
Yesterday I rode with Di to her shop in Perth, it's a lovely, sweet little pink shop – a boutique – with small amounts of specialty yarns.  While she set up her window display, I wandered around the area and visited the Tay River.  The perfect amount of effort for a husk masquerading as a woman.
The drive back was so beautiful – it was sunset, and the light on the fields was bright and golden.  We saw a hot air balloon, watched it fire up a few times (rather alarming at first) then it set down as we were driving past.  What an evening to be up in the air!
So, Rick Levine, once again you are right on the money.
And Di & Colm, Thank you!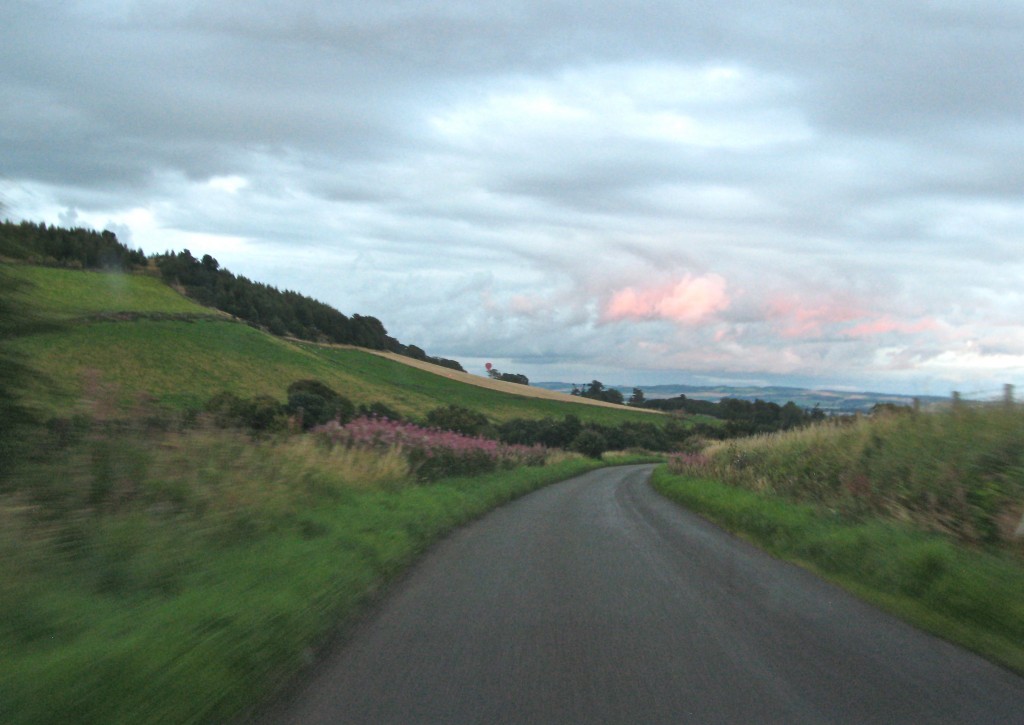 Today I taught Di the American expression, "You've got my back" – which she has right now. It's not so much that she makes me miss home any less, but she DOES make me love it here a bit more right now.