And I am NOT crying today! I'm 49.
It's a lovey day (a bit overcast and cool, but that's what I love) and our neighbors are tearing down the skanky old fence and putting up a new one, so life is VERY good today!
Roses, a beautiful mug, some green glass earrings and other cool stuff was waiting for me downstairs this morning.  I fixed breakfast, set aside warm-up-ables for the sleeping family and chatted online with the the tour organizer for my Italian adventure.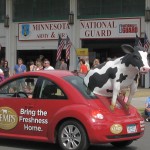 I feel very disconnected.  Not quite, "If it's Tuesday it must be St. Paul…" disconnected, but almost.
Somehow I acquired a few odd things in my suitcase (a remote control from a friend's TV, an adaptor, other stuff) so I've been mailing those items back to people along with some book orders.  And, for whatever reason, my book orders have increased so dramatically that I have to do another printing of Confessions, a mixed blessing (happy to have the sales, hard to come up with the up-front print costs!)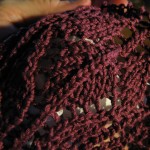 I've just finished a sweater for The Knitter that may become one of my favorite pieces of all time.  I designed it about 3 years ago, and have had it in my "ideaas" folder since then.  An opportunity to submit it came up, and I was thrilled that it was accepted.  It's worked up in Louisa Harding Mulberry Silk, which has become one of my favorite yarns in the working of this.
It's a ribbed cardigan with a lace collar and sleeves, which also feature short row shaping.  Although the SR shaping is worked in lace, I kept the motif very simple so that my head wouldn't explode.  When the short rows are finished, the lace blooms into a more complex motif, which – I must say – was a very satisfying knit!
I can't post photos of the completed garment as it's not been published yet, but here's a detail shot.  LOVE the Mulberry Silk!
Italy
I'm so excited, and yet so – subdued – about this trip.
I have had a love affair with Italian history since I first read I, Claudius by Robert Graves in the early 80's.  Most recently I listened to a wonderful biography of Joanna I of Naples, and of course I love the whole Masters Of Rome series by Colleen McCullough.  It's so much fun it's almost a guilty pleasure!
I've not been to Italy for over 20 years – and I've NEVER been as far south as Rome.  I've been to Florence a few times, but that's it (that's PLENTY!) To be able to go with a group of knitters, several of whom I know and just love, and to be able to share knitting tips and tricks and new patterns with them is going to be pure joy!
I think any hesitancy is because I just haven't been home so much lately.  When I can get a workshop type of teaching assignment, it works out much better for me financially.  It's also easier, physically, to arrive some place and stay PUT for a few days while I teach, I can recover more quickly than when I travel from yarn shop to yarn shop on an extended trip.
So instead of taking on any single engagements this year, I've only done multi-class workshop type of events.  The fact that three of these trips are happening in rapid succession (Scotland, Italy and Knitters Day Out in Harrisburg, PA) is just the luck of the draw.
State Fair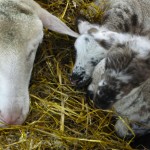 The family took the city bus to the state fair this week – we picked the BEST day to do it, too!  Sunny, cool, beautiful, and we had a blast!
We took along a friend's daughter who is a favorite with both Max and Hannah, and let the three of them run loose and ride as many rides as they could.  Gerry and I strolled around, watched the baby animals meet the world, and just acted like old farts.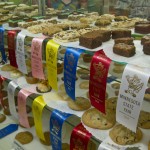 Then we met for lunch, we split up again, and I found myself a nice sunny corner to sit and crochet on a pillow project for a book.  Just sitting at the fair is an adventure – a fellow playing the pipes stood very nearby and I enjoyed his music while I worked some decorative chain embroidery!
Friends are coming up tomorrow and I'm very excited about showing them a bit of Saint Paul!  If they want to go to the fair, though, I think they'll be on their own – I'm too tired!
Fibro
It's been chilly here in St. Paul overnight, and my fibro is flexing it's muscles.  It makes me aware of how I'll be affected when the winter really does set in, and makes me very happy that I turned down any winter-time teaching engagements that were sent my way.
I think my next scheduled engagement is next March 4-6 at the WYIF Conference in Virginia (DC Area)  More to come on that as details become firm!
So I'm looking forward to some months of hunkering down, recovering from a 6-week teaching blast, and working on my move-ability.