I'm going to be lazy today – it's Sunday – and we had a very lovely and LONG day yesterday!
To see all of the photographs I've taken of Italy thus far, please check out my Italy 2010 flickr set of Italy photographs!
Like Friday, yesterday was a Roman day.  This time our entire group went in, and we had a lovely time shopping for some buttons, fabric, and just – well – shopping!  We visited with some cats who were entirely unfazed by a group of cooing American knitters.  Unfortunately one of our group wasn't feeling well, so I hope she gets a chance to go back in to Rome soon.
After shopping we split into two groups, one going to the MAXII Contemporary Art Museum, and the other, smaller group (Sheryl, Jill & myself) to have a lovely gluten-free lunch of PIZZA!! and a walk to the Jewish Quarter.
In one of those kismet-esque events, a nice couple sat next to us at the pizzeria and we began chatting.  A few facts we gleaned from this couple:
They live in Saint Paul (small world!)
One child lives in Williamsburg, Bklyn, where J lives (smaller world)
The other child lives in Maplewood, NJ, near South Orange (smaller world)
They're Jewish (smaller world)
They bike in Saint Paul (even SMALLER world)
and I hope they'll be coming to Max's bar mitzvah in January!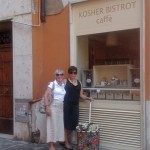 After our separate days, our whole tour group was going to meet up at a Roman yarn shop for knitting night.  But unfortunately I misread the map (it was ENTIRELY my fault!) and J, S & I walked for about 3.4 miles until we realized we had MANY more miles to go before we would arrive at our location.
It was hot, we were dusty, and we'd just passed through the Roman version of the Brooklyn entry ramp onto the Long Island Expressway (hubcaps, motorcycle helmets and car parts, anyone?)
So we hailed a happy cab with a non-English speaking driver (well, he spoke a LOT more English than we did Italian!) but he was so funny and nice, and we had a wonderful ride out to the yarn shop – and an Italian lesson on the way! 

Once we arrived at the shop we had the MOST wonderful time!  The shop was crammed with happy knitters and crocheters, many of us couldn't understand each other, but we spoke the universal language of FIBER!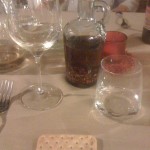 We saw some truly beautiful pieces, shared a bottle of Limoncello I'd bought earlier, and had an all around wonderful evening!
Then back to Frascati for dinner.  We were all SO tired – I left before dessert (go figure!) and snoozed as soon as my head hit the pillow!  The restaurant had some WONDERFUL gluten free pasta, but for our starter all they had were some GF crackers and beautifully flavored olive oil.  It was like having a little bit of Pesach in the middle of Rosh Hashana!
Now I head off to teach this morning – covering some millinery, some tips, some tricks, some embellishments and other stuff.  I promise a better blog post after my nap this afternoon, with addresses for the GF restaurants and the yarn shop! Ciao!