I'm sorry it's been a few days since my last post.  I think it will probably be a few more before my next one.
I was hoping I'd be feeling in better form to continue, but I'm just shattered.
I first heard the term "shattered" as a description of total exhaustion while in the UK last year.  Here in the states it has a more emotional connotation, to have one's spirit drained and wrung out.  For me, right now, both are true.
Birthday Girl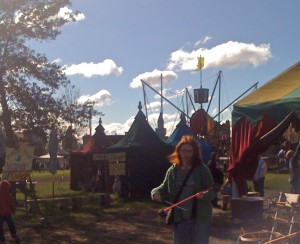 Hannah turned 14 on Sunday, and I'd promised her months ago that we'd go to the Renaissance Festival for her birthday.  I purchased the tickets on Friday, and on Saturday off we went to Shakopee for an amazing day!  Yes, it was hokey, but that was a great deal of the charm!
Hannah's friend & her mother volunteer at the festival at the Herpetological Society (snakes!) so she had a buddy to run around with for most of the day.  Gerry and I traded off roaming with Max, both of us ending incredibly exhausted at the end of the day.
A good day, but a long, long day.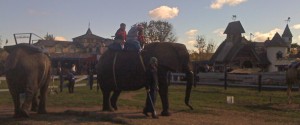 On Hannah's actual birthday – yesterday – the only thing she really wanted was to go bowling.  So we did.
Off to Midway Lanes (which is a REALLY nice bowling alley!) for 2 short games, then home for a celebration (cake for them, gluten free ice cream for me) & the longest game of UNO in the history of the world.
No wonder I'm tired.
Aftermath Redux
My exhaustion is so overwhelming, and so continuous, that I have practically forgotten how it is to not feel as if I need to return to bed at any moment during the day.  As soon as it's respectably late – around 8:30 or 9:00 – I'm off to bed.
So I'll sit tight for a few days and try to get my energy back. 
I've noticed that – for me – riding my bike makes me feel more energized, but walking – especially up and down hills – just makes every muscle in my body ache and wears me OUT.  Odd. But that explains the tiredness of these past two walking-filled weekends.
I'm sure it's the exhaustion speaking, but I've never in my life felt more than I should just stop.  Stop blogging, stop teaching, stop designing.
Of course I won't – I can't.  I know myself well enough to know that the joy I get from designing, teaching, writing – and the joy I get from writing about them – outweighs the negatives.  My work defines me, I am fortunate to find something that I love that also allows me to earn an income.
It's just – rough – right now.  But every job has it's rough times, that's part of life.
And this is my income – this is the mortgage.  The fact I'm waiting on payment from 3 venues is an annoyance (and an added expense as I have to pay interest on credit cards I use for travel expenses) but that's a story that a lot of knit teachers are experiencing right now.
The slow payments are more a reflection of the current bad financial situation than a case of venues cavalierly stiffing teachers, but that doesn't make it easier.
For more information on one of these venues, written with more clarity and calmness than I can muster, here are blog posts by Sarah, Deb & Lucy
More than anything else, though, my soul is exhausted.  I hate feeling that anything I write or say will be dissected in various ways and reconstructed with the darkest or most evil intention.
I hate that often when I open my email I find another note from someone alerting me (they really do think they're doing me a kindness) to a ravelry post where I'm "exposed" as a horrible, cruel, mean spirited harridan who enjoys making students cry and eats babies for lunch.
Actually, the last part hasn't been said about me – yet.  Mothers, hide your children.
I have a hard time visiting Ravelry now – which is a shame because it's such an amazing site, and such a positive and wonderful boon to the fiber world.  BTW, If you've messaged me there recently, I'm not really there much so contacting me through anniemodesitt.com is probably a better route.
I ramble.  And, I'm certain that this rather incoherent post will become yet more fodder for the folks who will view anything I do through a rather unforgiving filter. 
I should probably just add a disagree button here and eliminate the middle man.