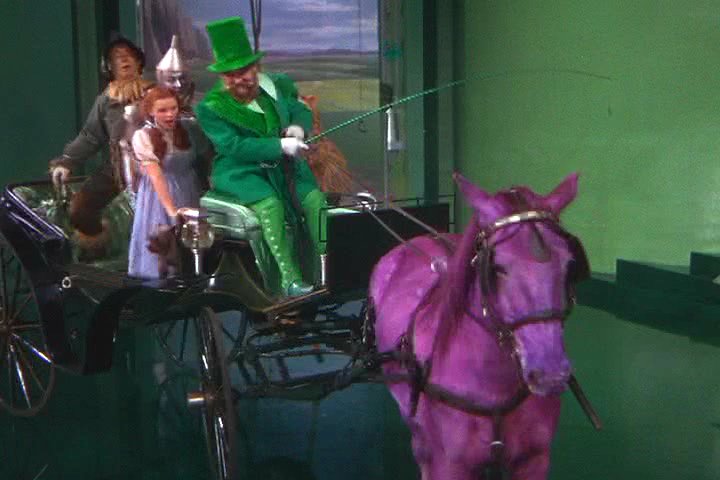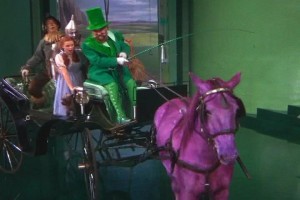 You may have noticed the blog looks different.  Well, I'm just playing around.  I have a feeling it will be a bit like the Horse of A Different Color for the next few days as I try themes on and off, and will most likely just return to what I had yesterday.
But I'm working on a totally separate WordPress website where I can offer my online classes without the assistance of Ning (although I've enjoyed being at ning – I just feel I can't control what's going on in  my classes there as well as I might…) and while playing with the themes I thought it was time to make a change in my blog.

So I'm going to try to create a members only class setup blog/website where I can host my classes.  I'm already paying for hosting space, I have the domains reserved, and now it's just a matter of fighting through certain plug ins and figuring some coding.  Yeah, that's all…
Calling all php / WP gurus – I wonder if we could do some kind of yarn/help exchange, or something…  Money's tight, but maybe we could do a barter…?
Change seems to be a theme among my friends right now.  Fall's brought the leaves, the coolness, the beauty it always does.  And, right on schedule, is my itchiness for something NEW to do.
As a good friend wrote to me recently about her current income / teaching existence, "Something HAS to change."  Yes, yes it does.  The truth is, the economy is getting better but it still sucks for a LOT of folks, there's just not that disposable income for knitting classes, and those of us who deal in teaching recreational activities need to get through this rough place.  Will teach for barter.
But my need for change runs deep in my own soul every October.
Gerry jokes with me about it – how every Autumn I seem to just scour the realm for a new amusement.  That last sentence is testimony to the many histories I've been reading.  Or maybe a throwback to the Ren Faire we went to last week…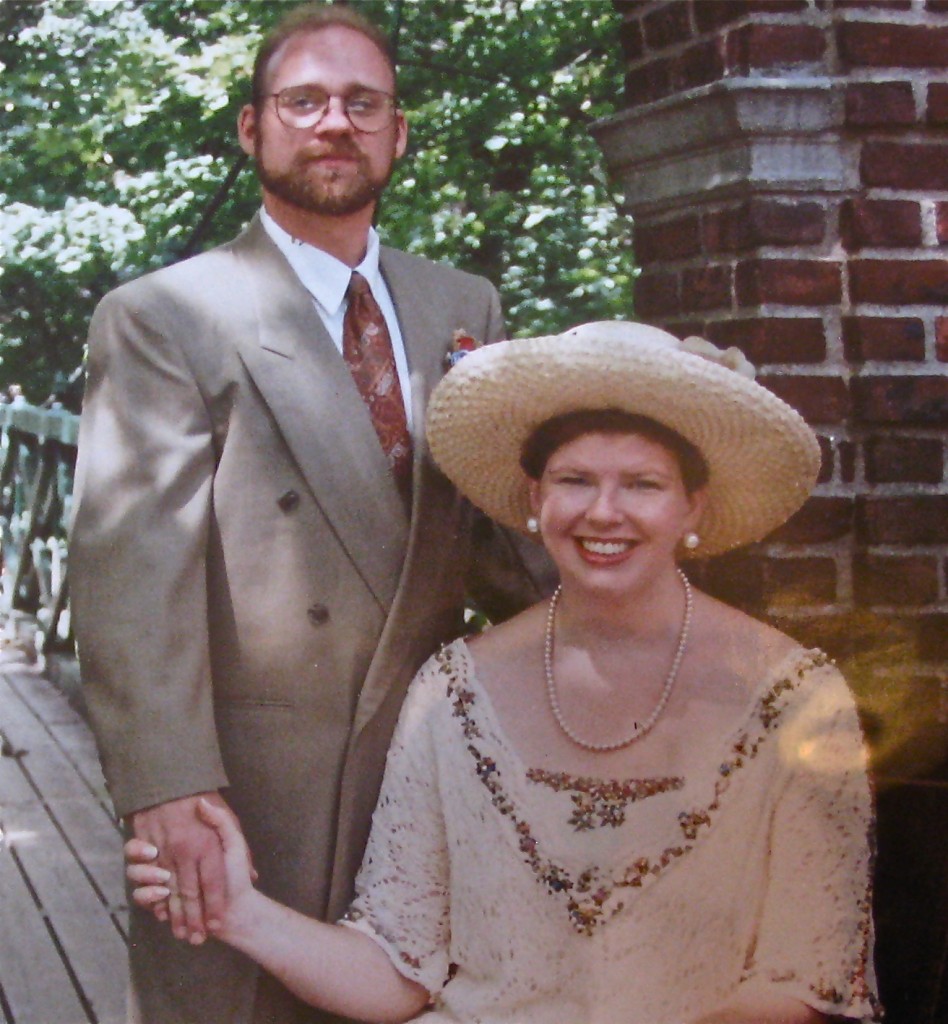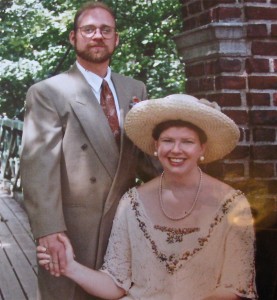 Anyway – because I wanted a challenge, because I wanted to do something different, because I wanted to test my dressmaker chops AND, not least, because two women I dearly love are getting married, I offered to make a couple of wedding dresses as gifts.
I made my own wedding dress – it was knitted – with a silk under-dress.  Both the knit tunic and the under dress were heavily embroidered.  I had a matching cake!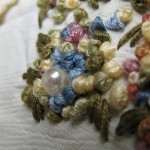 Margaret Palca, sister of NPR science reporter Joe Palca and the MOST amazing baker in Brooklyn, made my cake  for me.
She just did a very plain frosting so I could decorate it – she was doing it at a discount because we lived next door and we'd become friends.
I decorated it with tiny dots of frosting to match my french knots, and dragues (edible pearls) – it really did match the dress!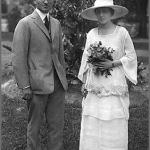 My wedding day was one of the happiest days of my life.  Wearing a dress in which I felt not only beautiful, but COMFORTABLE, made it even more special.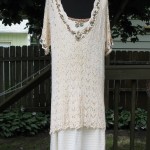 I based my own wedding dress design on Bess Truman's wedding dress.  I love the 1910-20 period, such an exciting yet subtle period in fashion, and it suits my own waist-less shape.
And, I figured, why should I pretend to have a waist and be miserable on the happiest day of my life?

My own wedding dress was a simple affair, but to be able to wear something hand made – made for me (by me) with love – well, that was an extra boost to my esteem at such a momentous time.
So – as much for myself as for my two engaged friends – I wanted to share some of their joy and be a part of their days.  So I offered, and they accepted, and they made me the happiest amateur dressmaker in the world!
KATHLEEN
Kathleen's Finished Dress
Even as I write this Kathleen is enjoying her first few days of wedded bliss.
Here Chez Landy, we adore Kathleen – she's become a sort of adoptive aunt for Hannah, Gerry thinks she's swell, I am glad to have a theater friend, and Max loves everyone.  And, of course, ALL of us adore Tom, too!
Tom is a very lucky guy, Kathleen is a lucky woman – does life get better?
No. It does not.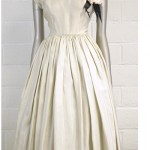 Kathleen sent me an image of a dress she'd seen.  She liked the silhouette, the length, and the general feeling of casual elegance.  Planned as a beach affair in Florida, her wedding was to be outdoors, so something not too fussy was a good choice.
After she sent me the image we talked about her figure, what might look good on her, what would FEEL good on her, and then we went fabric shopping.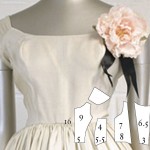 I love shopping for fabric. I spent a good part of my 20's and 30's shopping at the great fabric stores of NYC.  Not just Mood, but some of the dustier, danker, more cave-like establishments as well.
I purchased my own wedding fabric on 41st street, and when I watch the designers shopping on Project Runway I can smell that dusty fabric smell.
So imagine how thrilled I was to discover SR Harris, out in Brooklyn Center, which is as close as one can get to a great, huge, messy, dusty, splendid NY fabric treasure house.  I could spend three days on their aisle of silks and never notice the passing of time.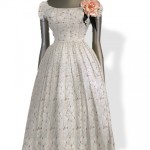 Kathleen and I started at my AMAZING local fabric shop, but which didn't have quite what Kathleen was looking for.
I love Treadle, and I feel so lucky to live close to such a great fabric collection.  But Kathleen needed something a bit more – unusual?
Off to SR Harris, and in about 2 hours we'd found our fabric.  A lovely pale cream silk noil, rich and smooth with just a hint of texture, embroidered all over with pink flowers and a wavy, directional 'stem' pattern in light brown.  Lovely.
I scanned a swatch of the fabric and photoshopped an image for Kathleen, so she could see what the dress might/should look like.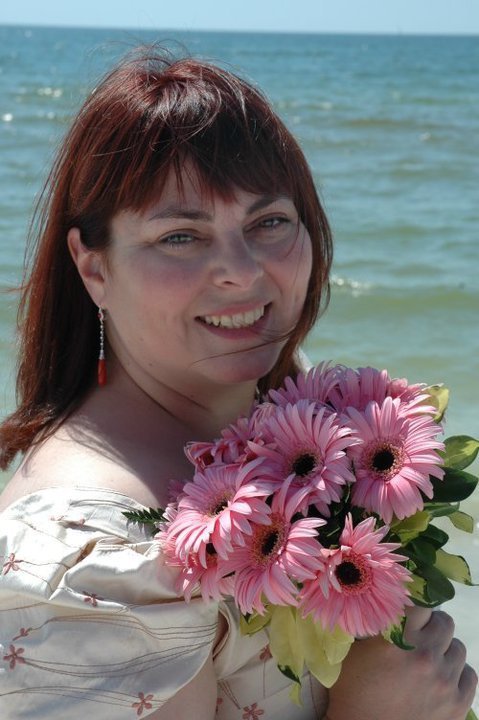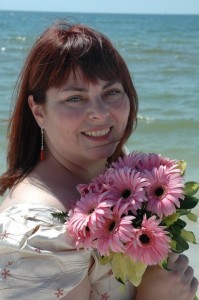 We also purchased silk lining fabric (I like to get that as close to skin tone as possible,) thread and a zipper.  Thank you SR Harris!
And the back to my bat cave.  My new basement work room!
In between my Scotland and Italy trips I worked up the muslin (in the silk lining) and tweaked the pattern.  We had a few fittings and worked out the neckline, sleeves, etc.
I used the muslin as the bodice lining, with an additional 4″ as a mini petticoat which I attached the tulle to.  I hate it when the waist is all bunchy with tulle, I'd rather have it dropped down to below the hip point.
Our final fittings went really well – it helped that Kathleen trusted me (yay trust!) and was okay with my wacky traveling schedule.
The sleeves were hard to figure out, and it wasn't until the 11th hour that I was able to make them work at all.  But that's one of the joys of dressmaking – often it's trial and error!
AMANDA
I love Amanda so much!
Amanda works for Beth at Lorna's Laces, one of many reason to love her, and has firm opinions on what she wants in a wedding dress.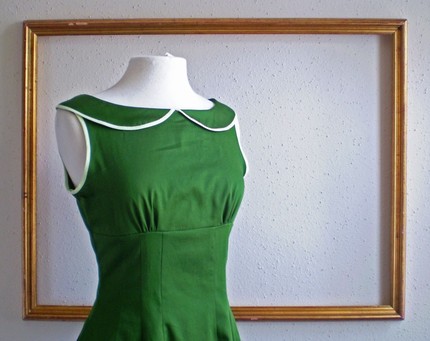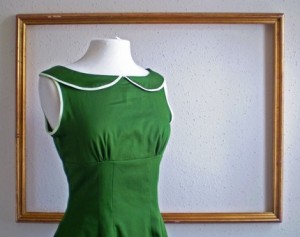 She'd sent me some images she'd found online – a really cute dress by Michelle Tan on Etsy reflected the fit she'd like to have in her bust and waist, but she also seemed drawn to a very full skirted look (similar to Kathleen's dress.)
Over labor day weekend Amanda and Derek came to St. Paul for a visit and some fabric shopping.  She tried on Kathleen's sloper (the original pattern I'd worked up) and with a bit of tweaking it's a great place to start!

Amanda's Dream Fabric
We went to SR Harris for fabric shopping, Kathleen joining Amanda and myself for moral support!  We set off in different directions, checking in every now and then to show what we'd discovered.  Nothing I pulled seemed quite right, nothing Amanda found was exactly what she was looking for.
But just when I was beginning to be afraid that we'd have to call it a day, Amanda wandered into her DREAM fabric.  It's not what most folks would think about for a wedding dress, but it's sensational – AND it's very Amanda!
I've washed the many, many yards (we bought extra, we got a discount for finishing the bolt) and it looks just as beautiful post washing as pre-wash.  This is a GREAT fabric!

So right now I have fabric, and I have a dress idea from Amanda.  We've been kicking some other ideas back and forth, so far this is the silhouette which has excited us both.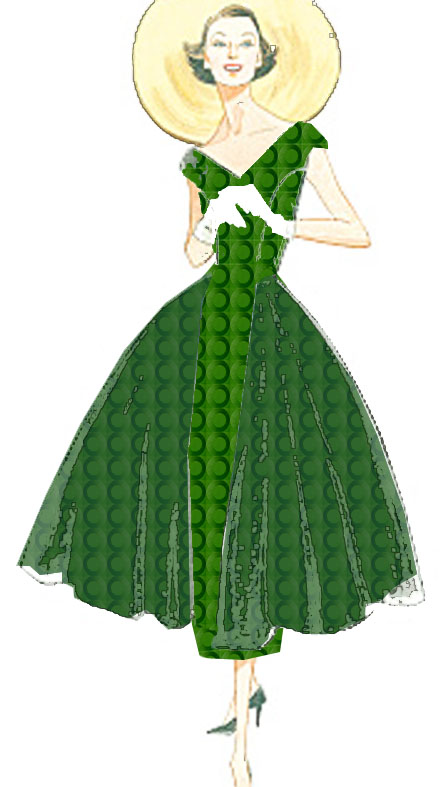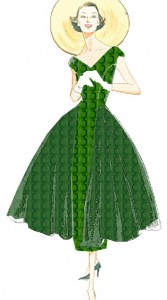 An underdress which is relatively fitted, with an overskirt.  Of course, this may change.
It may be the original silhouette will work better, we'll have to figure it out as we go!
I'm SO thrilled that Amanda is open to this kind of fiddling around, I think it will lead to a VERY exciting dress!
So as I continue on Amanda's dress I'll post every now and then – she's given me permission to blog about our adventure together.  YAY, Amanda!