I was feeling so damned full of self doubt yesterday.  Thank you, dear readers, for your great comments and suggestions.  I feel a bit more like myself today;
I've showered
(this is not a small thing during a fibro flare up)
I'm dressed
(there's a first time for everything)
I'm heading out to a sunny place to get some light and interpersonal interaction
(which I've been missing…)
And I turned the corner on my yoked sweater, huzzah!
I figured out the insane math that will allow me to line up the stitch patterns at the shoulder seams.  I think.
As soon as I get it figured out for one size, I discover I've screwed up another size.  Matching up variables (different sizes, increase rates, etc.) is satisfying when it goes well, but it's MURDER when it's not making sense.
I guess my horoscope today is AMAZINGLY on target:

Virgo
(Aug 23 – Sep 22)

You may lose your motivation today if your work has become too routine. The problem is exacerbated by your overactive imagination that makes it nearly impossible to concentrate on the necessary details. Showing your vulnerability can help. If you pretend that you have everything all together then others won't be able to step in and offer assistance.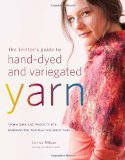 L
O
R
N
A
S
LOVE
I love mixing variegated yarns with solids or semi solids, and I've worked out some strategies for figuring out how to blend them, but anything I've come up with pales in comparison to the brilliant techniques Lorna Miser writes about in her new book, The Knitter's Guide to Hand-Dyed and Variegated Yarn.


This is a very helpful book.
I've just finished a project for IK which combines solid & self-striping yarn.  The use of color was a delight to figure out, and I'm so thrilled with the results that I am having the HARDEST time not blogging about it. (Well, that and the fact that I broke my camera so I don't have great images at my fingertips…) I found having Lorna's book as I worked up this new project to be quite helpful.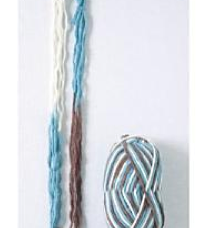 But enough about my IK project – back to the book!
Lorna has become a household name since creating her beautiful yarn line, Lorna's Laces (the company was later sold to Beth Casey, who runs it magnificently in Chicago!)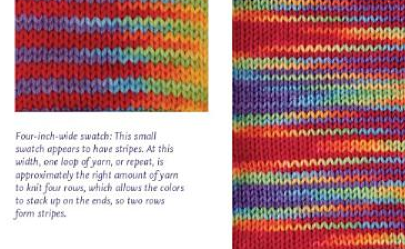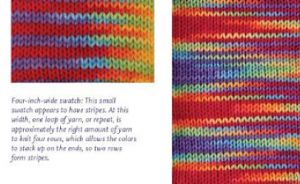 Lorna explains in full detail how to determine whether your yarn has a dye pattern that is "one way" or could be worked from either end of the skein with similar results.
She covers how a yarn can look entirely different depending on the size of the area worked (which is one reason why entrelac is such an interesting proposition with variegated yarn!)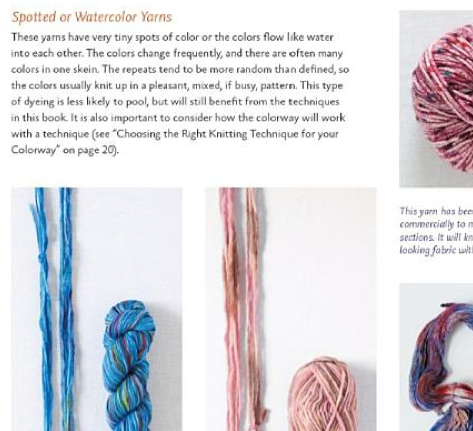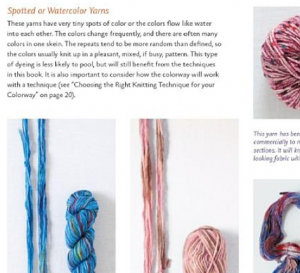 This may seem like a silly detail, but with this knowledge a knitter can be empowered to better control their knitting and get the color results they desire.   Knowledge is power!
I really like how Lorna took apart skeins to show how the colors repeat, that will help make self striping and variegated yarns make more sense for a lot of folks.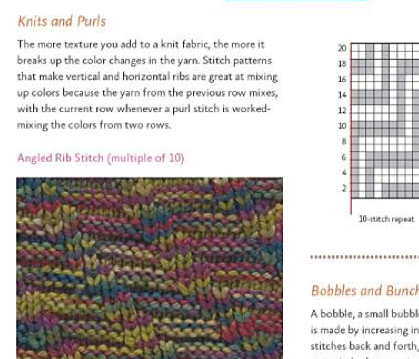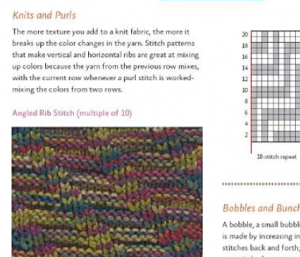 Her comparison of different commercial, easily obtained yarns with boutique yarns is also eye opening.  This section of the book alone will make many knitters yearn for a swift (I use a metal umbrella kind) so they can easily unwind & skein purchased balls to figure the dominant color in a skein.
Lorna includes patterns, most of them rather simple (as befit multi-colored yarns), so that her techniques and tips can be tried out and experimented with immediately.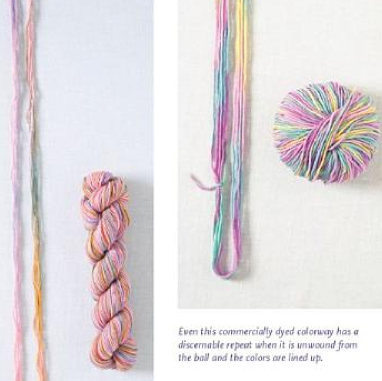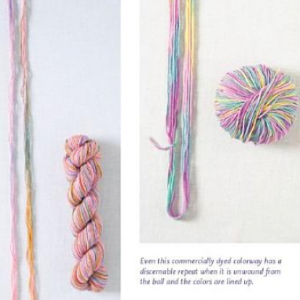 I can see many yarn shops using this book as a jumping off point to instruct their customers on how to use variegated yarn in the most efficient and targeted way.
For folks (like myself) who like to knit with multi-colored yarns, The Knitter's Guide to Hand-Dyed and Variegated Yarn is incredibly helpful!  This is a very good book to have on the knitting bookshelf, and one that I can see myself returning to again and again for reference.