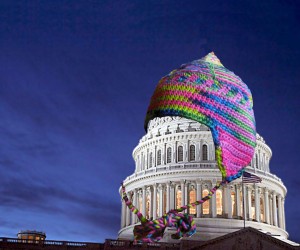 I'm finishing up my fourth hat this week, and you might wonder why…
It's not a charity hat per se, although I've knitted many of those.  It's not exactly a gift, although I know who the intended recipient is.
I'm knitting in the hopes of facilitating a bit of civility in congress.
It's an idea that Alison at SpinDyeKnit and my friend Ellen at Twinset had, and it's explained in greater detail here at facebook, and on Alison's blog.
I'll write a letter to put with each of my hats, which will read something like this note by Ellen:
Dear Congressperson,

This hat was hand knit with care for you.  Many of your colleagues will also be receiving hats from knitters of all political stripes and from all around the nation.

Why a hat?  Knit hats meet a simple need for warmth.  They are an every day comfort.  Everyone can use a good hat.

Civil political discourse also meets a simple need – the need for our government to have the best information and insights from many viewpoints.  It would be an every day comfort to me and many other Americans if the airwaves were free of hate-filled rhetoric, and it would lead to good government.   As I'm sure you agree, everyone can use good government.

Thank you for your service, and best regards,

Annie

P.S.  More information about this effort, Warm Hats, Not Hot Heads can be found at http://twinset.us/?p=3732 or http://spindyeknit.com/2011/01/lets-change-the-world/.  If you can not personally use this hat, please donate it to a worthy charity.
I've chosen a few congress folk with whom I agree, and some who I don't, because that seems in the spirit of the whole thing.
Ellen's keeping a tally of who has agreed to knit which congress critter a hat, and whether they're sent off individually or together is still being decided. 
I like to think of this as a knitters version of Senator Franken's Hot Dish Cook Off a few weeks ago.
It's a small thing, but sometimes the softest gesture can have the firmest impact.
If you'd like to be a part of this effort and knit up a hat for a congress person to express to them your hope (and expectation) that they engage in civil dialogue while working on our behalf, contact Ellen via Ravelry (she's twinsetellen) or leave a post here and I'll get the information over to her (don't leave your email in the actual comment, just type it in the email box and it will be hidden from the world but visible to me!)