When I'm quiet for these extended periods you can be certain it's one of two things:
1) Either I'm having a fibro flare up and I'm laying low,
2) Or I'm working so hard on so many different deadlines that I can hardly stop to breathe!
Happily, for the past weeks it's been the latter!
I've been designing, working, planning, dreaming, video taping and busy, busy, busy every minute of the day. Have you noticed the new website design at anniemodesitt.com (it's so chic and sleek!)
My Knitting Millinery class is FINALLY ready to go this weekend (yay!) and I've got more than 25 signups since I announced it last week.  That's faster than I thought – and it makes me glad that I offered my new, upgraded Knitting Millinery book as a free gift to the first 50 folks who sign up (btw, there's still room…)
The longer daylight hours really increase my ability to sustain a workload – I'm SO looking forward to Spring that I can hardly wait!
Oddly, when we lived in NJ I knew that Summer would mean days – and weeks – of temperatures in the upper 90's to 100's, and I would just DREAD the onset of Spring.
I loved May, I loved October, but the months in between were just too danged hot for me.
Out here in Minnesota it's true that the Winters are long and hard; very rough at times.  But the promise of Spring, Summer and Fall are so sweet that (for me) it more than makes up for it.
Every person is built differently, but this is the weather for me.  It's ironic that I had to come to such a cold place to fully enjoy, appreciate – and love – Summer.
CURRENTS
I'd love to start offering my classes as downloadable files and DVDs, it's just getting around the logistics of that.  I hate the idea of forcing folks to log onto an online classroom if they'd rather just have the information in a portable file.  Still pondering on that one!
I've just sent in a few designs for Interweave and I'm working up a few more.  I have some submissions to go out to some other magazines, and I'm working hard on History on Two Needles and a new book idea I won't yet mention.
GROWTH & BALANCE
I allowed myself to get off balance this past year – to let comments worm their way deep inside of my psyche – and it was a mistake.  Who knew that finally at 50 I'd begin to learn not to let folks get into my head? Have I learned that?  Will I ever learn that?
BIG lessons this past year have included ignoring the idle chatterers who don't have anything good to add to the conversation, while at the same time listening to constructive comments that will help me become a better teacher / person / knitter.  It's a constant struggle, but ultimately the perception that matters is the truth I try to find in my own heart.
Another big lesson has been letting go of anger, pain and inertia; allowing folks to make the same mistakes that I've made so often in my life.  I've fallen short so many times, why should I carry around a scorecard of the mistakes of someone else?
If I want forgiveness and redemption, then I have to be prepared to give at least that much.  Even if someone hasn't asked (or doesn't really care) whether I 'forgive' them, it's healthier for me to move to a kinder place and just assume the best.
Facing these things, especially in the past few months, has allowed me to contemplate going out on the road again to teach.  Strength through humility, huh?
ON THE ROAD?
I'll be traveling to Ohio for TNNA in mid-June, and would love to set up teaching engagements on the way out and on the way back from Columbus.  I will also be traveling out to Michigan in October, and I'm contemplating driving.
If you own – or know of – a shop in this general area who would like to host me, this will be a great chance to get in on a multi-city tour (which means diminished travel costs for everyone!)  I've set up a new page with upcoming teaching engagements, please contact me if you own or manage a venue that would like to host me!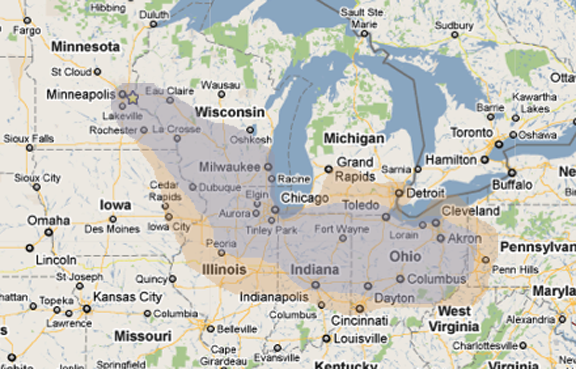 I'd love to stay in the blue / orange areas, but of course that's not carved in stone!  If I get 2 or more engagements in New England, or Tennessee/MO, or up in Michigan, it will probably make it worthwhile to drive there.
SCARED
I have fear as I start to set up teaching dates again, and I hate admitting it.  But I've lived my knitting/teaching life pretty out there for all the world to see, so why not be honest about this, too?
Here are my fears, in stark black and white –
Health
Will my health hold up?  Based on how well I did last year, and how well I've been feeling in general this year with no gluten, good exercise and Vitamin D3, I'm feeling very positive about setting up some teaching trips like I used to take.
Ability
Have I 'lost it' as a teacher?  Am I past my prime?  Do I have anything worthwhile to impart to folks?  I'm working up new ideas for classes (and I'd be thrilled to get your input on what you'd like to take) but there's always that nagging feeling that I'm just not up to snuff.
The online classes have been brilliant at forcing me to distill my teaching into better, more nutritious bites.  Going on the road will mean adding some whipped eggwhites to soufflé some of my knitting techniques so they're better for a large and varied audience.  Can you tell I've been watching a lot of Top Chef?  Go Team Carla!
I can feel a growth in knitting coming, and I can feel the economy growing, too.  I feel this is a great time to get myself back out on the road.  I could use the in-person energizing, that's for certain!
I've been chatting casually with friends about teaching in Holland (a biking, knitting kind of tour) and I'd love input on that, too!  I've never been to Holland, but I know so many amazing knitters from that lovely, bike-friendly country (including the fastest knitter in the world, Miriam Tegels!)
Well, I see our time is almost up.  I've enjoyed having this session with you, thank you.