I've had this dream to write a series of patterns based on pieces of stained glass (windows, lamps, sculptures – just about anything…)
So I got a few sketches together, contacted some yarn companies, and all is going apace – folks are responsive and I'm getting very excited about the whole process.  Some of you may have noticed that I'd been pinning a lot of stained glass pieces on pinterest (a web site I'm now addicted to!)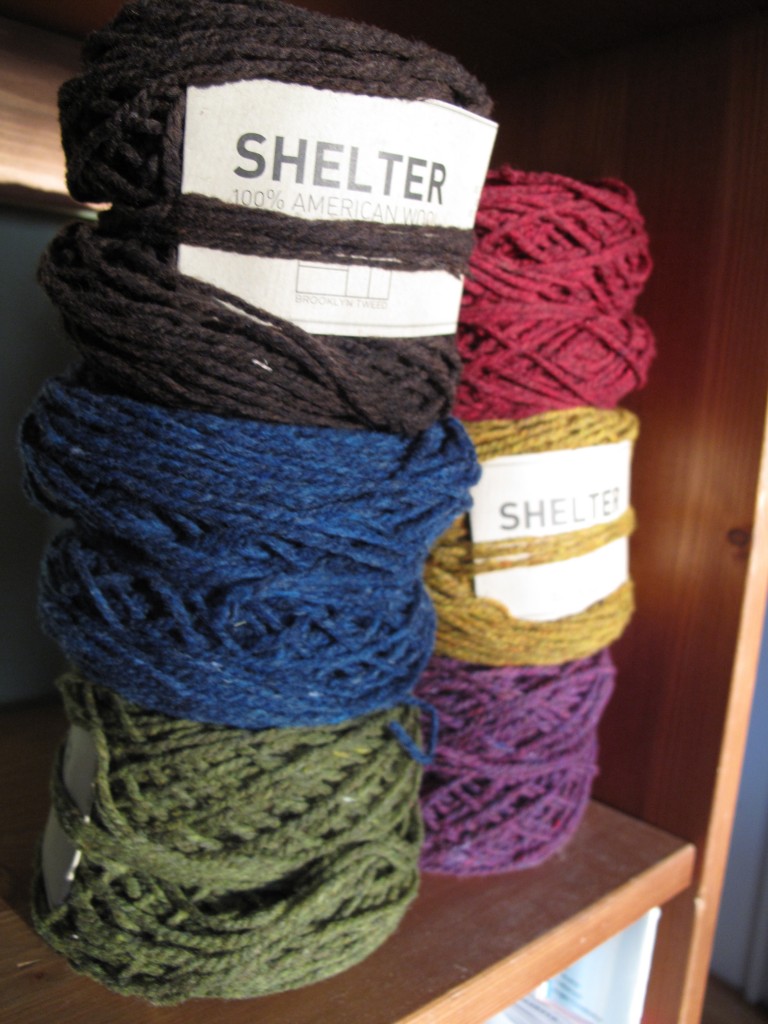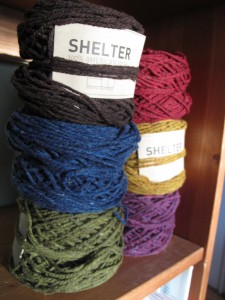 One of the yarns I was dying to work with was Jared Flood's Shelter, which is a magnificent fiber for SO many reasons! 
I highly recommend his recent 5-part blog "tour" of the yarn making facility to give you a nice overview of how much work it takes to create a lofty, soft, toothy, colorful, rich yarn like Shelter!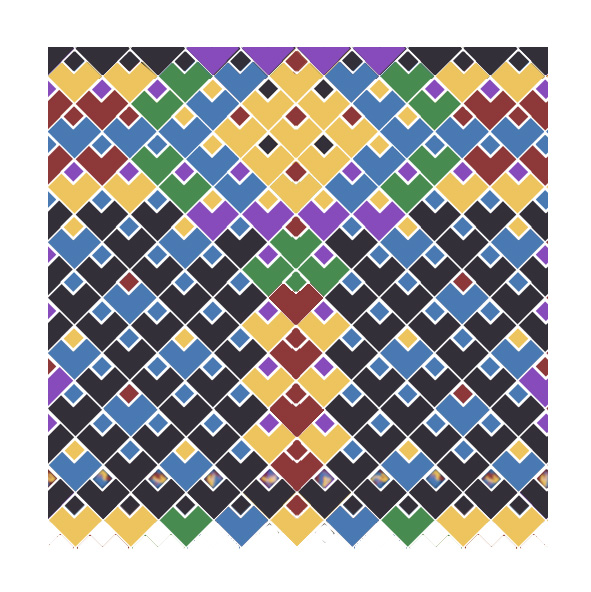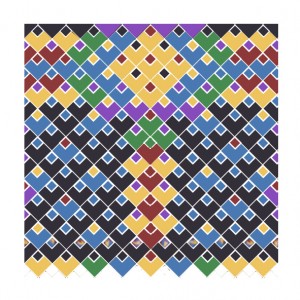 I worked up a chart of how I'd like to approach a stole or wide scarf worked in shelter, acquired the yarn from Jared, and set to work knitting away.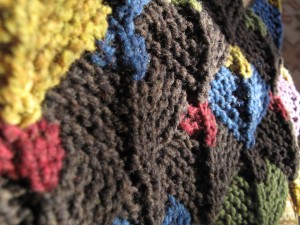 But a funny thing happened about 40 hours into the knitting.  I hated the fabric.  Not the yarn – I love that!  But I hated how tightly I'd chosen to knit this up, and the fabric was too heavy.
The yarn itself is light and lofty, but I'd not taken into account how dense it could feel in garter with a bunch of miter joins, and I just didn't like how dark the fabric was looking.  This was a function of how much Pumpernickel I'd used in concentrated areas – the whole thing was just too dour.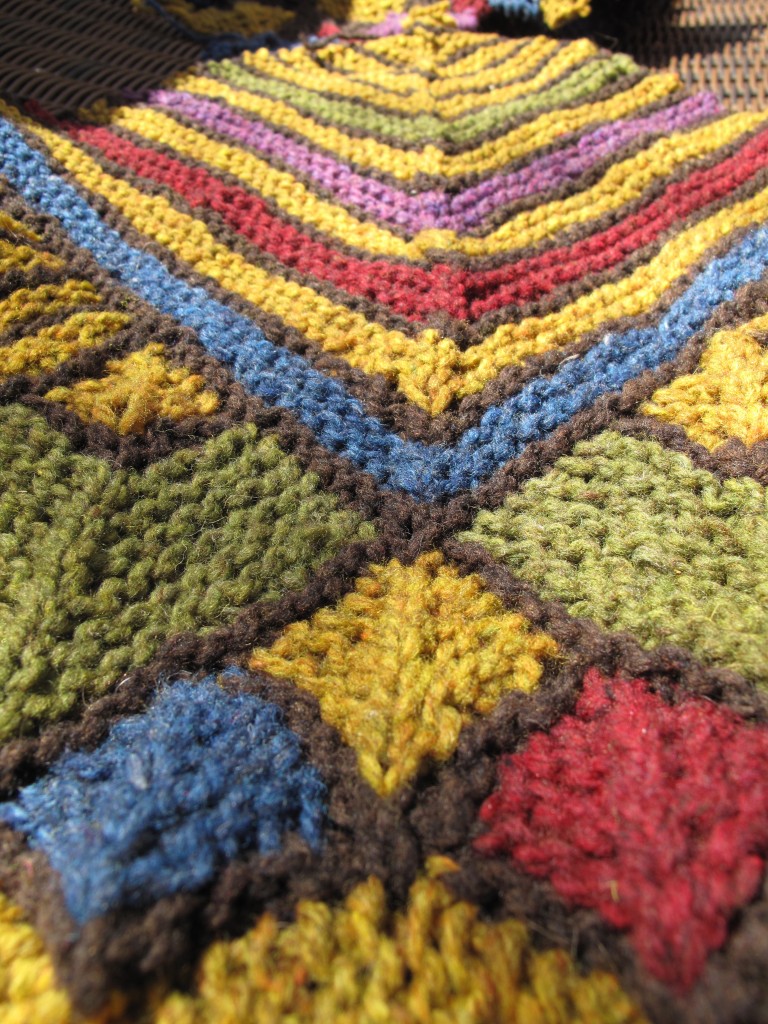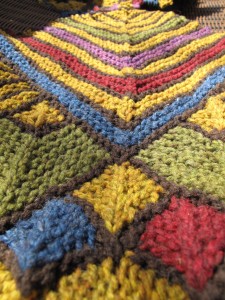 And I began to rethink a stole or scarf.  The yarn seemed to be asking me to make it into a series of bags (purse, ipod holder, laptop carrier)  So that is what I am doing.  And I am MUCH happier with the yarn, fabric and shapes now.
Matching yarn to project and really paying attention to the fabric I'm making are skills that I am continuously trying to improve.
While I'm sorry that I didn't 'get' what this yarn wanted me to do with it right out of the box, I am very happy that I was finally able to listen to it!
Back in the Saddle
It's warm enough here to ride every day, and I'm exceptionally happy!  I've set a goal of riding every day in April (not hard) and further to go more than 6 miles as often as possible (not really that hard, either!)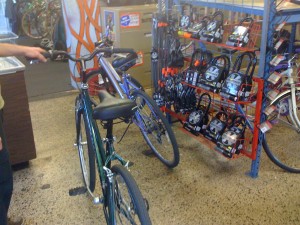 I know a lot of folks do 20 mile rides as a matter of course, and I admire them.  Maybe I'll be one of them soon!  I remember when 2 years ago riding over to the Kowalskis near our house was enough to make me need to rest all afternoon.
But one thing at a time.  I am LOVING the riding, loving the weather, and loving my ability to do small daily errands (grocery, post office, library, doctor's office) with no need to buy gas!
I'm also loving keeping track of my rides and workouts with Daily Mile.  I have no affiliation with it, I just love it (easy to use, and makes me feel like I've ACCOMPLISHED something!) I put the widget over to the right to show off my biking chops!
I think it's time for me to try one of the many wonderful bike trails we have in Minnesota – any suggestions?