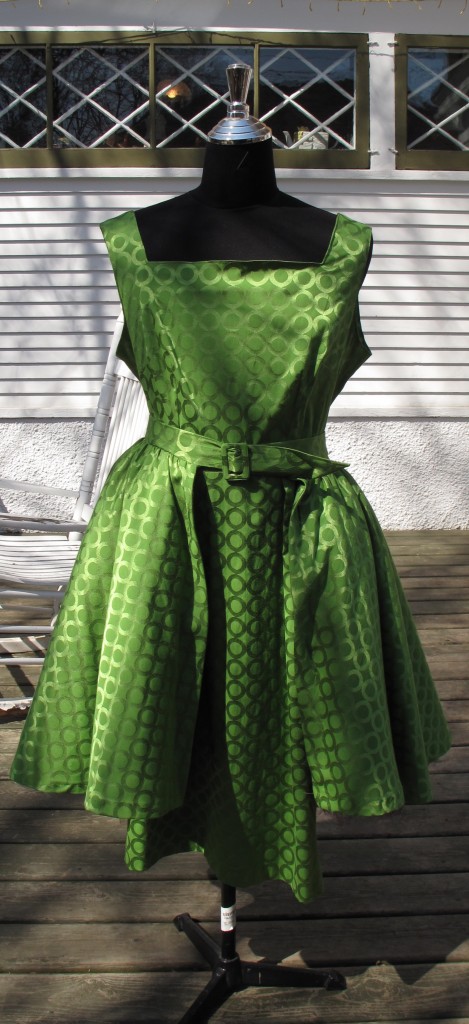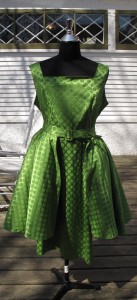 Amanda's wedding dress is FINIS and I'm SO happy!
I love to sew, and this has been a pure labor of love, but I had forgotten how physically draining sewing can be.  I've become used to the wonderful, sedentary world of knit design (with bike breaks) so standing over an ironing board, a mannequin, leaning over a sewing machine or cutting table are skills I needed to strengthen.
But it's all worth it – the dress has come out beautifully, and the removable over-skirt will allow Amanda to walk down the aisle with a LOT of impact, then remove it so she can dance and chat and move among the guests without knocking drinks off the tables (unless she wants to.)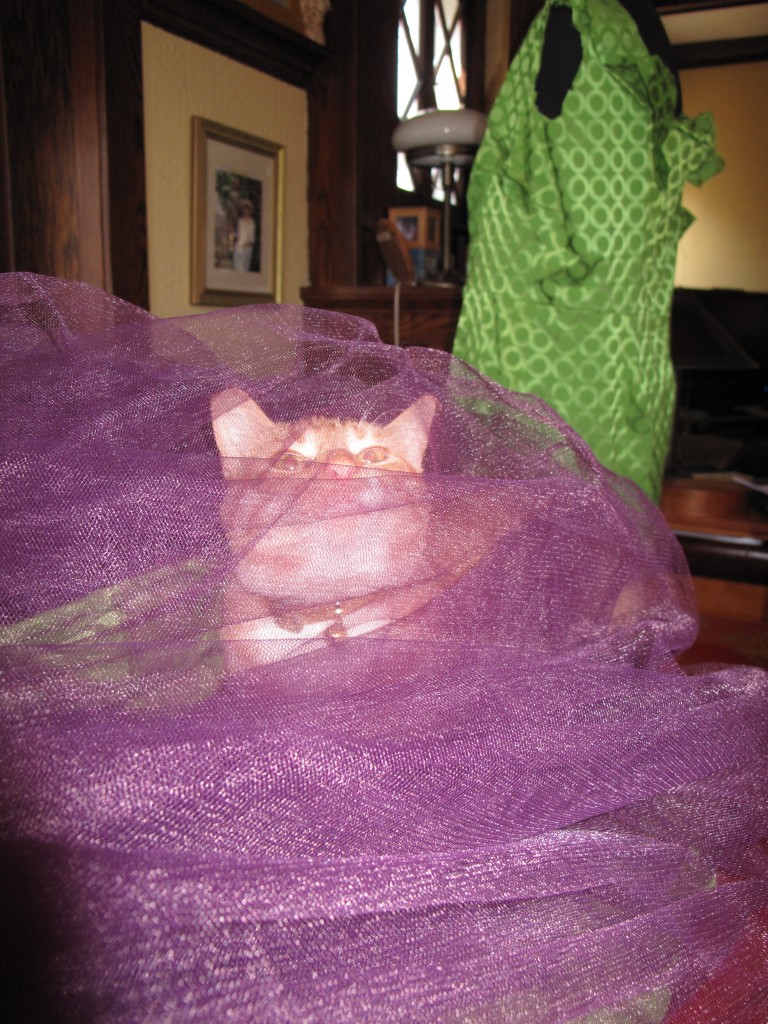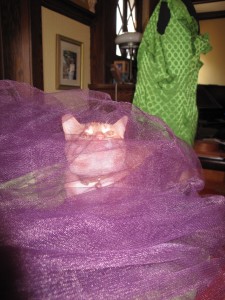 Amanda looked SO amazing in the fitting of the dress 2 weeks ago, I can only imagine how great the whole thing will look when it's on her and ready to wear!  I'm shipping it off today via UPS, I need to find a BIG box so I don't crush the tulle too much.  Don't you just LOVE that amazing purple tulle?  Amanda found it online, it's just divine!  Shiloh the cat loves it, too!

My only regret?  I won't be able to be at the wedding.  I'm shattered by this, but I had agreed to teach at Shepherd's Harvest on the same day over a year ago, so I can't back out now!  And, I adore Shepherd's Harvest.
Obviously I need to make myself a similar dress and wear that at Shepherd's Harvest that day!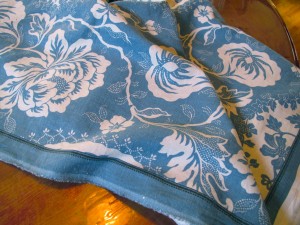 Actually, I did just buy some fabric for myself.  I'm going to make a simple linen dress with a full skirt that I can wear teaching and biking.  I found some really lovely fabric over at Treadle (they're a bit pricey, but you can't beat their eclectic selection, and they're 10 minutes away by bike!) so I'll be working that up later tonight after I get some knitting / designing work done.
Change From The Inside?
It's been no secret that I'm committed to changing the current mindset at some magazines about fair compensation for designers, rights to pattern ownership & online sales compensation.
I feel that as designers we should have the freedom to negotiate a contract that will allow us to:
Earn a respectable fee for a design & providing the sample
Retain pattern rights (if the designer desires)


Control whether patterns are sold online
Negotiate a fair percentage of online pattern sale fees to go to the designer
Setting minimums for these goals isn't a bad idea, and it wouldn't lock the designer into a low fee as much as allow a starting point for negotiations.
Interweave has been absolutely BRILLIANT in their response to the knitting community.  They provide excellent quarterly reports of online pattern sales (much as Patternfish, Twist Collective, Ravelry and other online pattern sales entities do).
Vogue Knitting's been a hold out, but I've felt it's just a matter of approaching whoever makes the decision in a realistic way.  I stopped submitting to Vogue because, as a friend once advised, "Don't be a party to your own hanging." And I've heard from many designers who feel the situation should be changed.  But how to change it?
I don't represent anyone but myself, so I can't make decisions for anyone else.  I'd thought about trying to arrange some kind of a meeting with the folks from Vogue (much as the Interweave folks and I did 3 years ago) but I've been hesitant.

Then I was asked by Vogue Knitting to teach at an event here in St. Paul in September.
I thought hard about it, weighing a lot of different variables and I've decided I'm thrilled to be teaching at the Creative Connection / BlogHer event on September 15
Here's my reasoning:
From all accounts the VK Live event was a VERY positive experience for all participants (students, teachers, shoppers & sellers)
I feel perhaps I can effect a change if we can open the dialogue.
Teaching for VK seems like a good way to do this.
They've offered very fair terms for the teaching fees.
I'm teaching at Knitting Lab for Interweave Knits in November (in San Mateo), and it seems fair to give both of these events a good look from the inside out.
I'm INCREDIBLY excited to be part of the Creative Connection – I'd actually written to BlogHer last week asking about speaking or teaching at the shindig, so this may be in part due to that.
The knitting classes / portion of the program will be handled by Vogue Knitting, which makes a lot of sense given their recent VK Live success.
So what do you think?  Grown up decision, or sell out?  Recently I've had a flood of requests for me to teach, I think the planets are all in alignment or something, but this is – in some ways – the one I'm the most excited about.  I think it's because it's nearby – just 3.5 miles from my house (I can bike!)
I feel that this may be the first step in starting a dialogue, so we can find ways around some of the stumbling blocks I've hit in my quest for fair internet pattern compensation!  VK reached out to me, I'll reach back to them, and we may find a nice middle ground down the road!