I haven't done a full post on the fibro for a while, and that's because it's been pretty well controlled with all the stuff I've cataloged here in the past (Vit D3, gluten free diet, regular exercise)
But every now and then it just rears up and whacks me on the back of the head with a metaphysical 2×4.  Or maybe it's a real one, I can't really see back there.
I was looking forward to this weekend for quite a while – it's Yarnover weekend here in MN, and StevenB was having his Fiber Frenzy celebration so I knew a lot of folks would be in town.  My friend London was also selling some of her yarns and candles at Craftstravaganza over at the state fairgrounds (right next to the Bike Expo!) and there were recycling compost bins to be picked up.  A rich and full weekend.
I've been biking a LOT – trying to average 6 miles a day by getting in 18 or so miles during this blustery spring, when it seems that 2 or 3 days go by with out a chance to ride.  When I finish a long ride I feel tired, but also very energized – and I can feel all of my body aches subside as I ride.  My bike, the advil.
But after teaching at Steven's on Thursday (a REALLY great class filled with truly gifted students!) and schmoozing briefly with folks, I just felt insanely tired.  I know this feeling – a special weak-in-the-bones kind of tiredness, so I crossed my fingers that it wasn't what I thought and hopped on my bike to ride home.
But it was.  Yesterday was rainy, windy, cold and my body reacted accordingly.  It's harder for me, these cold days after a few days of warmth.  It's as if my physical self is just so PO'd at the weather that it will take it out by having a fibromyalgia flare up.  There, I guess I showed ME.
I've learned not to make a lot of plans, especially ones that involve meeting a lot of people when THEY have schedules that have to be coordinated, too.  So I'd kept to myself and hadn't reached out to most of my friends who were going to be in town this weekend for the Yarnover.  Perhaps this was a premonition.
At any rate, I missed seeing just about everyone from Yarnover because I was moving pretty slow.  And I feel so bummed about it.  I stand at my window and wave as the planes fly out of MSP – goodbye Cheryl, Clara, Jared, Melissa, Lily, Merike, Cat – goodbye everyone!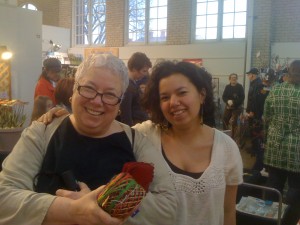 I did help London out at the expo, but mostly from a sitting position, and THAT wore me out for the day. It was so much fun, though, to meet great knitters (this beautiful mom knew that she knew me, so I helped her figure out how…)
Later in the day I popped in for a very brief "Helloo!" over at Steven's to see Nicky Epstein (who I adore) and Mary-Heather & Sarah from Ravelry (who I also adore), and I was absolutely knackered.
Today I have to bow out of seeing Nicky again – and I'm very sad.  I've already had one nap today and I could probably take another before anyone missed it.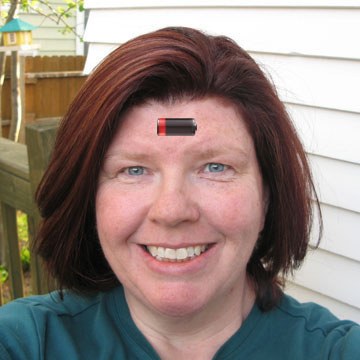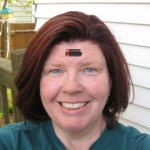 I'm sure I could drag my sorry butt into the PT cruiser and drive over, but I think I'd be unfit company (and a tiny red battery would appear on my forehead denoting a need for a recharge.)
So apologies to Nicky and Steven (who hosted some AMAZINGLY wonderful get togethers and classes this weekend!) but I'm here, stuck in my chair, waiting for the bagel my daughter's toasting for me (a gluten FREE bagel!) and hoping the sun will come out as promised by The Weather Channel at 6pm.
At least I can get other work done while I'm sitting here – I made a great start on a lace entrelac poncho, and I'm finishing up a cotton lace project for Knitting Today.  In this respect I'm VERY lucky.