Sunday, May 22, 2011
By Rick Levine


Virgo
(Aug 23 – Sep 22)

Your unrestrained idealism might tempt you to set your sights too high today.

Thankfully, your approach is methodical and you can prioritize all the chores that you want to finish. But you may have to let some of your pet projects fall to the wayside.

Being selective and eliminating non-essential chores should help you feel less anxious, especially if you preemptively handle a potential problem, rather than waiting for it to turn into a minor disaster.
This is good, valid advice for any day, but today it really resonates.  As I've mentioned before, I'm a little overwhelmed right now with projects.  I'm getting through them, but inherent in any [good] knit design is a certain amount of re-working or re-thinking.
It's a rarity when a design springs fully formed in 5 sizes from the brain.
Today I'm reworking one project for Jane Austen Knits which looked good when finished, but when I tried it on the mannequin and on Hannah, I was pretty unhappy with the waist area.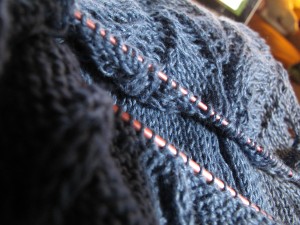 So this morning I dived into dividing the different sections of the design (taking something apart is always a little nerve-wracking) and now I'm reknitting the icky part. 
Goal:  Make it less icky.
I started another project, one that I've been holding back as a sort of treat for myself.  The yarn is luscious, the stitch pattern is relatively simple (beautiful, yet mindless) and it's a nice carry-around project.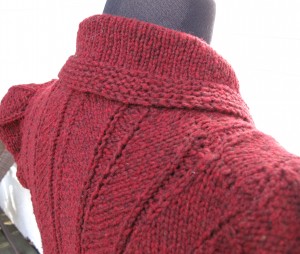 I realized years ago that committing myself to designing and knitting my designs as a large part of my income means that I give up the luxury of picking something 'just for me' and knitting it up in a favorite yarn whenever I want to.
I call it "Queen Midas Syndrome"
One of the glories of this month-of-many-projects is that I love the yarn for all of them, and that's been delightful.
At this point there's only one project that I haven't yet begun, and that's because the yarn arrived late (last week)  I have an extension on the deadline, and as it's a fair isle project I think it will be great fun!
FAMILY OBLIGATIONS
Taking a break yesterday, Hannah and I sat on the back porch.  Me knitting, her eating a delicious bowl of ramen she'd cooked up.  It was a nice, sunny moment in a mostly rainy weekend.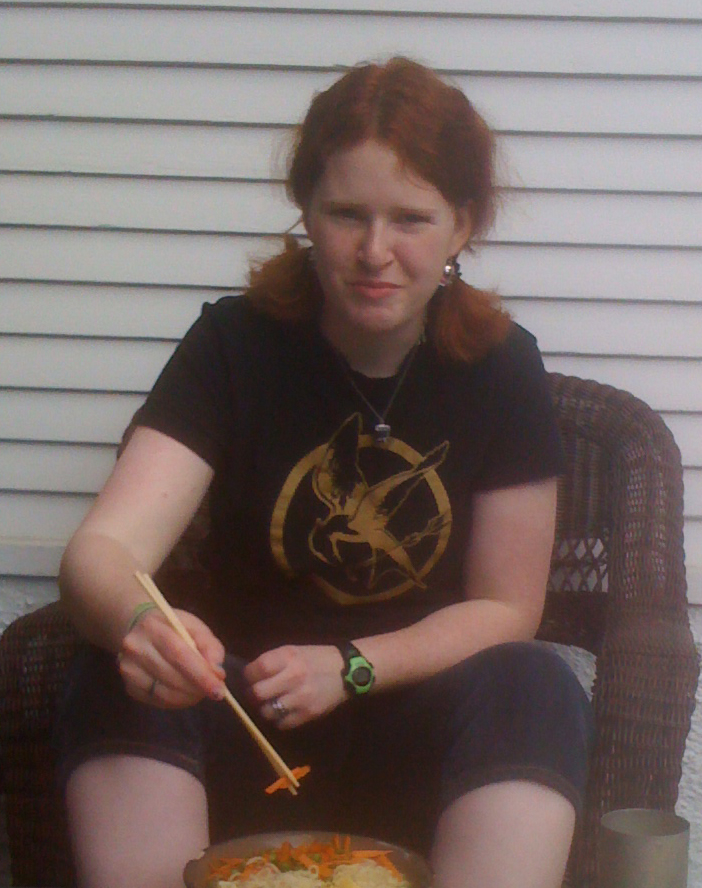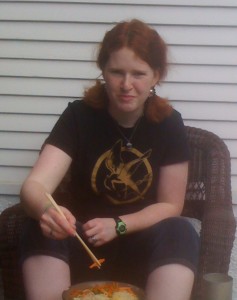 I've had a lot of guilt this month at letting regular house and mom-chores go undone, or passing them onto Gerry and Hannah.
Laundry?  Dishes?  Cooking?  My contribution to these tasks has been minimal, and it makes me a bit ashamed.
But work is work, this is the mortgage and the priority is to get this stuff done.
And, like the poor, the unfolded laundry will always be with us.
KNIT ROAD DRIVER

Adding to this project-saturated month is preparation for my teaching trip in June, which includes publicizing my dates and locations.  I'll be in Indiana, Illinois, Ohio & Iowa.  I think of it as my vowel-states trip.
My only stop in Ohio is an independent class on June 13th at the Stark County Library in Canton.  In addition to a Combination class, I'll be doing a free lecture and book signing at the same location that evening.
To see all of my classes on my tour, and for links to register for classes, visit my Upcoming In Person Gigs page.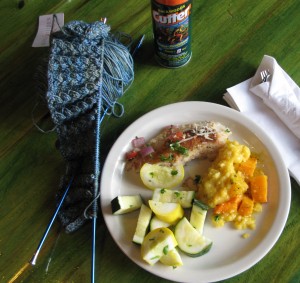 I only have 4 spaces left for my Autumn Knitting Retreat in September, all of the single rooms are gone.  So if you've been interested this would be the time to register.
It's going to be fun, calm, fulfilling and hopefully a chance to recharge some batteries after a full Summer.
AND I have it on good authority the food will be amazing!  All food, lodging & classes are included in the $295 fee (Friday – Sunday, Sept 22-25)
VIDEO
I'm also creating a short video containing knitting tips and tricks for Zealana yarn.  I hadn't used any of the Z yarns before, but they're really amazing.  Quite soft, lovely, and the stitch definition is intense.
I want to work something up which will highlight this fabric quality, because as a designer I find it the most compelling.  I love it when the direction of the stitches is clear and a motif can shine through.
Translating this into a video has been in my mind all month.  I've learned that when I give a project good, thorough, thoughtful preparation everything makes more sense when I sit down to edit.  With any luck, the editing will begin next week (as I wave a fond farewell to two knitting projects.)
Design is another word for organizing visual inspiration.
Organizing the work is what makes life beautiful in the middle of the nutty chaos.