So far my teaching trip's been great – a bit of an adventure in small ways, but overall REALLY wonderful!
My classes at Riverwools went beautifully.  It's a great shop, incredibly well stocked, with ample parking and a nice cafe down the street.  Definitely trip-worthy for folks living around Terre Haute!  They made me feel SO welcome, so loved, and it was an excellent start for my first driving-teaching trip in over a year!
I taught a private class that my cousin (a newer knitter – I taught her a few years ago) set up.  We topped it off at 12 students, and that was just about right!  The students were SO good, so gifted, and an incredibly kind woman (and astounding knitter) allowed us to use her home for the classes. 
WHAT a beautiful great-room she has, what a lovely house!  It was one of the nicer locations I've taught a class, that's for sure!  HUGE thanks to Peggy for the use of her home, Mary Ann for setting up the classes and Laurel for helping to make it happen!

My next class is in Canton, OH at the Stark County Library on June 13.  It's been filling up pretty steadily and there are just a few spaces left.  You can register here if you like:
Stark County Library, Perry Branch
5710 12th St NW Canton, OH 44708
6/13/11   1pm
Combination Knitting Class $30

I'm also doing a free lecture at the library and I'll be signing books and selling some if folks want to purchase them.  I'll be happy to sign anything though (so bring me your Nicky Epstein books and I'll forge her name!)
TNNA
The centerpiece of my trip is the annual TNNA convention in Columbus.  It's a chance for me to touch base with other folks in the industry, see what's happening and just keep the necessary connections working smoothly.
I'm not teaching here, which may be a blessing given my current joint situation, but I HAVE just heard from Interweave that they've added yet ANOTHER set of my classes to the Knitting Lab event in San Mateo in November.
Apparently I'm selling out (who knew?) so you'd probably better
sign up sooner rather than later if you want to be in one of my classes!
It's wet here – raining pretty darned hard in Columbus – and like a barometer my knees and shoulders are giving me a pretty explicit weather report.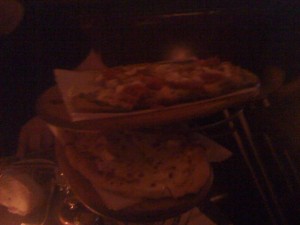 Last night I took a 3 mile ride after an AMAZING dinner at Marcellas (my favorite restaurant here as it's not only a beautiful, well run Italian restaurant close to the hotel, they also have a GLUTEN FREE menu!)
My destination was Goodale Park, where life is good.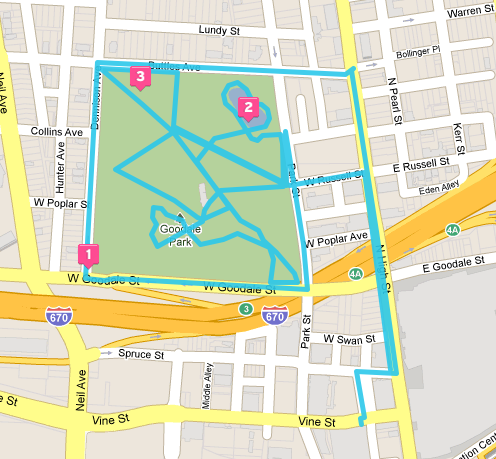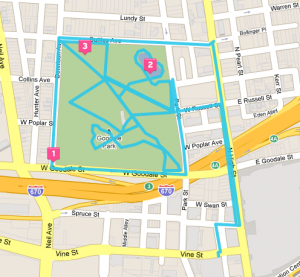 I was ostensibly looking for tonic water (my roommate brought gin, which is why I love her…) and I found it at the United Dairy Farmers.  But I became so carried away with the warm, fragrant evening and rode in silly circles with my headlight flashing and a dopey grin on my face.
The ice cream I bought almost melted because I rode so long.  A slow, fun ride!
Folks were walking, hugging, kissing, playing music and kids were swinging all over the park.  What a fabulous evening to be free and mobile in Columbus!  I won't be riding today, though, until/unless the rain stops, and I shall miss it.
Damn you, fibromyalgia!  You've won one round, but I shall win the match!
Fortunately, my hotel room is right across the hall from the whirlpool / exercise center so I can go ride a stationary bike and take a hot dip to help the joint pain.  Wet heat is an amazingly helpful thing for this pain!
From a purely disinterested perspective, the link between the weather and my join pain is  fascinating.  I sound like every older person in my family I'd listen to during weather storms as I was growing up.  "M'back is botherin' me, I haven't taken m'pill yet!"
It's uncanny how I can sound EXACTLY like my Aunt Wanda on days like this.
I'm at the Hampton Inn across from the Columbus Convention Center, where TNNA will be taking place over the next few days.  I'm not teaching (given my joint angst that's a mercy!) but I should be helping with the Stith Coop/Coop Press booth set up.  But I'm not.  Wah, wah wah…
It took a while to get the internet working, it's finally working today and I'm afraid I'm not the general manager's favorite person.
Dang.  Well, that's a shame.
But I'm online now and finally able to return emails and get some work done!  I'm heading over with Mrs. Mannequin soon, and I'll take some nice photos from the convention (where I'm allowed…) and report on great new yarns that are arriving and any subtle currents of design evolution as I wander from booth to booth.
I only wish I could ride my bike on the TNNA convention floor!