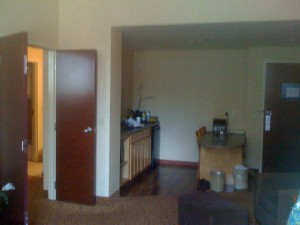 Here is the room I shared with Knitgrrl at TNNA in Columbus, the restful,  cool and comfortable room immediately across from the pool and whirlpool (AMEN!)
I love having Shannon as a roommate, we have similar thermostats.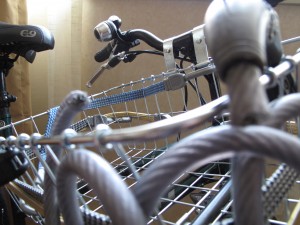 Aside from the internet fiasco at the start of our visit, and the fact that the hotel management cut the lock off my bike when it was legally parked in front of their hotel, the rest of our visit was lovely.  Now we just have to straighten out the bill (apparently they double billed me and tripled billed Shannon…  Oy.)
Here's an image of my bike with the cut lock cable.  Damn.

TNNA STRAGEDY
TNNA was pretty wonderful this year.  The thing that made it different for me this year was I actually made APPOINTMENTS to meet with folks (editors, yarn company owners, movers and shakers) and thus found myself having fewer conversations, but better and DEEPER ones.
I wasn't the social butterfly I've been in the past – in fact, I spent more time napping at this TNNA than ever before (damn you, fibromyalgia!)  but I DID spend a good amount of quality time making connections and touching base with folks I NEEDED to speak with (in lieu of walking the aisles and just picking up folks.)
Not that picking up folks isn't fabulous, but my energy was limited so I tried to be intelligent about expending it cavalierly.
Discovering that Marcella's had a gluten free menu meant that I ate almost ALL my dinners there, and the night I didn't eat out I got take-out gluten free pizza from the delicious Marcellas.
In short, I tried to take care of MYSELF this time because I knew that TNNA was coming at the start of a teaching and traveling marathon.
My Dinners With _____
A wonderful dinner with Shannon, Linda from Wildfibers Magazine and Raga from Knitting Iceland (among a few others who I taunted mercilessly, sorry dear ladies!  I loved you, but my memory is full of gf beer and I cannot recall your names…) was full of great conversation and lots of fun.  What a delicious evening! 
As with most of my Marcella's dinners, this one ended with me riding off for a few miles to get my joints and limbs working in sync, then home to soak and to sleep.
Breakfast with Mr. Levisay & Molly from XRX was pure delight.  It was wonderful to meet them in person, and very nice to hear about the different options that are opening up with XRX (allowing me to rethink my position on the Stitches conferences, stay tuned…)
Rethinking is never a bad thing!
One of the more delightful meetings was a great chat and drink with Eunny from Interweave.  Eunny is one of my favorite folks in the fiber world, having a chance to chat with her is a delight and a dream, and was one of my most favorite moments of TNNA this year.  Thanks, doll!
POST TNNA TEACHING
I left Columbus Monday to drive to Canton for an afternoon class and an evening lecture.  Both were lovely, although the daytime class was better attended than the evening lecture (which really surprised me!)  But both were memorable and wonderful!
Then I headed off to Fort Wayne, Indiana, for a class at Sara Jane's Yarn Shoppe (this is a WONDERFUL shop, folks!  Run – don't walk – to this place!) and another class at the Fort Wayne Knitting Guild (I ran them through their paces in colorwork and met some lovely folks in the bargain!  Excellent work, Emma!!)
One of the nicest part of my stay was meeting, staying with and getting to know Lara Neel from the Math4Knitters podcast and her spouse.  What a lovely couple, what kind folks and what an AMAZING 1920's home they have!
I may have just been lucky in my riding choices, but biking around Ft. Wayne was one of the highlights of my biking during this trip!
CHICAGO
Yesterday I taught at Loopy Yarns in Chicago after a quick visit the afternoon before with Beth at Lorna's Laces.
I'm honored and fortunate to be staying with the lovely Amanda and her wonderful new husband, Derek, while in Chicago.  It's Puerto Rican Pride weekend here in Chicago, so it's been a lively and exciting visit!  I love hearing folks so happy!  This morning as I was repacking my car I had NPR up at full blast, and it occurred to me it was a bit of reversal of all the motorcycle gunning and horn honking I'd heard all night!

Loopy is everything I'd heard, and MORE!  Vicki was pure delight, and her students were among the best I've taught EVER in my knitting teaching experience.  My double knitting class was a real highlight for me, SO enjoyable with such engaged and excited students!
This shop has a wonderful collection of yarns – even better it has one of the nicest vibes I've felt in a big-city yarn shop!  And it's mere blocks from a Caribou Coffee (a tiny bit of Minnesota for my sore heart – yay!) so I was able to relax beautifully after my classes.
This morning I went for a long bike ride around Humboldt park.  I'm trying to get my 6-7 miles in every day and it IS making a difference in my mobility!
LAST CLASSES
As I near the end of my marathon trip, with two more teaching stops to make, I'm trying to save up my energy for the final sprint to the finish!
I'm holing up in a hotel for the next 2 days, something I usually don't do (I'm a one-night woman for most of my trips) I'll use the luxury of staying in one place for more than one night to try to attempt some progress on my current project (due next week – help!)
Tomorrow I teach for the West Suburban Knitters Guild outside of Chicago.  My lecture will be at 6:30 at the Good Shepherd Lutheran Church and I'm SO looking forward to it!
Then on Wednesday I teach in Iowa at Blue Heron Knittery in Decorah, Iowa.
I'm so nutty-crazy to be home that after class is over I'll drive the 2-2/1 hours to get back to St. Paul if I'm feeling good.  If not, it will be a friendly Motel-6 for me!
TNNA SWAG
I made it a rule to only grab yarns/swag from TNNA this time that I KNOW I will be able to use in the next year or blog about.  Here's a short list of items that were included in the magnificent gift bag Marley (Bijou Basin Ranch & Yarn Thing) put together for the designer's dinner and other memorable things I picked up while at TNNA.