I couldn't stand being away from home another day, so I drove an extra two hours today to get back to St. Paul, and I'll drive 2 hours tomorrow to go back south to Iowa and teach at Blue Heron Knittery.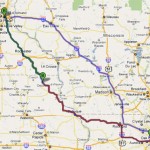 Silly?  Yes.  Especially with the price of gas what it is.  But I missed home SO much I couldn't stand it.
I'm home (with a dog at my feet, a cat in my lap, Hannah and Gerry on the sofa and a nice cup of tea at my side)
I am insanely happy.
I missed home quite a bit.  Tonight Max gets home from his canoe trip, and we'll all be together again.