Virgo (Aug 23 – Sep 22)

You may feel as if you're under a lot of stress today, but your desire to do the right thing can turn a difficult day into a memorable one. Don't worry about how to get others to support your agenda. Instead, simply do the very best job you can, even if you must do it alone.

Ultimately, your performance will exceed everyone else's expectations of what you should do.
Well, all I can say is I hope so.
I've been wrestling with a project I'm not in love with.  I really liked my original concept and my sketch, but was asked to work it up in a different yarn and after looking at the colors online, I agreed.
But I was very foolish.  The new yarn is a fingering weight, I'd swatched in a worsted/aran weight, and the difference in knitting up this size 40 (with MUCH ease) man's sweater works out to be about 3-4 times as much.  This project is a bear.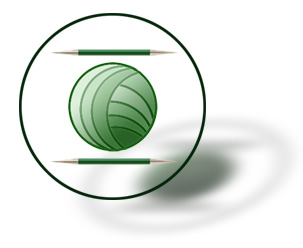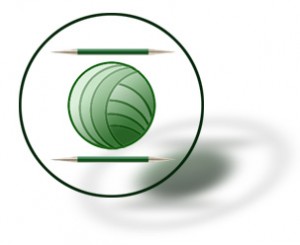 Because the yarn is so much thinner, I had to reconfigure the design (thinner yarn calls for a more delicate, compact repeat) and I've never been entirely happy with my new compromise.
And because I had to design this on the fly (working off of charts and my number grid) I couldn't really pass this on to a knitter.  I just didn't know how it was going to turn out because I didn't know how the yarn was going to look.
Add to that the fact the yarn arrived 3 weeks late and I'm in hot water.  The magazine, which I LOVE, was kind enough to give me an extension.  Unfortunately the extension coincided with my marathon teaching trip so my knitting time each day was so sadly curtailed that I might as well not have had the extra time.
I figured I'd get home, barrel down, and fight through the sweater to the end.  I only had the sleeve tops and yoke to do, that couldn't take THAT much time, right?
My hubris always surprises me.  It shouldn't, but then again, isn't that hubris' long suit?  To pop up just when a bit of modesty would work better?
The deadline to put this baby in the international mail came and went on Friday, and I was as low as I could get.  Knitting all day yesterday got me halfway through the yoke, I hope to finish today and send it off tomorrow.
The shame of it is that the yarn I'm using is quite nice, rather exciting, (it's a long-space dyed yarn – beautifully done) but the colors chosen for two of the balls are SO similar that as the changes occur in each ball sometimes I end up with the incredibly similar colors in the colorwork.
THAT just doesn't look right.  SO I have to pull yards and yards of one of the balls until I come to a contrasting section.  This is the kind of thing designers HATE because writing this up in a pattern ("if you find you're yarns are too similar in color, pull ____ yds from ball A until a contrasting section arrives") makes the knitters absolutely CRAZY.
And it should.  It would make ME crazy if I were knitting this from the magazine.
So the knitter may say, with all logic, "Geeze that Annie Modesitt's an idiot to have me use these two balls of yarn that have colors SO similar in a COLORWORK sweater!  Sheesh!"
Coming at the end of my Month O' Projects (9, count 'em, NINE finished in May) and my two-plus weeks of driving and teaching, this is especially rough.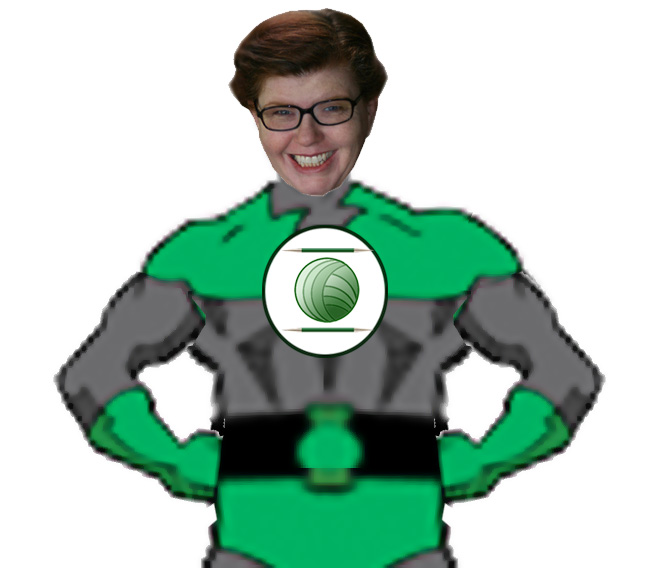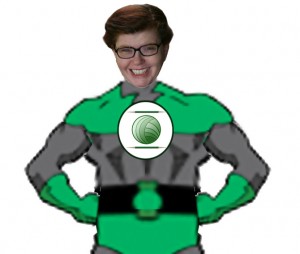 I knit through most of the Green Lantern (the family went to a drive-in last night to see GL and Super-8) and made progress, good progress if I were look at this thing with unclouded eyes.
But every stitch feels like failure because I've missed the deadline.
Today I will go hide on the porch at St. Kates and knit until I finish this thing.  My fingers are covered in band aids from my size 4 pointy needles, I just want to cry. 
But super hero(ines) don't cry, because when the fat ones do they just look ridiculous.