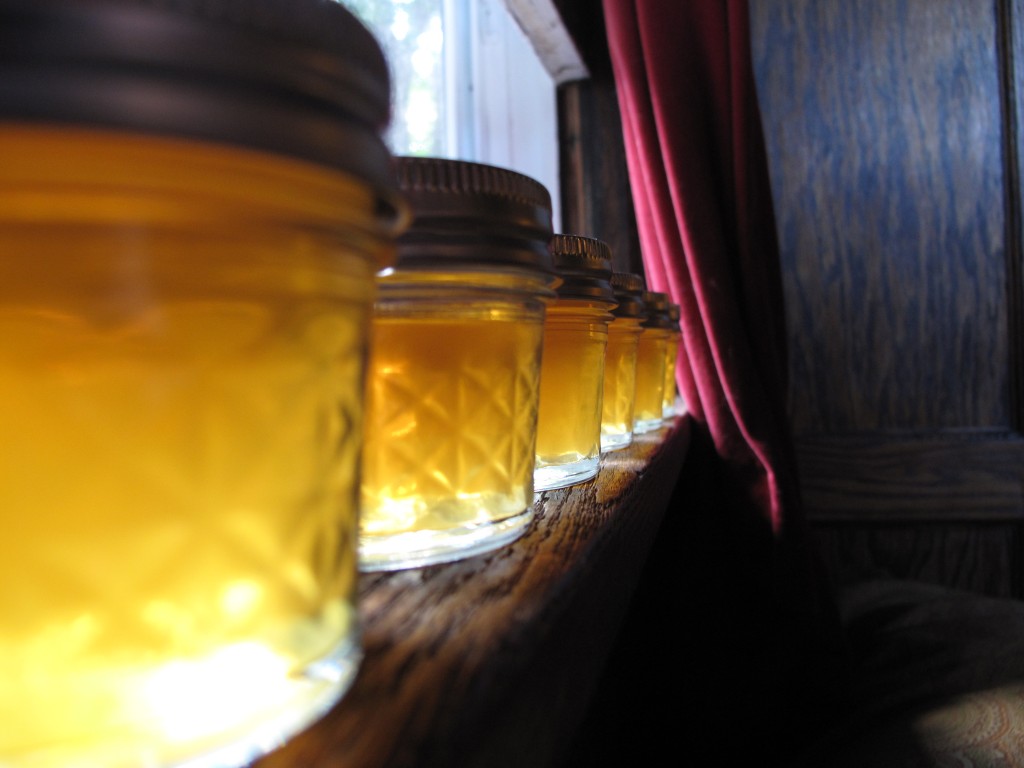 I'm trying not to take this as a metaphor for everything right now, but my jelly failed.
I boiled it too long trying to get up to the magic number 220 degrees.
Apparently I destroyed the pectin (which we'd worked SO HARD to create from our crab apples) and now I have 24 jars of tea-flavored pancake syrup.
My friend London's daughter was over yesterday, so it seemed like a BRILLIANT idea to show the girls how to make Jelly.  Or, in my case, how to make syrup.
Hannah's agreed to help me redo the whole thing with some of that there fancy store-bought pectin, I've reached the point where this fail is larger in my mind than it really is in person.
I know I haven't posted for a while – I hesitate to post when I'm feeling not very well because I know it sounds like I just moan, moan, moan – at least that's what one person once wrote about my blog – and I've just been too exhausted/tired/in pain to even crawl onto my bike and ride the pain out.
It makes me sad, it makes me blue, and all that inactivity makes me hurt.
Dang.  Isn't THIS a pleasant read today?
So I'll post some lovely photos of the jelly-making adventure, go out for a bike ride, and hope that when I get back my pain will be receding and my dear girl would have emptied all of my well-sealed jars of syrup back into the giant pot so we can begin our 'fixing the jelly' adventure.
The 'syrup' tastes really good, too!