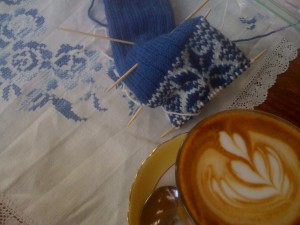 On Friday our group of 5 (Ragga, Sue, Larry & Heidi & myself) took off for a jam-packed trip around the area.
Our first stop was for breakfast at the Kaffismidja in Reykjavik where I had some delicious oatmeal and a latte.  Sue's been working on her clog-sock and it's coming along beautifully!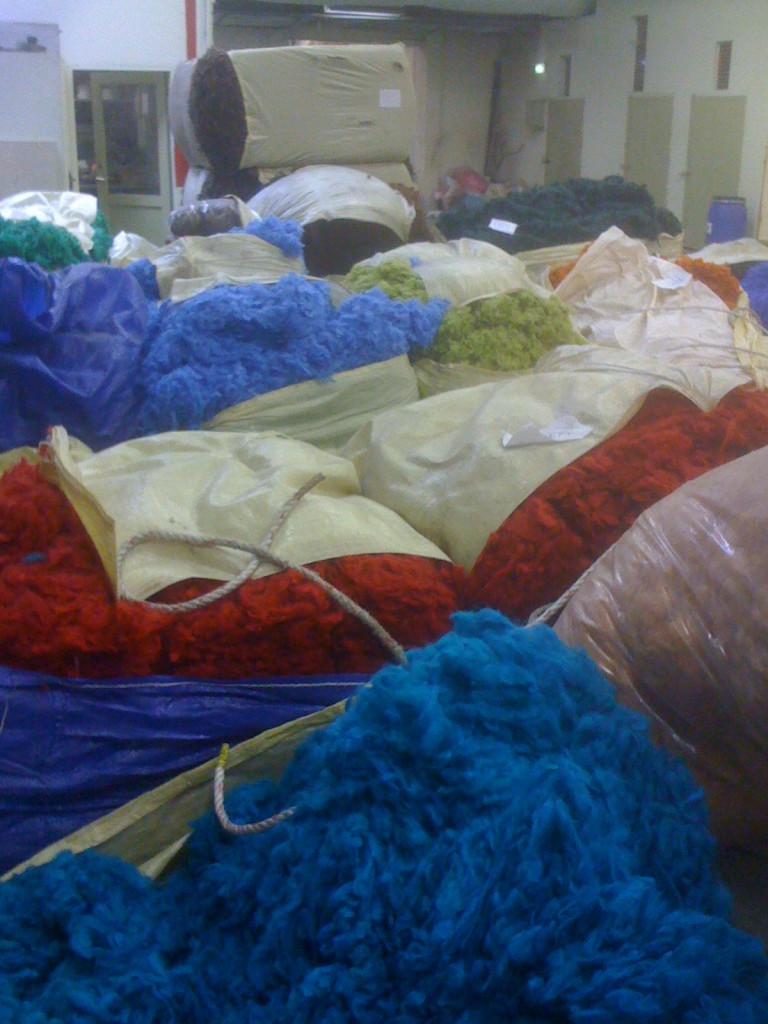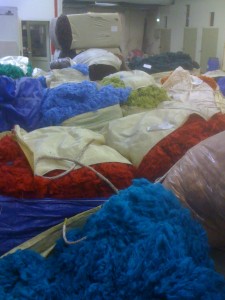 Then we headed out of town to the Istex plant where most of the wool from Iceland is processed – the Lopi Works!
Unfortunately, it seems that the wool is processed quite a bit to create a uniformity which may not be as appealing as a more lightly processed wool would be.
The factory strips the lanolin from the wool and overdyes the natural sheep's colors, turning a national treasure into a mass-produced commodity.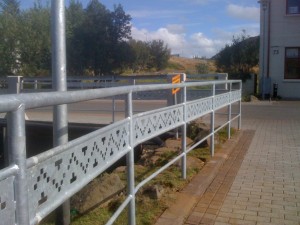 It's a shame, especially as it's just about the only game in town as far as the wool producers are concerned.
However, some naturally processed and lightly treated fibers are emerging in the market.
Most serious fiber folk here I spoke with hope that this is the harbinger of a new type of wool production which doesn't sacrifice inherent quality in the name of a uniform product.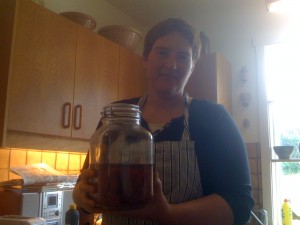 One of the most inspirational folks we met on our tour was Guðrún Bjarnadóttir who dyes yarn under the name Hespa.
Guðrún's passion for the native plants of Iceland and their use in creating incandescent colors of yarn was infectious, and she has just about the best dog I've ever met (aside from Atticus the wonder Poodle).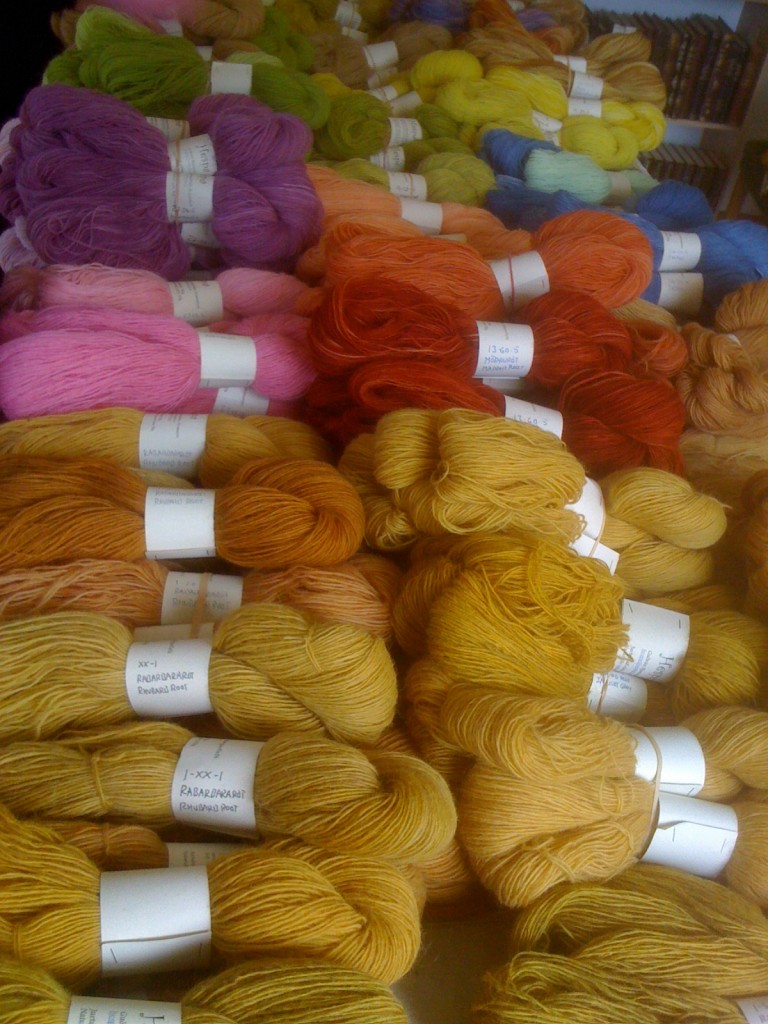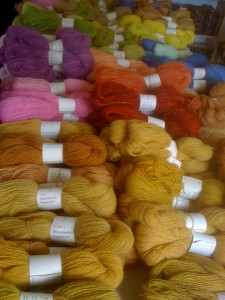 I could have stayed and learned about the colors she derives from lichens, mosses, birch, lupine and rhubarb – and the chemical reactions that catalysts like Cow Urine create –  all day long!
My only regret on this trip thus far is that I didn't purchase MORE of her yarn – I left the most beautiful red color behind because I was convinced I couldn't afford it.  Silly me.  Okay, my only OTHER regret is that I forgot my camera battery charger so I have to rely on my less-than-stellar iphone camera for posterity.
A quick stop at the Agricultural College in Hvanneyri to check out some beautiful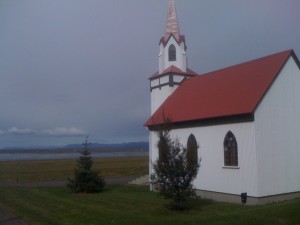 sweaters with gorgeous colorways, stroll the grounds of the Farmer Museum and visit a small church, then back in the car for an outdoor seaside lunch at the Puppet Museum. 
I couldn't find anything gluten free on the menu, so I had ice cream for lunch – which was just dandy with me!
Then on to visit a lovely couple who create beautiful items of horn and antler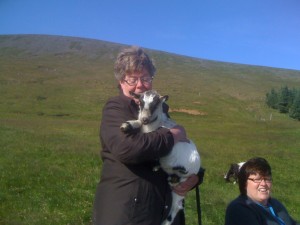 (I had to wistfully pass on some beautiful horn darning needles!) and off to the highlight of the day for me – the Háafelli goat farm!
I love goats.  My family laughs at me, but I want to own goats some day.  This was such a lovely time for me, so much fun, almost like a dream!
The 3 month old kids were sweet and gentle, and the rose garden by the owner's house was absolutely spectacular!

Here's a lovely piece on the native goats of Iceland which explains a great deal about what Johanna Thorvaldsdottir & Thorbjörn Oddsson have been doing to preserve the species.
We had coffee and Icelandic pancakes in the garden – and I should not have, but I did eat one.  I suffered later for it, but it was worth it (almost!)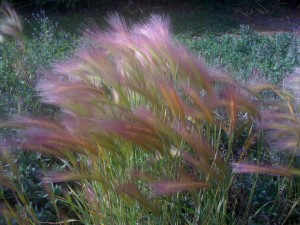 As the day wore on, our group became closer and friendlier, everyone easing into a wonderful sense of contentment.  This is due in no small part to Ragga's excellent work preparing such wonderful stops for our tour, and her ability to assemble folks in breathtaking locations for a singular experience!
This was so evident when she drove us to a beautiful outdoor public pool in Borgarnes where our entire group soaked any aches away in one of the geothermal heated pools and bonded over family stories.
The drive back to Reykjavik was lit with a brilliant pink sunset, stunning, and perfectly matching some yarn that one person in our group at bought from Guðrún.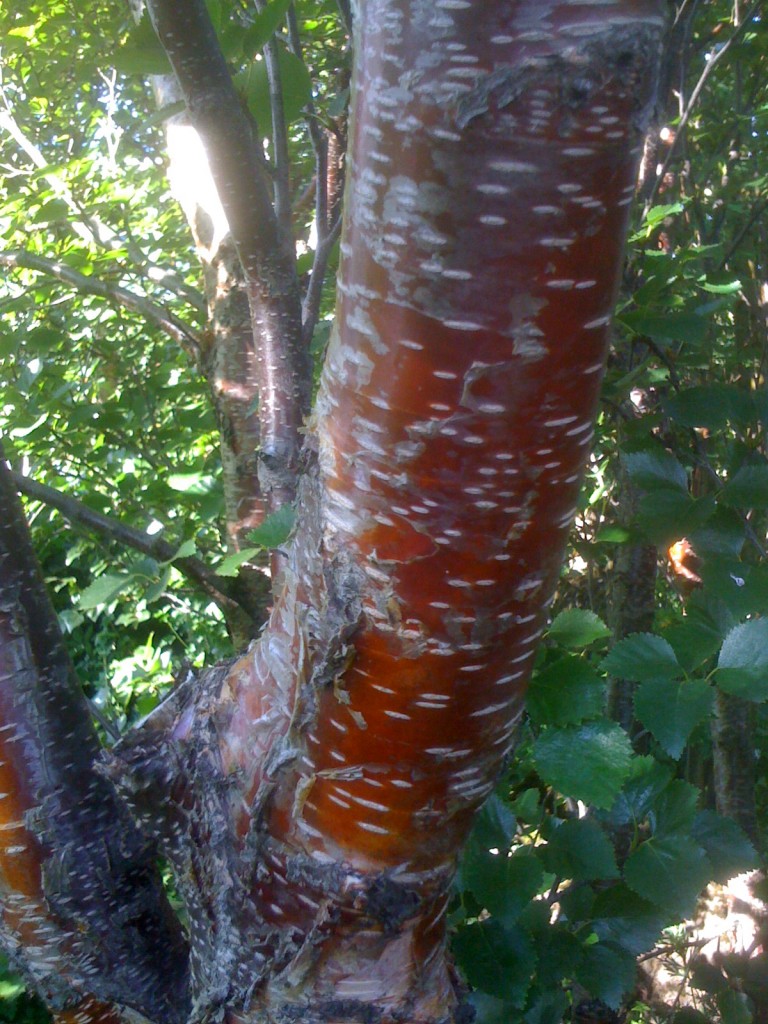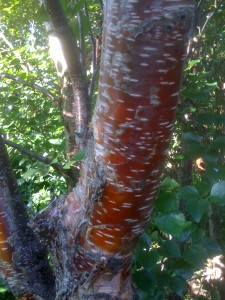 Our final stop was an Indian restaurant downtown (Ghandi) where the others ordered and ate while I went for a short walk.
I knew it would be hard to find gluten free food on the menu, and I had been suffering from spicy food earlier in the trip.  So I walked a bit and had a yogurt and returned in time to sit with the group and eat some plain rice.  It was delicious, and exactly what my stomach needed after such an intense and tiring day.
It was a day I wouldn't exchange for anything, though!