Note: This was written before I left Iceland, but exhaustion & laziness kept me from publishing it until today – enjoy!
Finally on Sunday I did what I came here to do – taught 6 hours of classes!
Strolling Reyjavik
But not before a little cake on Saturday at the same cafe where I'd had breakfast the day before (I'm one day away from becoming the Mayor – I'm going to OWN this town!)
…a stroll around Reyjavik (the architecture is such a mish-mash, but charming and very compact.)  I feel like I'm walking around in a lego village.
…and cute baby pic – the father kindly allowed me to snap a shot of this gorgeous child in a wonderful Icelandic lopi sweater.  Everyone seems to have them on here!
Class
The studio space for Knitting Iceland is shared with several other creative types, the room is light and large with a great cross breeze from the huge windows which overlook the street below and a glimpse of the bay on the other side.
One of Ragga's studio mates makes these lovely knotted pillows by stuffing tubes of knitted fabric with fiber.  Another studio mate is pretty much a dead ringer for Tin Tin.
The class was WONDERFUL!  The students – as I'd hoped and expected – not only spoke beautiful English but where exceptional knitters.
It was a bonus for me that although their skills were top notch, there were certain tricks that folks in the US may have become a bit used to which were new to them, so I seemed much more stellar than I really deserved to be!
The lace class was good, it's my 3rd time teaching this "Charting Your Own Lace" class so I'm still feeling my way at points, but I think it was very well received.  The colorwork class in the afternoon was a HUGE hit, and I'm currently working on TWO Lopi sweaters for Istex using some of the techniques which I've been perfecting.  I'm VERY excited (and I have my airplane knitting all set for this evening!)
Dinner
After the classes a small group of us went to Icelandic Fish & Chips, where they use spelt flour for the batter so I gave it a try and – so far – no awful gluten side effects!  The fish was SO amazing I really wouldn't have cared if I were curled up in a ball for a week after eating it!
History
Monday was culture day, and after dropping Sue off at the bus for the airport, Ragga and I visited the Icelandic Heritage Museum where I purchased a wickedly expensive book and snapped MANY photographs.  What a lovely place to spend some time, and the exhibits were easy to understand, well laid out and very compelling.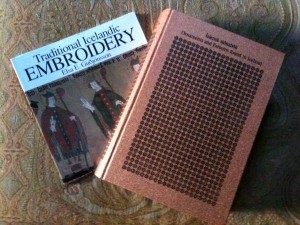 I left feeling I understood SO much more about Icelandic history and culture than I expected!  I won't embarrass myself by trying to give any highlights of Icelandic history, but it's a fascinating nation with a very interesting (and well documented) history.
Like the US, it's essentially a nation of immigrants (albeit from 930 ACE).  There has always been a great deal of travel between the different areas of Iceland, which seems to have prevented 'local dialects' from cropping up, and (I believe) adds to the open-ness and friendliness of the general population.
Water, Water, Everywhere!
Bathing – swimming – is a way of life in Iceland.  Every community has a public pool with hot soaking areas.  Ragga mentioned that folks wonder why anyone would live in the odd community that doesn't have a pool!
The water is heated by the geothermal power that rages under Iceland, and the protocol is for folks to shower naked, THEN don their swimsuits, then hit the pool.  Eminently sensible, if you ask me!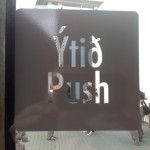 There's much less body-conscious self-loathing here, or at least I didn't notice the same amount of, "I hate my body!" invading the changing areas.  Also very sensible.  I've always felt that, ironically, our own American bizarre body image mania is at the root of our national obesity issues. 
It's almost as if we say, en masse,
"If I can't be perfect, I'll just eat myself into oblivion…"
In countries where the sense of beauty is not tied into being a size 0, I think it's easier to be health and fit at any size. 
Okay, I'm off my Icelandic soapbox…
Blue Lagoon
On the way to the airport Ragga took a side trip so we (together with Jess, a fiber-loving American in Iceland on a Watson Fellowship) could visit The Blue Lagoon.  We had an AMAZING and absolutely indulgent time!  According to Wikipedia:
The warm waters are rich in minerals like silica and sulphur and bathing in the Blue Lagoon is reputed to help some people suffering from skin diseases such as psoriasis.[1] The water temperature in the bathing and swimming area of the lagoon averages 37–39 °C (98–102 °F). The Blue Lagoon also operates a Research and Development facility to help find cures for other skin ailments using the mineral-rich water.

The lagoon is fed by the water output of the nearby geothermal power plant Svartsengi and is renewed every 2 days. Superheated water is vented from the ground near a lava flow and used to run turbines that generate electricity. After going through the turbines, the steam and hot water passes through a heat exchanger to provide heat for a municipal hot water heating system. Then the water is fed into the lagoon for recreational and medicinal users to bathe in.
We swam, we covered ourselves in silica, we drank at the bar, we shopped (we didn't buy anything) and then we walked around the lava hills for a bit.  A sudden and unusual heavy rain sent us running for the car where I changed my clothes as we drove to the airport.
Icelandic Reflections
I loved being in Iceland.  The people are wonderful – so much like folks in Minnesota it's not even funny.
Icelanders are sensible, caring, confident and very kind.  Being able to stay with a private family, experiencing a small slice of Icelandic life, was a tremendous gift and I'm grateful to Ragga for welcoming me into her home.
In a nation this small (300,000 folks) it seems that EVERYONE is related to someone else, has gone to school with someone or is best friends with Björk (we drove past her home).
Ragga has quite a following both in her knitting/fiber life, AND as an iconic Sex educator. I was so excited to see her featured on an ad for safe sex (her little condom wrapper has a picture of a sheep on it!)  This was hanging in an ice cream shop, but I saw the same poster all over the place!
Flight
For the second time I had the MOST amazing meal at an airport!  First was a three course meal at Heathrow last year at Gordon Ramsay's restaurant, Plane Food.
This time it was a lovely salmon/shrimp/salad plate (enough for two, really) with wine and GF bread at Nord Restaurant at the airport.  I couldn't finish it, so I wrapped the rest up and ate it on the plane. Delicious!
I experienced further proof of the thoughtfulness of Icelanders as I boarded the plane.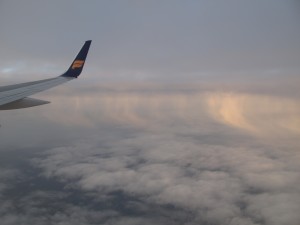 The steward looked me up and down and took in the fact that I am not just tall, but have VERY long legs.  He motioned me to step to the back of the plane for a bit, then told me just before the flight took off that there was an open seat in an exit row so I could stretch my legs.
This hasn't happened to me before, although I've known other folks to be lucky in this way.  It made ALL the difference in my flight, and in my pain levels when I got off the plane, and I'm VERY grateful to the kind, kind flight attendant!