Judge not.
I'm not a practicing anything in terms of religious affiliation.  I attend our local Temple, we're members and I'm relatively active, but I'm not Jewish.  I was raised Methodist, but there's what whole 'divinity' thing that I wrestle with, so I'm not really a practicing Methodist.
I'm not religious, but I'm definitely not anti religion – there's a great deal of good, of wisdom, that can be learned from faith practices around the world.
One of the best, one of my favorites – Judge Not.
Ironically, it's one of the hardest for the mainstream religions
to adhere to themselves, but that's for another blog post…
I want to talk about Judginess.
Specifically, judginess in terms of how we look at ourselves (today's post), and how we look at our chosen recreational activities (knitting, crochet, biking, macrame, spoon juggling, whatever you do in the privacy of your home…  or in public – future blog post.)
We can be rather harsh when it comes to analyzing other folks work, and even more harsh when analyzing our own.  I'm one of the worst offenders, although I try to be honest and loving in my self criticism.
I remember hating my body SO severely in my youth, dieting like a  maniac until I was a size 10 (for about 15 minutes – remember, I'm six foot tall) and heard the unforgettable words spring forth from a new acquaintance, "Why, it's obvious you've NEVER had a weight problem!"
At that moment I could have died and gone to heaven.  Literally, I could have died because I hadn't eaten a solid meal in a few days.
However, life being what it is, my weight tends to go up and down, and – unlike smoking or gambling or almost any other vice – overeating shows like a neon sign and allows all who are inclined to judge very harshly the moment you come into view.
I am sometimes my worst critic, I understand the running commentary of self loathing that streams through the soul of most overweight folks, I know how hard it is to ignore/stop it and how necessary that is in order to effect any positive change.
But I also remember the day I stepped into the shower, hating the glimpse I caught of myself as I rushed past the mirror, but then came up short when I realized, "How can I hate my body so much if it gave me two wonderful kids?  How can I hate this body that allows me to walk and live and enjoy life?"
That realization didn't make me an ounce thinner, but it did open a small door of self love that I try to pry open a bit wider every day.
Sometimes things happen that practically slam
the door shut, and I have to wedge some kind of
metaphysical shoe between the door and
the jamb to keep it from closing.
And it's self love that allows me to do things like care about what I put in my mouth (less sugar, more fiber, no gluten, even when I'd KILL for a biscuit) and what I do with my body (ride my bike as much as I can, do yoga when I can't.)
Love is not a pie, you can't slice it up and divide the pieces.  Or, if it is a pie, it's a magic pie that makes newer, bigger slices the minute you cut one and slip it on a plate for your Aunt Mable.  This is not my best analogy, I'll work on it…
Self-love is the same, it spreads and grows the more you exercise it.  Self love allows you to fend off judginess that comes from outside.
Without self love, EVERY type of criticism feels like a slap.  Self-love separates the barb from the honest criticism (although it doesn't necessarily make the criticism easier to hear!)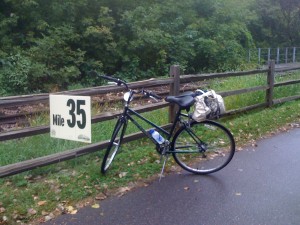 Yesterday I finished a 36 mile bike ride.  I went slow, I took my time.  It was raining and cold for most of the ride, which are both things that exacerbate my fibromyalgia and make me ache all over like I have the flu.
I've certainly ridden faster, and the two flat tires I got during the ride didn't help my speed, but I finished all 36 miles and I was very happy with my effort.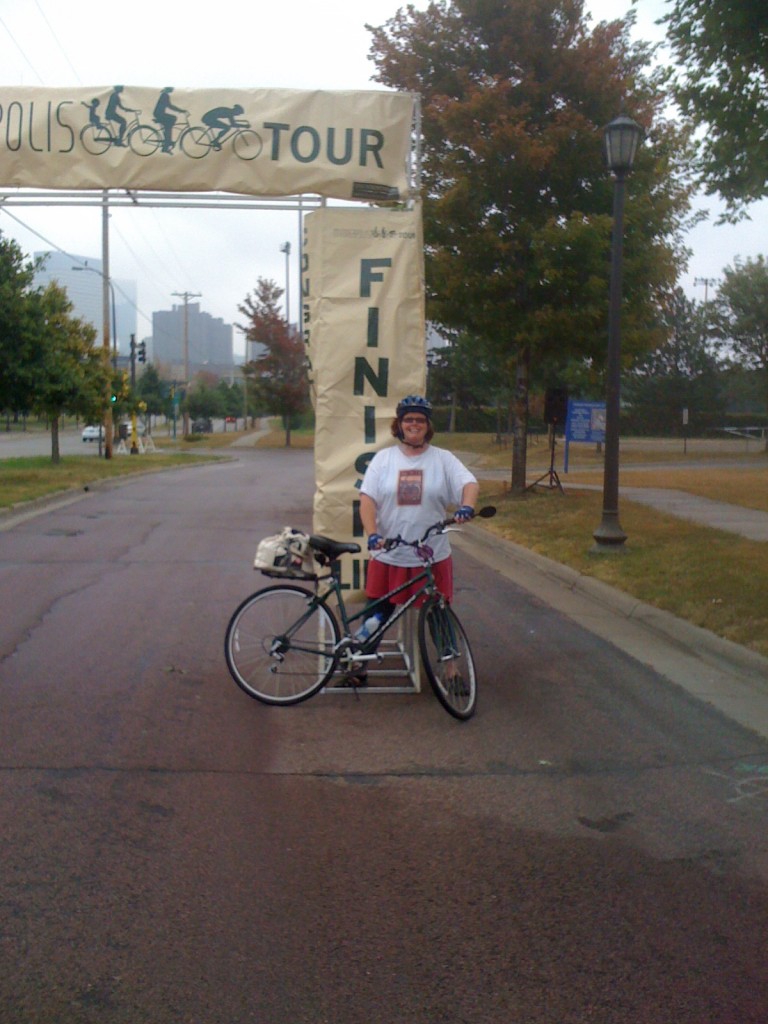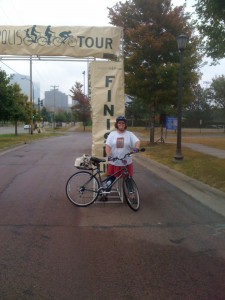 Until I looked at the photograph a very kind volunteer for the Minneapolis Bike Tour took of me at the finish line.  "That's me?  I'm that fat?  Seriously?"
I didn't FEEL that fat as I rode.  I felt like Lance Armstrong.  I felt like a thin, beautiful, French resistance fighter shouting, "Vive la France!" as I darted across the French countryside.
This is my own personal biking fantasy…
True, I wore my "Ride, fat girl, ride!" T-shirt, but – seriously?  I look like this?  Yes, yes I do.
This is the body of a woman who just rode 36 miles, who averages 6 miles a day, who eats pretty well (although I do like my chocolate) and who could probably eat better.
This is the body of a woman who has given birth twice, just turned 50, and is trying hard to be unashamed of herself.
And who is trying even harder not to judge herself too harshly.