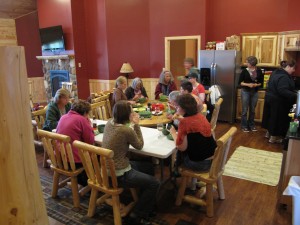 Kathleen and I arrived on Friday afternoon and began preparing the two cabins (Crazy Bee & Drone) for the guests.
One by one they arrived, with London bringing up the rear with extra items from my house that I forgot to pack.  Thank you, London!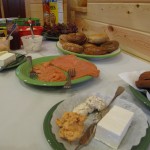 Kathleen has been outdoing herself with these amazing meals she's fixing!
Last night a dinner of grilled sandwiches, then a lovely cold breakfast of bagels, cheeses, smoked salmon, yogurt, cereal and fruit.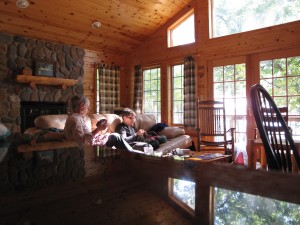 The colorwork class this morning was great – the class was hard working, engaged and asked very good questions.
We had a door-prize drawing for some of the many wonderful books London and I have received for review (I tend to get duplicates of some books) and we all are having such a wonderful time!
We broke for lunch, all of us marveling at the BEAUTIFUL weather that we've been graced with!  We are SO lucky – it's absolutely amazing here!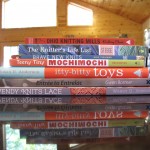 A filling and delicious lunch of pulled pork, salad, fried apples, cole slaw and bagels / rolls was beautifully served by London and Heather, who have both been SO helpful in getting everyone settled and happy in their rooms.
I have great friends, I'm so lucky!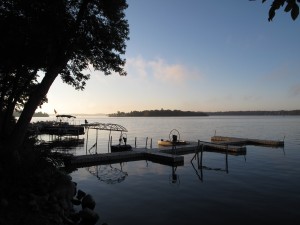 I couldn't have put together a nicer group if I'd been able to hand pick folks!
This is a great group – I can't wait for our afternoon class of Charted Entelac which is set to begin in – oh my – 9 minutes!  Better run!