Most knitters I know, when queried by their family about possible holiday gifts, default to the simple fallback position; Gift Card.
But gift cards, as useful in their one-size-fits-all-ness as cash but not as crass, aren't terribly personal.  I know that when I give a gift, I like to fondle – at least visually – the gift before I pass it on to the intended recipient.
So every now and then for the next few weeks I'll be presenting items that would make a pretty fabulous gift for your favorite knitter.
How you choose to share this information with your significant other is your own business, but be assured that I won't be reviewing anything that's more expensive than a golf bag or a set of clubs.
All needle sizes are color-specific
Materials
Aircraft Quality Aluminum
Sizes
You can choose your needle length, point & end caps.  Circular Needles are available in US sizes 3, 4, 5, 6, and 7, 8, and 9.  Needle & cable lengths can be selected, or customized.
 Price
$30 – $45 per set
 It's no secret these are my FAVORITE needles of all time.  Favorite.  I love the balance, the incredibly well made feeling, and I love the stiletto tips (although middy and blunts are also available – to each their own!)
I understand metal needles aren't for everyone (and there are some AMAZING wood, plastic and even glass needles out there that I've also enjoyed using) but my signature needles are my 'go to' needles and allow me to finish my many projects in pretty short timespans.
They were designed by an avid knitter whose family happens to be fine instrument machinists, and the quality is apparent with every stitch.
I also understand these are pricey.  I get it.  But – being someone who actually HAS worn out many sets of needles – I can say that these do NOT wear out.  Well, not so far for me, and I use them constantly!  A set will cost between $30 and $45, depending on the length you choose and whether you want straights, circular or dpns.
The signature folks even have a wish list where you can let your loved ones know your personal needle preferences.
So if you think of the needles as an investment, and realize that the CPU (cost per use) is really pretty much in line with a cheaper set that may wear out, break or just not be as much fun to use, signature needles are an affordable extravagance that will enhance many folks knitting experience.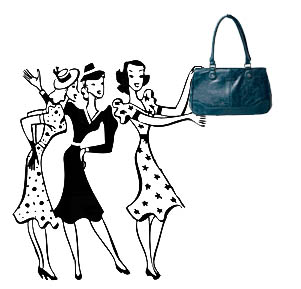 Materials:
PVC-free, animal-friendly faux leather
Marilyn Size:
5″ W X 11″ H X 16″ L
Price:
$85.00
I have several of these, they were mostly gifts, although I've splurged on one or two beautiful Namaste items when I'm feeling flush and deserving!
I first worked with the Namaste folks when they supplied some glass needles for me to use in my book, Twist & Loop.  A friendship bloomed and when they began marketing their knitting bags and accessories I was over the moon!
The beautiful thing about Namaste bags is how well designed they are.  They're easy to carry, they hold a LOT, and my favorite bag right now is the Marilyn line (which holds a 15″ Mac Book Pro along with my current knitting project and fits under any airline seat!)  I had to arm wrestle to get it, but it just made me stronger…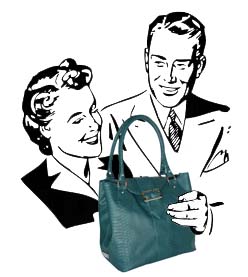 Features
Row of eight pockets for tools and needles, 3 credit card slots, small zippered pocket, key loop, 2 circlets™ to prevent your yarn from tangling, 2 yarn pockets below each circlet™, Removable zipper pouch
LJ Kaelms
L 11″ x W 7.5″ x H 12″
Material
PVC
Price
$89.00
I had been a Paige Bag Novice until recently when I was lucky enough to be given one as one of the instructors for Interweave Knits Knitting Lab.  Good heavens, sold out classes, San Mateo in November AND  a knitting bag?  Life is good, baby!
Even better, these are available at many local yarn stores, so you can support you LYS in the process!
The bag I have is from the LJ Kaelms line, it's faux (vegan) snakeskin and it's GORGEOUS!
I love to ride my bike, and this fits beautifully into my back basket with all of my knitting stuff, wallet and my biking stuff – bam!  Right there behind me!  There are a lot of pockets, a detachable change purse (I've been using it for stitch markers) and it wipes clean very easily (ask me how I figured that out…)