First the free.
I've had a few designs in a UK magazine called The Knitter and I'm very impressed with the continuously high standard of design, editorial and photography that I find in it's pages.  They've also been a dream to work with, but that's sort of another story…
Juliet Bernard, the editor of the magazine, has just made me aware that if you download the iphone/ipad app for The Knitter you'll find – as a lovely bonus – issue #35 right there in living color and ready for you to enjoy and drool over.  Warning: Drooling directly ON your electronic device is not advised.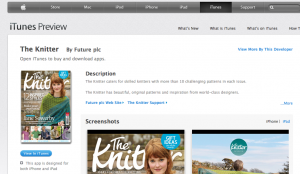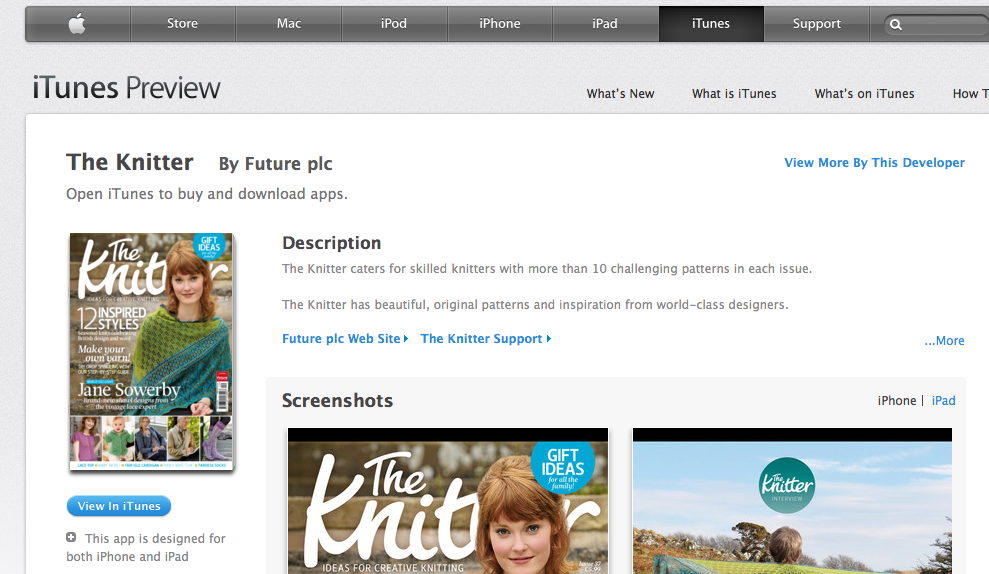 and here's what it looks like when it's installed in your iTunes library (my own Mac version is shown)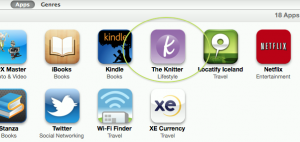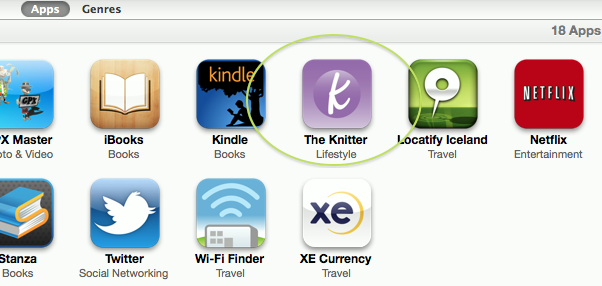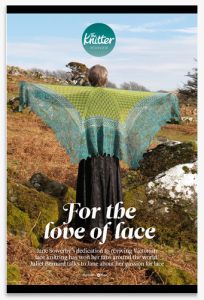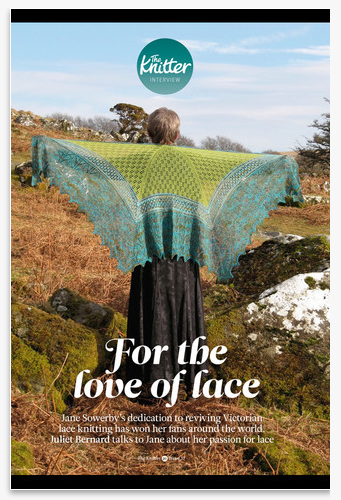 And here's one of the most beautiful lace projects I've ever seen!  It's by Jane Sowerby, and it's just a LOVELY piece!
You can have this, plus all of the other great stuff in this issue ABSOLUTELY FREE when you download the app.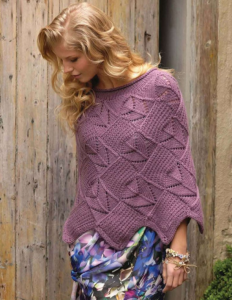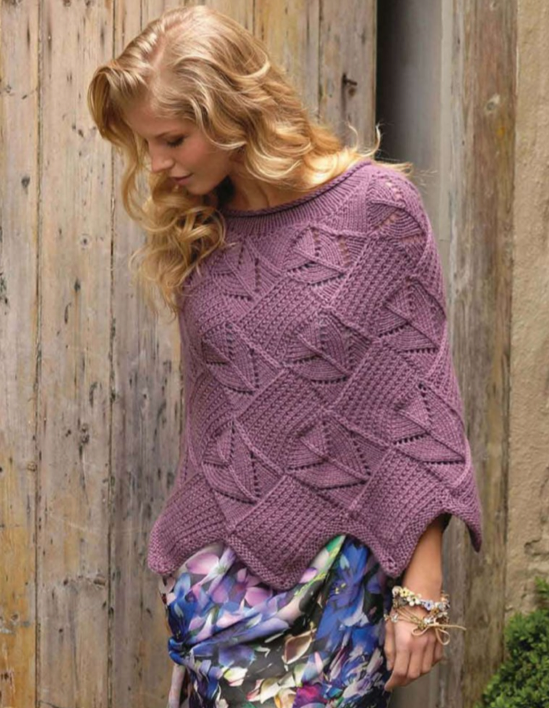 I also have a garment in this issue, a lace & texture entrelac poncho worked up in Debbie Bliss yarn.  Let me know if you enjoy working it up!
It's sheer delight when you discover that a person you've been interacting with over the internet is as lovely in person as you had hoped.
This happens much more often than not, as folks are generally pretty great and it's rare that the ugliness that the anonymity of the internet allows leaks over into personal relationships.
As my mother used to say, "Assume the best!"
If you read something unflattering online about someone
you don't know, it's a good practice to
take it with a grain of salt
(as fun as it is to believe it and run with it) 
Put yourself in the position of the gossippee.
Just sayin'
Thus endeth the sermon…
When I met Juliet Bernard from The Knitter I felt an immediate kinship (well, we were drinking…) and I've enjoyed every interaction I've had with her!
Come to think of it, it's astounding how great the editors of the knitting magazines we read generally are.  They're usually 'regular' folks, crafters like the rest of us, and incredibly hard working.
The Freeing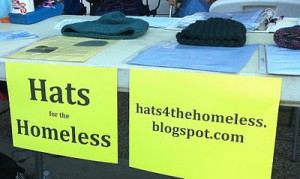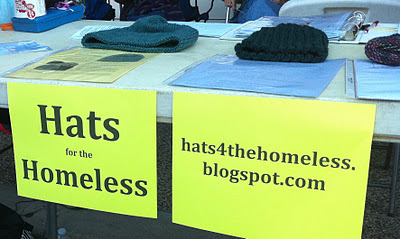 It's a rough time out here right now.
A lot of folks have lost jobs, homes, and hope.  Those of us who are still making the mortgage feel our fingers slipping, but hope gives our hands strength and we cling on for another month.
Things will look up, we're moving in a good direction, but there are many who have lost so much that they've got quite a climb ahead of them.
Which is when it's important to be kind.  And being kind is one of the most freeing things one can do.
One of the loveliest kindnesses we knitters & crocheters can engage in is to give a necessary gift.  Maimonides wrote that there are 8 levels of Tzedakah (charity), the highest form being when neither the giver nor the recipient are aware of each others identity.
Here's a chance for you to participate in a small act of love that will give a person a bit of warmth and perhaps a bit of hope.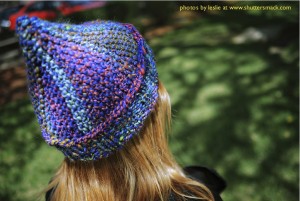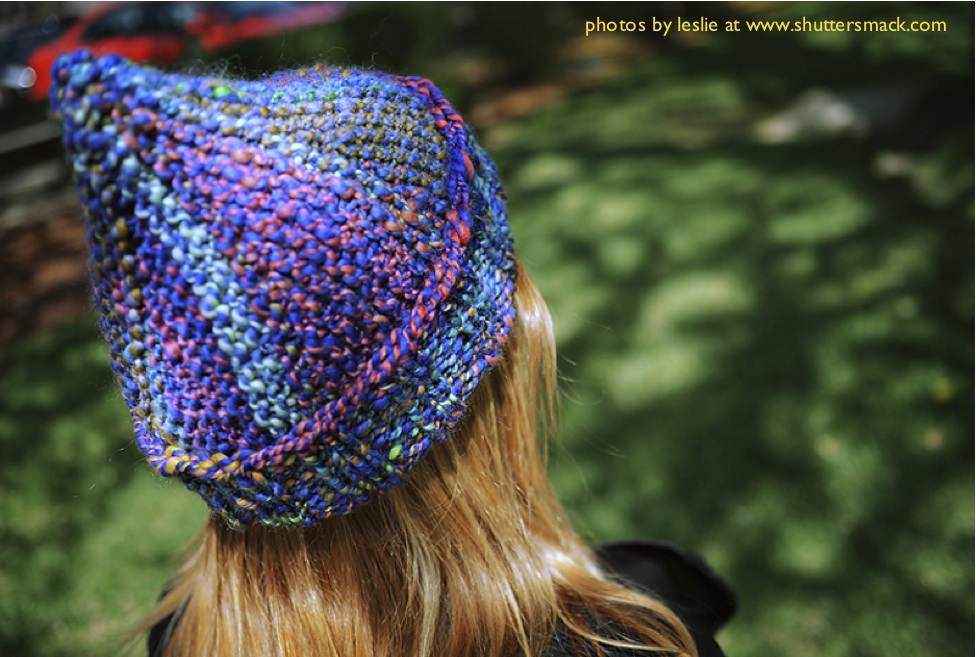 Make a hat for a homeless person, make it warm and make it beautiful.  Make it the type of hat YOU'D like to wear. Use any pattern you'd like, but if you want download this free pdf of The Kremlin Hat* I worked up using My Friend London's handspun yarn (any heavy worsted or chunky would work in this pattern) and make a few quick hats.
Then take a moment to be thankful for your roof and floor, windows and door.
Then send it to:
Hats for the Homeless
c/o Barbara Melom
5314 Penn Avenue South
Minneapolis, MN 55419
If you happen to be in Minneapolis, you can drop the hats off at either StevenBe's Yarn Garage or Ingebretsen's Scandinavian Gifts and Yarn Shop, and perhaps pick up a bit of yarn while you're there…
Ingebretsen's Scandinavian Gifts and Yarn Shop
1601 East Lake Street
Minneapolis, MN 55407
StevenBe's Yarn Garage
3448 Chicago Avenue South
Minneapolis, MN 55407
*Yes, I know it's not the Kremlin with all those onion domes.