From the moment I arrived in San Francisco airport and the very kind driver from the


Marriott San Mateo picked me (and a few other knitters) up, the Interweave Knitting Lab was a SENSATIONAL experience!
It's definitely one of the best events I've been involved in – pure delight – and if they'll have me I want to DO IT AGAIN!
The Students
I can only speak for my own classes, but these were among the BEST students I've ever taught!  They were engaged and EAGER to learn new stuff!  There was a solid confidence in the knitters that comes from feeling secure and strong in their craft.
I chalk this up to Interweave being the type of magazine which is a MAGNET for folks who like to learn, grow and find joy in their crafts.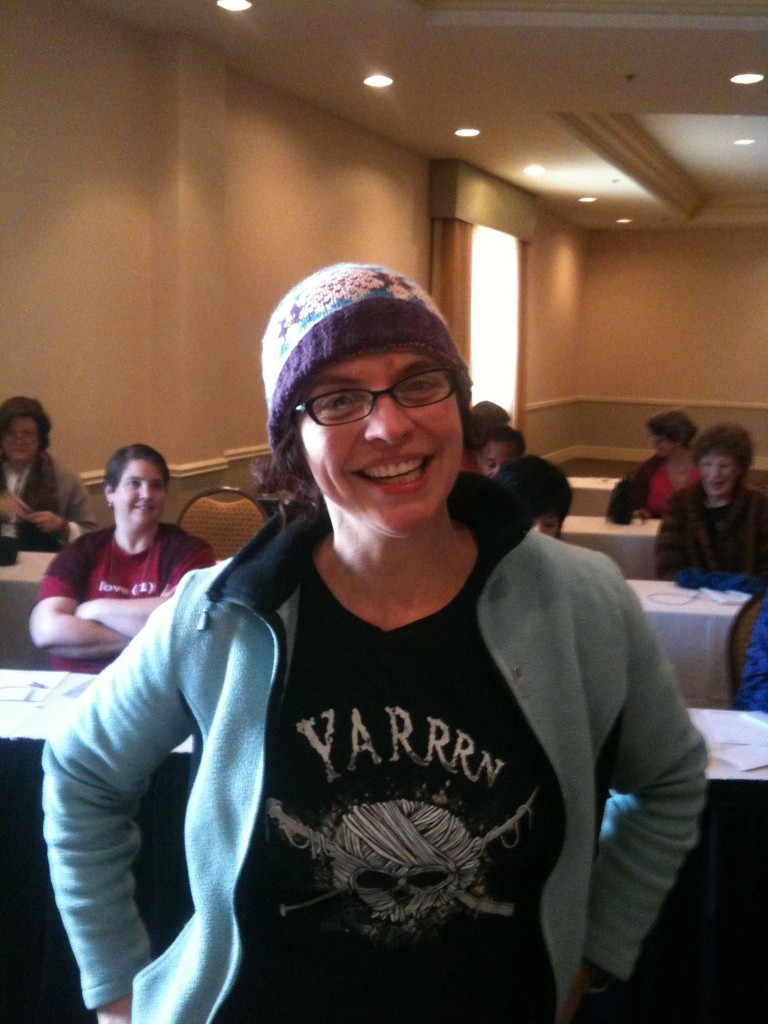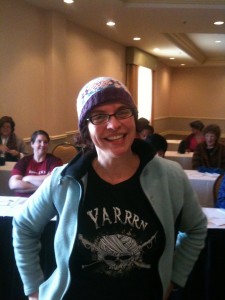 At the start of my very first class a young woman with a STUNNING fair isle hat approached shyly to tell me that I am the reason she knits – I was her inspiration – and she's been reading my blog since I began writing it in 2002.  WOW.  I was flattered and a little blown away.  Here she is in her lovely, lovely chapeau!
I only wish I'd taken more photographs – I've fallen out of the habit, and I have to get back into the groove as it makes me SO happy to relive an event by seeing images of the good times!
The Organization
Before I arrived I was impressed with the clear information that I – as an instructor – received from Maggie Reinholtz.  I knew what to expect, where to go, how many students were in each class and how to get to and from the venue.
These sound like silly details, but they mean a LOT when one's mind is focused on classes, teaching and working up just one-more-swatch for a workshop!
When I met Maggie I was stunned that she seemed so – young!  I shouldn't be surprised, but I'd expected a seasoned older person.  THAT will teach me!  Or maybe it's just a function of myself getting older…
At any rate I had Maggie in one class, and her mother in two classes, and she was just as delightful a student as she was an organizer!
Schmoozing
I always love seeing Eunny and the crowd from Interweave Knits, but I never feel that I have time to say more than, "Hi!" while passing in a corridor at TNNA.
This time I was able to chat for a few minutes, even have a cup of tea, a glass of wine, or a pleasant ride to the hotel!
The extra bonus was getting time with other teachers who I do NOT see as often as I like!  It's always great to see Stephanie Japel, Nancy Marchant, Ann Budd, Romi Hill (my first time meeting her – what a lovely person!), Mary Jane Mucklestone, Cat Bordhi & Donna Druchunas.
I passed Clara Parkes briefly in the hall and said, "Hi!" but we were both rushing!  I didn't get a great deal of time to spend with the other teachers – I spent most of my non-teaching time sleeping – but just being near such luminaries was inspiring and a little thrilling!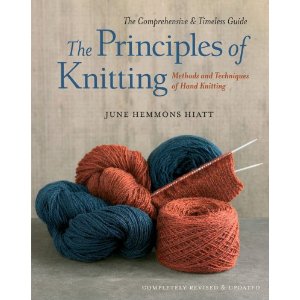 Hearing June Hiatt discussing the process of recreating her Principals of Knitting was a splendid experience.
Extra squeal inducing was when she passed me in the hallway after her talk and KNEW MY NAME. 
Wow.  I kept it cool, but when she walked away I gripped the arm of the knitter I'd been chatting with and asked, "Did you HEAR THAT?"  She had.
Unfortunately I was so exhausted on Saturday evening that I fell asleep when I meant to go hear Alice Starmore give her talk on her Colorful Life.  (Damn you, fibromyalgia exhaustion!) I did meet her at the tea on Sunday, and she was lovely (so tiny!) and gracious to the knitters as she walked from table to table to say hello.
Unexpected Joy
I was asked to be on a panel with Vivian Høxbro, Shirley Paden (my first time meeting her, too!  What an elegant woman!), Susan Strawn, Marilyn Murphy & Meg Swanson – which was incredibly flattering and so much fun!  I'm afraid I did a bit of rabble rousing (#occupy!) but it was all in good fun…
The Venue
The Marriott San Mateo is an unusual space.  Yes, it's pricey (a glass of wine was $9.50) but it's also a very short walk to Trader Joes (home of the three-buck-chuck, some of the tastiest and least expensive wine around!) 
Even with this, the Marriott was a great space for the classes.
I've taught in enough venues at this point to realize that nothing will be perfect.  But – as I say in my classes – life isn't about perfection, it's about addressing the imperfections with grace, and the Marriott did that.
If a classroom was warm, a quick call and it would cool.  If my own hotel room was hot (the heater AND the A/C were working concurrently) then the hotel staff quickly moved me to a new, cooler room.
Improvements
Overall improvements to the event are more along the line of tweaks.  Interweave was very smart to keep this relatively small this first time, giving the staff a chance to work out the bugs and develop strategies for greater efficiency.
Here are some small improvements I'd like to suggest:
Lighting:  In some classrooms this was a concern, brighter lights would be good.
Pre-event Communication: Emails from IK regarding class wait lists & new added classes could have been better.  I spoke to a few folks who missed out on classes because they didn't know they'd been added.
Morning Email: A text or email each morning updating student participants on their daily classes with room location & start time would be a great help.  This could be generated by the registrant database.
MORE Market: It would be wonderful to have the market open for more hours – perhaps on Sunday, too?
Knitter's Lounge: It would be great to have one comfy 'common area' where folks can gather and knit together.
Teacher's Lounge: A similar space for teachers (a teacher's lounge) would be great, but not as necessary as a Knitter's Lounge.
I'd be interested to hear from folks who were at the event (write them as comments to this post)  What did you enjoy?  What did you feel could be done better?  What would you add next time?
I really can't think of anything else I would have improved upon – if something crosses my mind I'll add it here!
Overall it was a great event, one that I am proud and happy to have been a part of!