A few years ago there was a Barbie doll who famously cried, "Math class is TOUGH!" as one of her pre-recorded soundbites.
Mattel heard the well-deserved cries of protest and yanked Teen Talk Barbie and chalked the whole thing up to a PR nightmare.
Girls don't need encouragement to believe that mad math skills are beyond them.
My own math journey wasn't smooth.  I was in advanced math in Jr. High, but upon transferring to a new school which didn't believe in 'advanced' classes I was given a choice to return to a lower class with my 8th grade peers, or move into the 9th grade (elective) class.
I chose the latter, and the teacher (who wasn't thrilled with a new girl in class, bringing the total female population in advanced algebra to TWO) dogged every equation I wrote on the board.
"Yes, Annette got the right answer,
but she got it the WRONG way…"
It was my last math class – I ended the year with a "D" after a solid A/B average for the previous 2 years in my old school, and I shied away from math stuff for years.
Then I began designing, and I re-discovered the joy of numbers.  It's almost poetic when I can get the gauge and stitch repeats to work well together, creating a simplified, universal pattern that can be easily altered.  Here's an example of a recent trip through math hell.
But for the past year – probably more (I've been trying HARD to ignore this) my brain is not dealing with sums as well as it has.  At first I thought it was my imagination, then I thought it was pure laziness
Now I'm forced to admit that when I'm return to a pattern in one of my math worksheets I have no memory of my previous encounters with the same formulas.
The good news is that it's forced me to label all of my columns (which note body measurements and changes in the pattern) INCREDIBLY clearly so I can jog my memory when I return to the pattern.  Clarity is good.
The bad news is that patterns take longer to write.  Recently I wrote up a pattern for a simple shrug.  I'll admit that the lace pattern was a bit of a bear (I reworked it 3 times to simplify it without losing the beauty) but still, writing the pattern took me approximately 20 hours when a similar pattern might have taken me 4-5 hours a few years ago.
This is so frustrating.  I know it has a lot to do with the fibromyalgia, and I wonder if – in a warmer, sunnier month my brain might be clicking away in a more efficient manner.  But right now it is what it is.
So, while I'm NOT giving up designing hand knit and crochet patterns, I'm branching out a bit to add a bit more joy in my life – and hopefully diversify my income.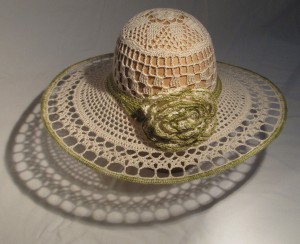 I'm making Millinery. Hats. Caps. Dome-pieces. Do-rags. Lids.
These pieces won't be available as knitting patterns, that's part of the joy for me.  I just need to be able to MAKE stuff without worrying about how to tell others how to make the same thing.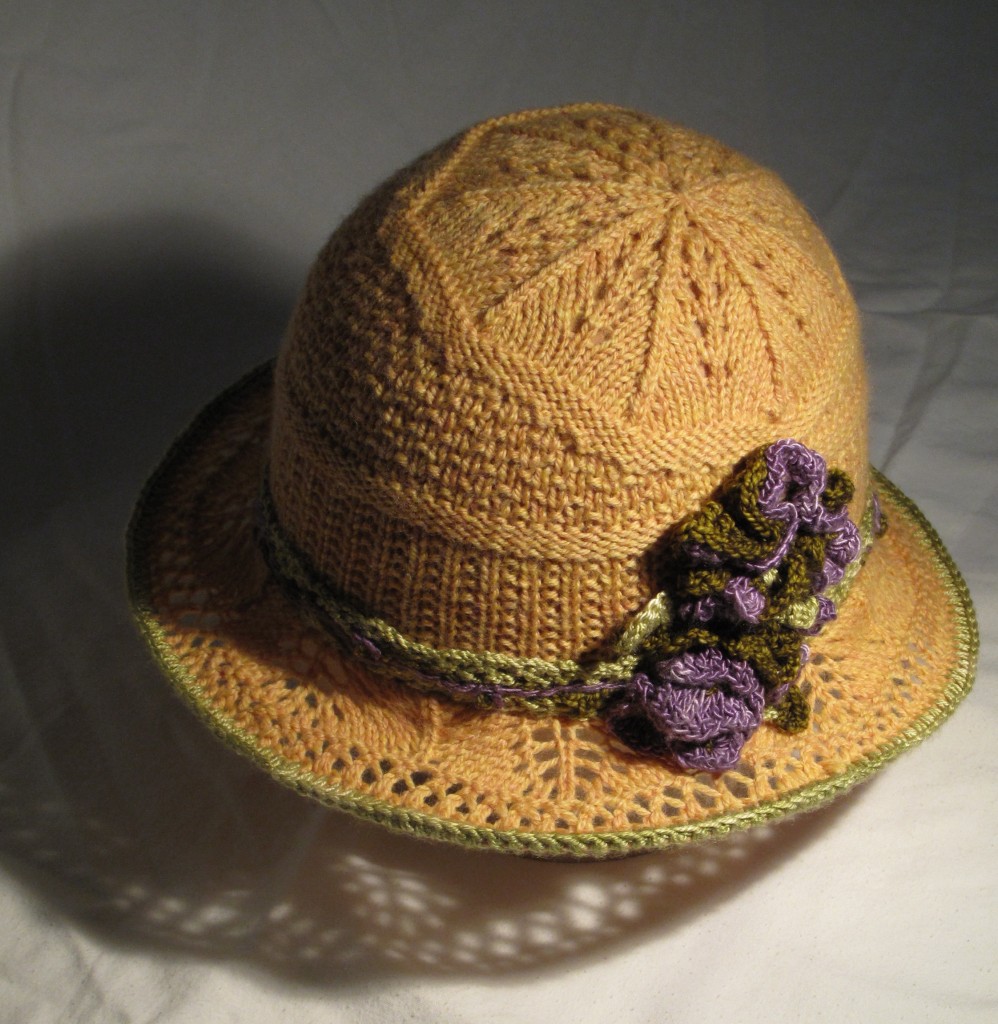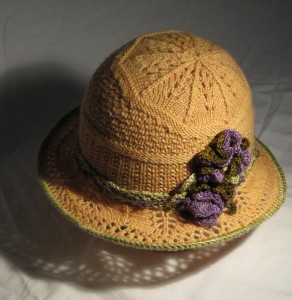 I sometimes find myself stymied by the difficulty in explaining a complex technique, and I avoid some beautiful details in my work for just this reason.
So the hats will be an escape for me, a bit of joy in a few cold, dark months when math doesn't come as easily as it might.  I'll make hay – and patterns – when the sun shines.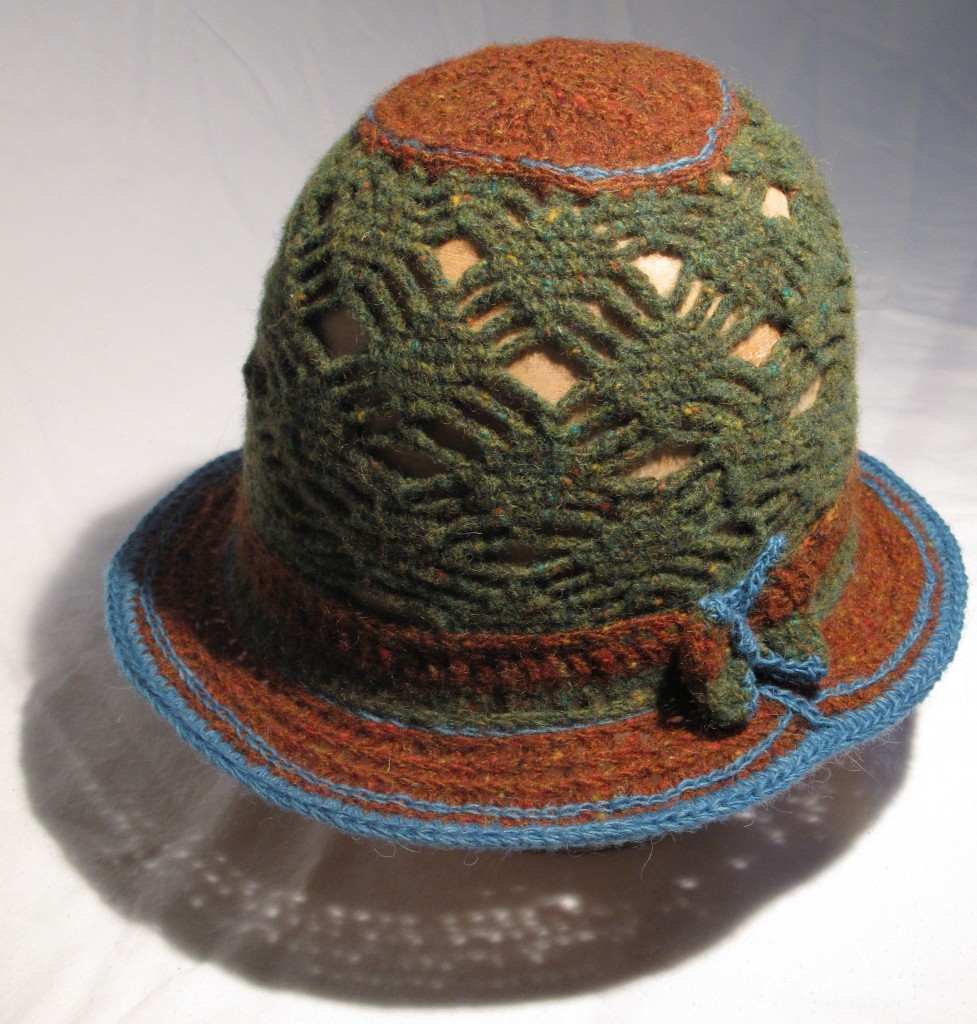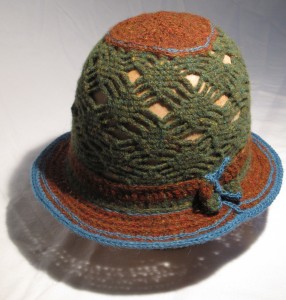 If you know anyone who is looking for a beautiful, unusual, interesting hat for a special occasion, direct them over to my website or etsy store.
I'm happy to do commission work, and with the wealth of yarns out there I can match or complement just about any fabric or trim.
It would be lovely to see more brides wearing fine millinery, and the lacework brims on my hats create a 'shadow veil' which is flattering to any face!