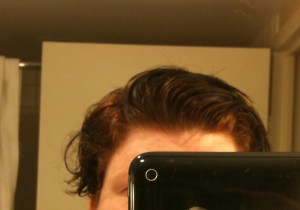 It's lovely in Orlando.  Apparently it's chilly here, but to me it feels just DANDY!
My first evening here I engaged in my usual, I'm BORED hair lightening event.  It was fun, and the results aren't bad!
So I was fully prepared and beautiful for my full day of classes on Friday for the Knit or Knot Guild.
I have seldom taught such a fun, hardworking, wonderfully challenging and enjoyable group as I have this weekend!  So far my classes have been really great – I'm pushing folks kind of hard, but they're all stepping up to the plate and doing really splendid work!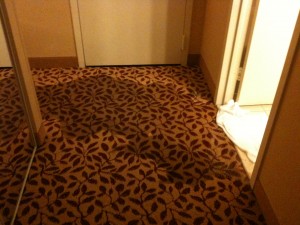 Unfortunately I was a bit late to class today because my toilet sort of exploded (one flush, something within the tank went 'pop', and the water just POURED out into the room, onto the carpet and OUT into the hallway!)
I swear I was not flushing watermelons or rubber gloves, but it was a heck of a way to start the day!
I regrouped, changed rooms, & rushed to the classroom where everyone was patiently waiting for me, 10 minutes late.  Dang.
It was a high concept class today – Entrelac/Entrelace class.  There are some REALLY tough techniques in the lesson, but this group got them and asked for more!
I've taught a lot of tricks and tips tossed in with my classes so far this weekend, and the Knit or Knot Guild has really stood up to the challenge.
Tomorrow is the Universal Handbag Class, which is a great ending class because it's fun, not as mentally challenging as some of the other stuff, and there's a little final product (a small bag) at the end of the class.
One of the guild members set us up at her neighborhood club house, it's a great teaching location and the built in kitchen made the pot luck lunch today such a nice, homey alternative to going out for a quick bite!
Last night I had dinner with a friend I hadn't seen in 20 years, I'll be staying with her on Monday night, more time to catch up!  Tomorrow she's taking me to one of the Disney parks (she works there in costuming) so I'll get a bit of tourism fun.  Mostly, though, I'm just trying to rest when I'm not teaching so that I am fit to teach again!
I guess you can tell from the very simple blog post how tired I am – but it's an extremely happy tired!  One lovely woman made gluten free peanut butter chocolate chip cookies for lunch and I took some home to my hotel room.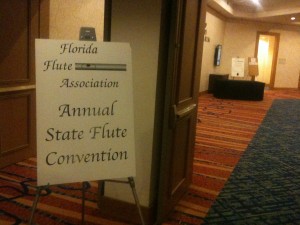 As I walked through the lobby I noticed an unusual amount of flautists tweeting away in corners of the hotel, then I saw this sign:
Either the folks who play flute in Florida are an exceptionally happy lot, or they were just incredibly glad to see each other.  At any rate, being surrounded by so many joyful flutes was enchantingly surreal!
This evening has been a delight of private, in my room online scrabble playing, tea drinking, cookie eating, and now some good bed time with a great book.
The best evening EVER!
I'd give a great deal, though, to have Gerry and the kids here!  I missed Max's band concert (rumor has it he ROCKED!) and I'll be home just in time for his birthday on Tuesday.  Slight guilt, but mortgage must be made!