Once again I've been quiet, thank you for your patience!
It's for mostly great reasons – a lot of work!  Suddenly I'm engaged in several designs, writing a few articles and arranging teaching trips for the coming year.  October is going to be HUGE for me, I'm hoping I'll have the stamina to carry it off!  But I'm always at my best in the Fall – my favorite time of year.
I'm at Stitches West in Santa Clara, my first visit to Stitches as a teacher and I'm loving it!  For some insane reason I'd almost forgotten how wonderful the marketplace is, and spent several delicious hours strolling the many aisles, falling in love with yarns and beads and patterns.
I remember when I was just starting my second design career in 2001, visiting Stitches in Pennsylvania in October and being rather overwhelmed (in a good way) with the variety.  I still have many of the items I bought on that trip, and I can remember individual booths as if I stepped into them yesterday.
It's been 10 years since I've even BEEN to a Stitches (if I'm not teaching, it seems like a superfluous expense to entice myself to buy yarn I SERIOUSLY cannot afford!) and because of that decade-long-break my walk through the market was almost as mind-blowing as my first in 2001.  Later I'll write about individual booths and great items, I was just getting my sea legs yesterday!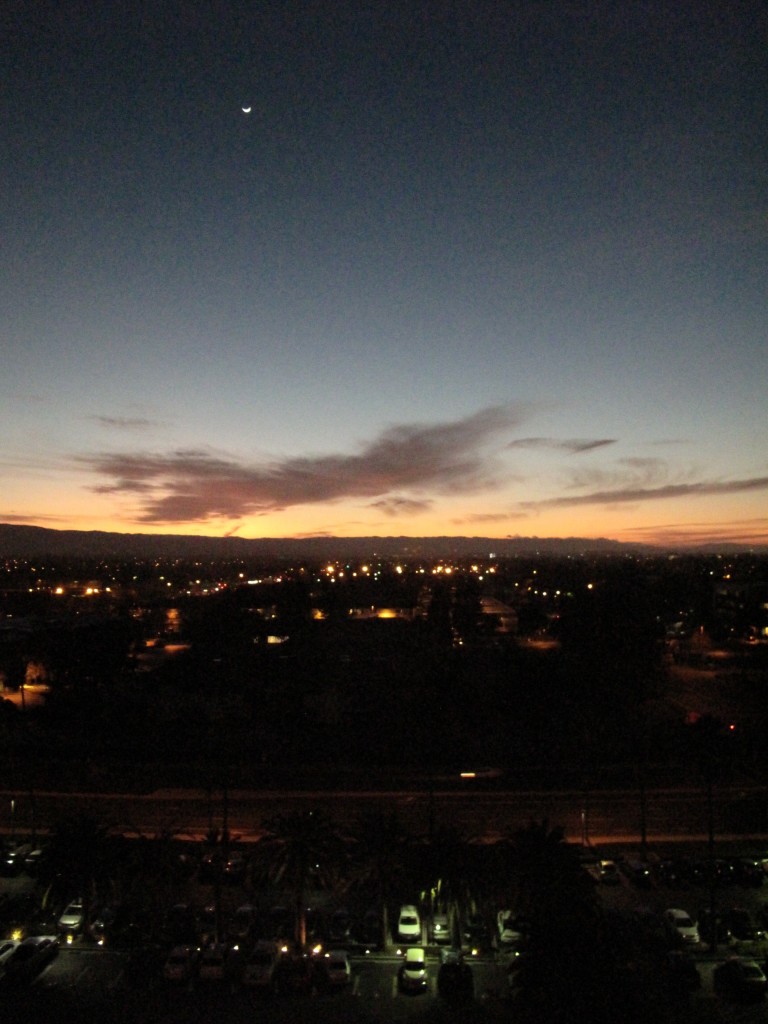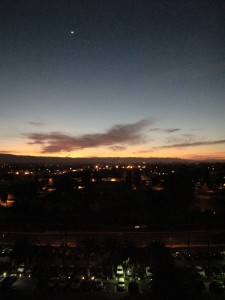 It is SO beautiful here – absolutely wonderful!  I arrived on Thursday and discovered the lovely San Jose airport.
I'm falling in love with small airports.  Little Rock was wonderful, just the right size (and free wifi!)  San Jose airport is another little jewel.
I rented a car because I was able to find a bargain ($25 for the weekend) which was cheaper than either a shuttle OR a cab, and I really love having my freedom.  I feel so trapped sometimes when I'm at the mercy of $10 bowls of oatmeal and few gluten free options, a car gives me a sense that I can escape when I need to.
My room is lovely – the view is gorgeous – and I truly appreciate the hypo allergenic sheets, bed, etc., which – although boring – are fabulous in that they allow such a great night's sleep!  Boring is beautiful!
I've discovered a restaurant here – Hobee's – which has a LOVELY gluten free menu.  It's not huge, but it's definitely appreciated!  I had breakfast there yesterday, and I may again this morning (gf pancakes!)
Immediately upon obtaining my teaching packet I ran into a good friend, Lorna Miser, and we had a lovely chat.  I'm a bit of a recluse when I travel, unintentionally anti-social, because teaching zaps my energy SO severely.  An impromptu and unexpected visit with a friend is a gift.
I've only been scheduled for one class a day, which is a bit of a treat for me and allows me time to get some work done, and perhaps even to work out this morning!
I've reached the point in my Fibromyalgia journey when I realize that saving up my energy is the best plan on teaching trips.  Students have paid good money to get as much of my strong, clear attention as possible, they deserve it.  When I deviate from my energy saving plan and socialize, I'm not able to give 100% of my limited energy, and that I've failed in some way.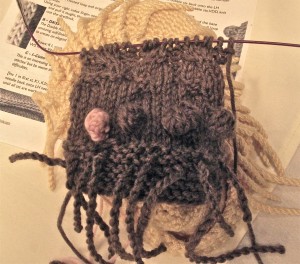 My classes are full, and my first class yesterday (embellishments) was absolutely wonderful!  The students were above and beyond my expectations – each one smarter than the next – engaged and eager and so much fun!  I could have taught that group for 6 hours and not cared!
As it was, I went over my time limit (so hard NOT to do with 24 students) and tried to make a connection with each woman.  That's hard – it's natural to want to gravitate to a few students – but giving each one a bit of her "own" time pays off in comprehension.  As always, I learn so much in my classes, and I'm very grateful to my students!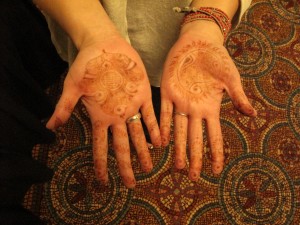 One student had just returned from a wedding trip to India, showing hints of a hennae mehndi tattoo on her hands.  I was enchanted, and loved how the beautiful design was offset by the carpet in the classroom.
Off now to the fitness room, then breakfast and a private lesson before my class – life is good!