Mistakes happen.
Every now and then before one of my classes gets going, or during a break, someone will bring up the eternal question, "Why are there mistakes in patterns?"
And the answer is; Because patterns are made, figured, checked and printed by HUMAN BEINGS.  It's our nature to be imperfect, that's what makes us human.
Telling a knitter, "it's not about perfection, but about dealing gracefully with imperfection…" is NOT the most helpful way to get someone past a frustrating point in their pattern, though.  So I try to hold back on the philosophizing when I'm actually in the midsts of getting someone over a pattern misunderstanding or mistake!
At this point I shouldn't be astounded at how mistakes can creep into a pattern during the editing process, or how many mistakes I, myself, toss into the mix with stupid math errors, but every time it happens I'm a little blown away.
It's good not to get complacent about mistakes, but it's also necessary to treat them as what they are: Frustrations, roadblocks, not intentional slights by a designer.  I'd like them to be as few as possible, every designer would like that, but they creep in.
Sometimes mistakes aren't mistakes at all, they're just clumsy explanations that can be confusing for a reader/knitter.  These are the easiest to fix, and generally occur when several 'cooks' are involved in creating & editing a pattern, making edits and re-edits that might not always make sense.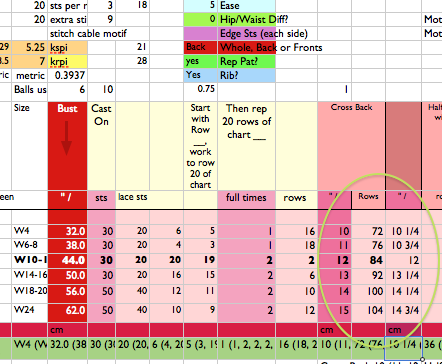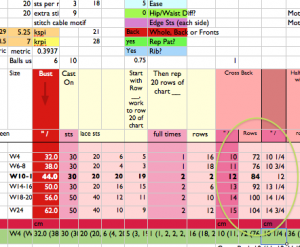 Other mistakes are based in simple math.  This morning I was contacted by an editor who noticed that my row count on a project didn't jive with the measurement given the stated gauge.  This was simple to fix – I'd calculated the measurement based on the wrong gauge (stitch vs row) and just had to change my multiplier.
The hardest math problems for me spring from the need to take into consideration the variables of sizing, motif repeat counts and gauge.  Because I don't want to make your (or my) brain hurt too early in the morning, I won't go into the deep details of my patterning, but here's a simple overview of my process.
1. Size
I begin by creating RAW measurement numbers (based on schematics, pattern drafting skills & experience with different size patterns)  I generally like to design for at least 5 sizes (I'd feel like a traitor to the cause if I don't size something up so that I could make it for me if I chose to)
2. Gauge
I work up a sizeable swatch so I can get a decent gauge.  I like to think of gauge as a tool, not THE tool, for determining fit.  Other tools include a measuring tape and the ability to measure the piece as we work it.
3. Motif
I figure out the best repeating pattern stitch count.  This is very tricky, as a motif count may work BEAUTIFULLY for 4 out of 6 sizes, but just will NOT fit into the other two.  Sometimes the motif counts between different sections of the sweater don't play well together. Sometimes I just screw up the numbers.
The magic number 12 is the knit designer's best friend.  It's a good number, divisible by both even and odd numbers, and plugs into many motifs quite easily.  A good amount of my designing time is spent working motifs into a derivative of 12.
Once I've worked through these three elements once, I return to them, finessing the numbers and trying to make one motif fit for all sizes (sometimes this just doesn't work, which is when you see patterns with 1 chart for sizes ABC and another chart for sizes DEF.)
It's a lengthy process, taking – I'm not exaggerating – up to 100 hours for a sweater (NOT including the knitting process)
My family is very aware of the body language and facial expressions that announce, "Mom is in MATH HELL…  RUN AWAY!"
This number represents the working through the math so that the design and proportion distribution (one of the hardest parts) create an attractive garment in every size included in the pattern.
And I often fall short of what I hope to accomplish!  But every year I do this pattern writing thing, I get better.
Every time I sit down to create a pattern – even if I'm working off of a skeleton of an older design – I feel as though I'm starting a long journey all over again.
For a while this made me crazy – I kept thinking, "Why can't I just simplify this process?"  Then I realized it's because my mind works in a different way than many others (every mind works differently, I'm nothing special!)
I realized that I can no sooner leap over the above mentioned steps 1, 2 & 3 to the final pattern than I could teleport to TNNA in June.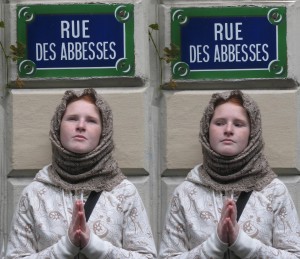 I could fly to TNNA, but whether I drive or go by air I still need to make the journey every time. I can't just wiggle my nose and arrive in Columbus!
I can use a pre-set worksheet to help with my math, but that doesn't take the place of the necessary pattern writing process that's as much art & poetry as it is math.
Right now I'm in a bit of math/pattern hell as I work through tech edits for History on Two Needles.  Our goal is to have something lovely to present at TNNA (a blad that folks can hold and order from) and a finished book in the stores by Fall (just in time for holiday giving!)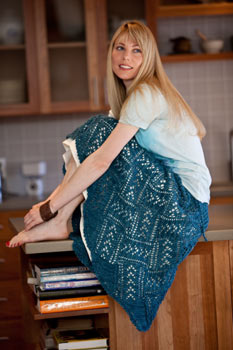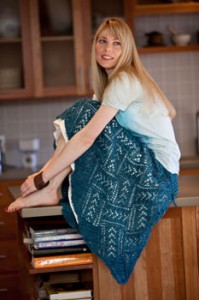 In other news, I'm uploading a bunch of my patterns to Craftsy (and taking time to give them a good once-over) and finally reworking many of my patterns (for which I own rights but were previously published in other venues) by adding extra charts, tips and in some cases extra sizes before offering THEM for sale, too!
For instance, here's the Luminarie Skirt with extra charts & in my own pattern speak – $7.00