A week ago yesterday Hannah and I set off for a L O N G road trip!
We're still alive, we're still talking (more than ever, actually) and it's been the trip of a lifetime!  It's not that we've done amazing things, or have gone to amazing places – it's more that we've spent so much great time together.  I love my daughter.
We've been listening to audiobooks; Nicholas Nickelby (narrated by Simon Vance), and Howl's Moving Castle (as a respite when Dickens got a bit too wordy…)
Here's a taste of what we've done;
THURSDAY & FRIDAY: We left St. Paul EARLY and drove straight through to Logan, OH.  I'd reserved a campsite at the Hocking Hills primitive walk-in campground, but I could find no information online about WHERE each of the campsites actually were.
We located the campground, but our actual site was 1,600 feet from the parking lot (up and down a few hills)  It was a LOT farther than it sounded, especially at 8pm as the dark was drawing in.  We struggled our stuff to the site, I was SO glad I brought my bike because I used it to make a few trips (much faster and easier than walking!)
We pitched our tent, built a fire, and settled in to sleep in our cozy bags.  That was the hardest night as we hadn't inflated the air mattress and the ground was STONY and slanted.
The camp was kind enough to allow us to switch to a different site the second night – closer to the parking lot (YAY inflatable mattress) and just as lovely.  The only down side to site #2 was the wasp nest IN the picnic table, but we avoided them, and they pretty much avoided us.
SATURDAY: Off to Granville, OH for a reunion of the Denison Theater Department.  What an amazing time!  Hannah was good enough to hang out in the hotel room catching up on internet stuff and watching TV (and eating goat-cheese pizza) while Alison (one of my best friends from college and those first years in NYC in the 80's) and I drank and laughed and caroused with old friends.  What an evening!
The folks you spend time with in late teens/twenties really DO shape the person you'll become to a large degree.  My college years were very rough in that I was working through quite a bit of angst (I was in the drama department, after all!) and part of what made the reunion so special was seeing how everyone had grown into such amazing adults.
I was shocked to realize that to the current students, we are essentially the same old fogies who had graduated in the 1950's and came back to DU to visit the campus.  I am old.  It is better than the alternative.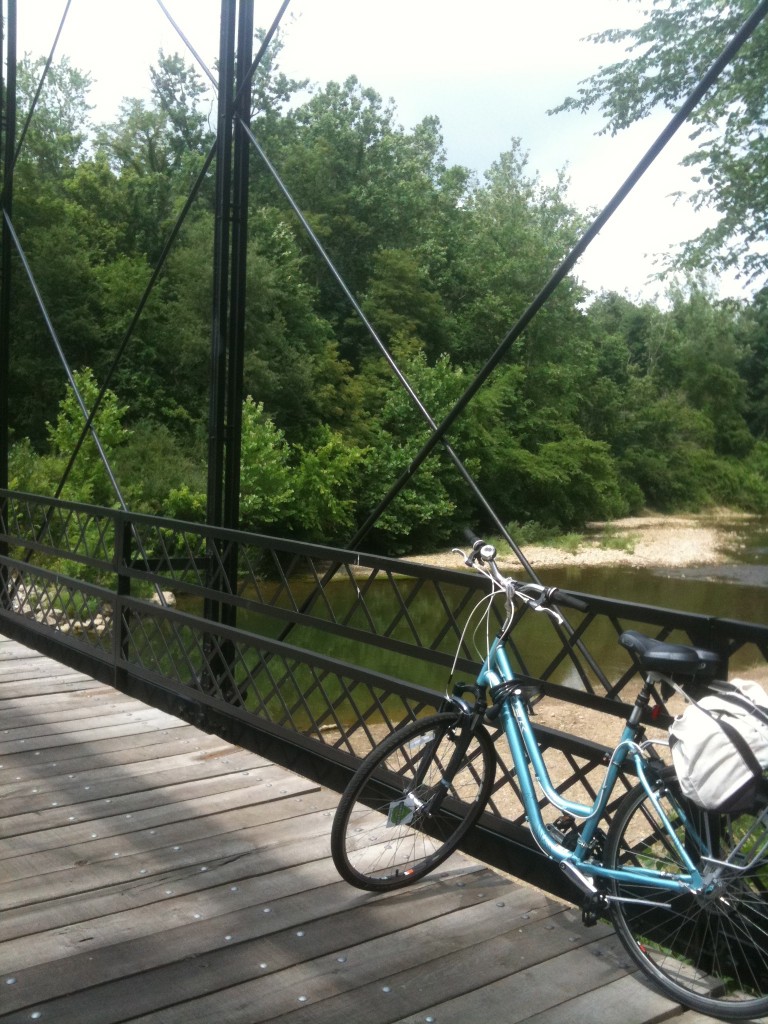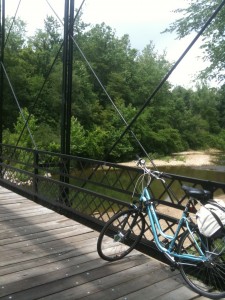 SUNDAY: Hannah and I stayed outside of Granville and I FINALLY got a good ride in!  I traveled the trail back into Granville and spent some time at Wisp yarn shop (see my last blog post)  It felt wonderful to relax on a REAL mattress, a nice respite!
MONDAY – THURSDAY: We drove down to Seneca Shadows campsite, part of the Monongahelia National Forest, in Seneca Rocks, WV.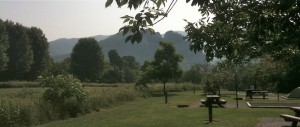 Now, I'm NOT a hard core camper.  Before this trip I'd never slept in a tent I pitched myself, and my campfire cooking is nothing to write home about!  The Hocking Hills campsite wasn't exactly roughing it, but it was rougher than I'd ever done.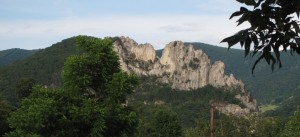 The Seneca Shadows campground, however, was AMAZING!  This is perfect camping for someone like me – someone who wants to be out in the 'wild', but would like to be close to a toilet and maybe even a shower.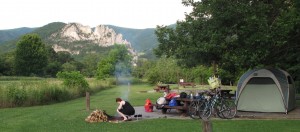 The walk-in camping sites each have a WONDERFUL tent pad, fire ring and picnic table.  Our site had a lovely tree (shade!) and a view that could NOT be beat!  It was a quick walk to the car, to the pit toilet and a short bike ride to the showers.  HOT SHOWERS.  Life is good.
This is camping that someone who is physically challenged could easily do – Handi-camping!  I would LOVE to bring Gerry here!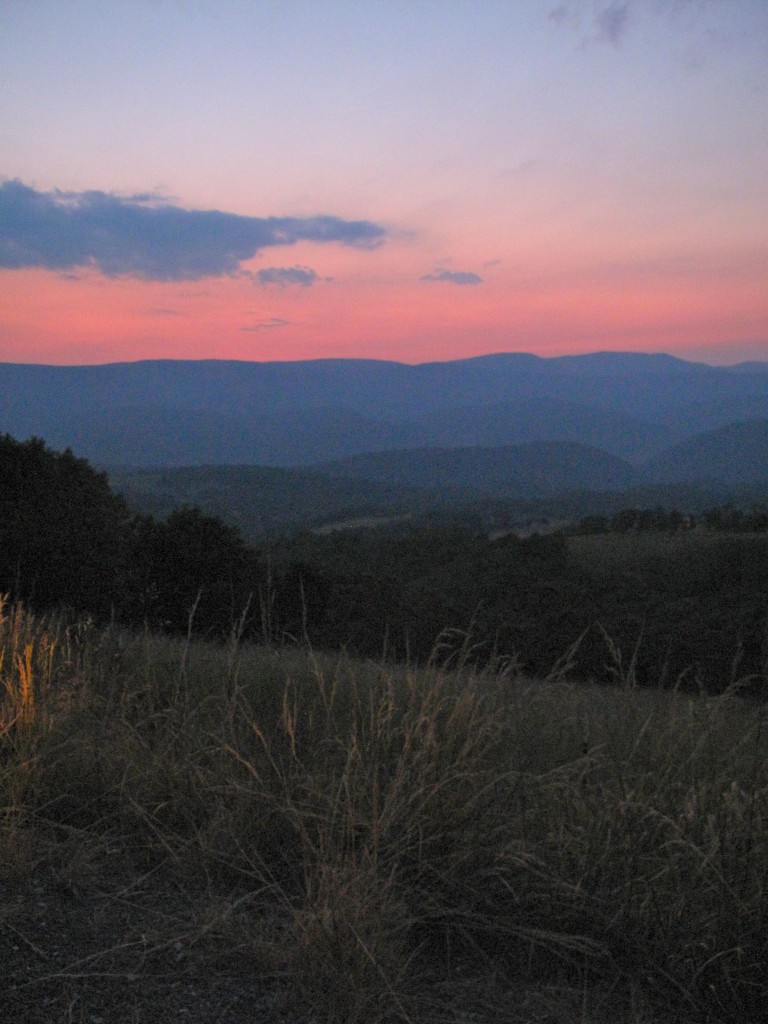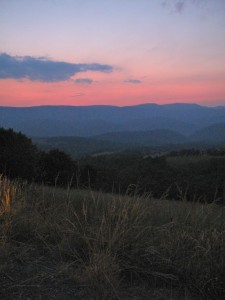 The area was smack in the middle of where many of my forebears settled, which gave me an odd feeling.  I don't know how much I believe in 'genetic memory' but there may be something in that I just feel at HOME in West Virginia / Western Maryland in ways that I haven't in other places I've lived.
Not that I want to LIVE in WV – it's just too hot for me – but it's so beautiful, stunning, stirring.  As we drove around the area Hannah kept saying, "Mom, this looks SO MUCH like Ireland!" and it's true – it does!  Just with a LOT more trees…
We headed off looking for the gravesite of Phebe Tucker, my 4th great grandmother who has an interesting story (here is one rather detailed version by a blogger named Bob, which corresponds to the story I was told as a child, and to any research I've found)
I've always felt very special to be one of her direct descendants.  It's through her husband, Thomas Cunningham, that I have my tie to Ireland (where the Cunninghams lived for 200 years) and Scotland (where we've traced them back to Richard Cunningham, 1175-1233)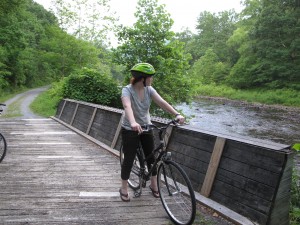 The next day we went to Seneca Caverns and after that visited the Greenbriar Trail near the Cass Railroad (which I rode on with my Aunt Wanda 20 years ago!)
We biked 6 miles (not Hannah's favorite thing, but by the time we finished the ride she was having a great time!) and did some basic sightseeing of the beautiful mountain scenery.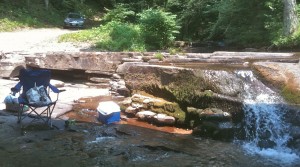 Thursday we found a lovely spot by a creek (a tributary to the Potomic) and splashed and sat and sunned ourselves!  Hannah swam, I knitted, and we cooled off beautifully!
It rained later in the day, and the heat was oppressive, so we drove to a theater to see Rock of Ages (a silly movie which fit perfectly with my memory-late frame of mind) then back to the campsite where we created a HUGE fire to celebrate our last night at Seneca Shadows, then crawled into our tent and enjoyed a mountain thunderstorm, tight and warm in our bed!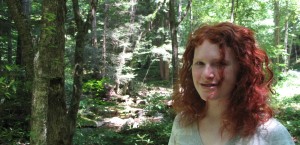 FRIDAY: Driving to Columbus took much longer than anticipated – we were stuck in traffic for almost 1-1/2 hours due to construction on 70 in Ohio, and I was mentally and physically a bit of a wreck.
Driving begins to make me ache, my shoulders and especially my knees and hips.  Sitting for such a long time, using my ankle, knee and leg muscles to control the car speed, focusing on twisty mountain roads is exhausting!  I loved driving in the hills, but I'm NOT sorry to kiss that part of our road trip goodbye!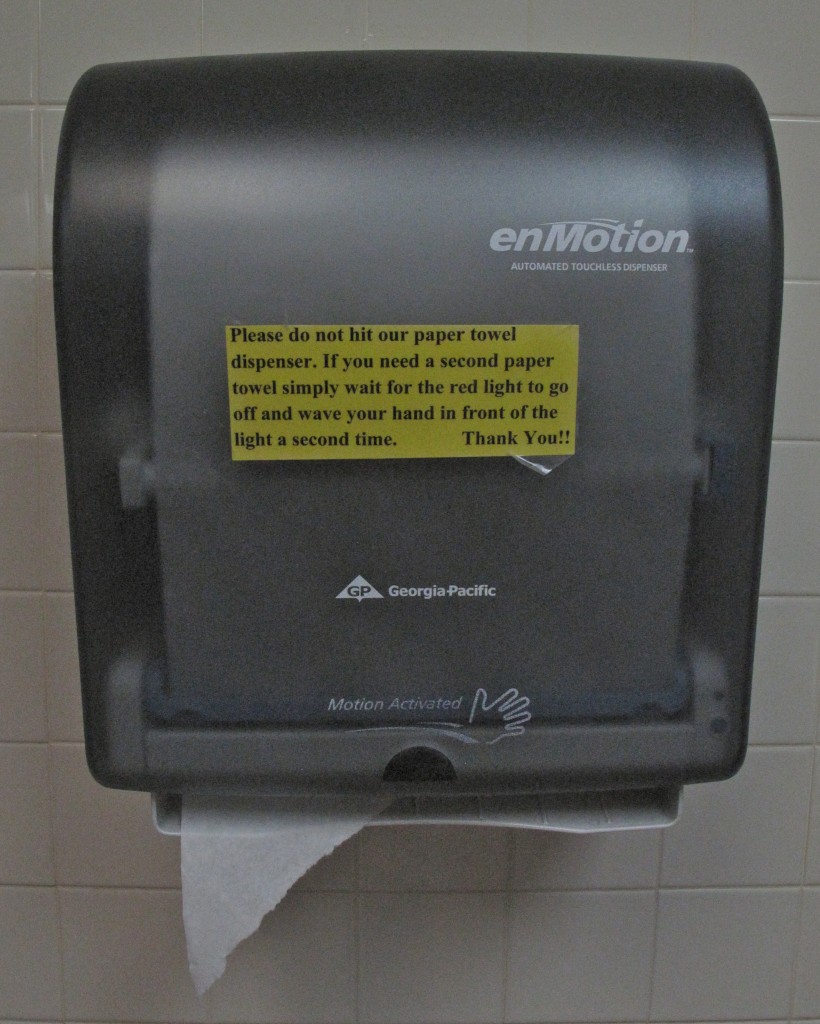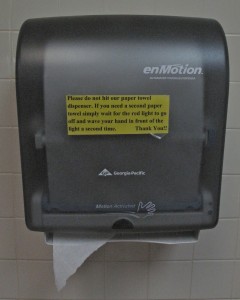 Now we're in Columbus, sharing a room with the beauteous Kristi Porter (who I admire & love so much!)  Hannah watched TV and caught up with friends while I attended Marly's Yarn Thing dinner tonight
I'll write LOADS about the amazing swag I walked away with! Hannah and I are now just relaxing together, watching Ricky Gervais on HBO.  TV is nice.
I am fortunate in my daughter – she's lovely, loving, funny, kind and just good company.  And she can start a mean fire!
The best part?  I KNOW exactly how lucky I am!