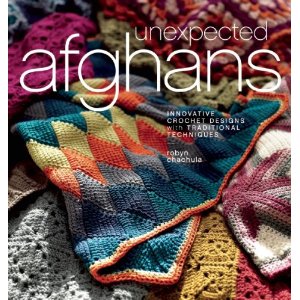 When Robyn Chachula asked me to be part of her book, Unexpected Afghans, I jumped at the chance.
For the record, WHENEVER Robyn asks me to do anything I jump
– I love her that much!
I love working both with Interweave AND with Robyn, so this project was a no-brainer for me!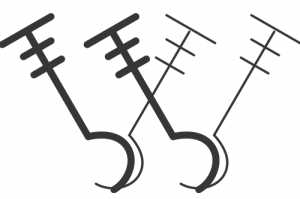 My own contribution to the book is called "Croises" – a nod to the fact that the design element I chose was cables that resembled the knit version, but are worked using long post stitches in crochet.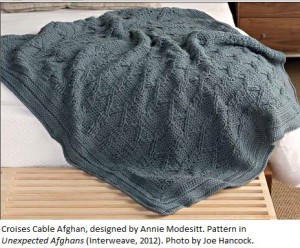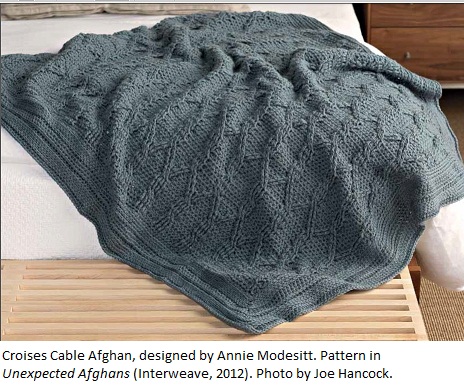 It's a much easier technique than one would think, and simply involves leaping down several rows with your hook to grab onto an existing stitch and working from there.  Think of it as rappelling with yarn.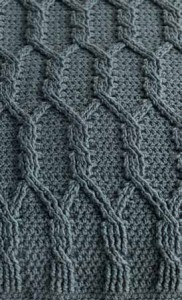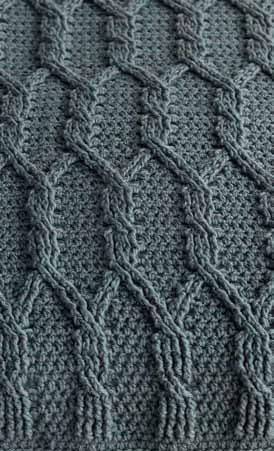 Anyway, I loved working up this project, I loved making the cables and even more I LOVED working with the lovely, simple greenish-grey Brown Sheep yarn (Lamb's Pride Superwash) that showed the texture so beautifully!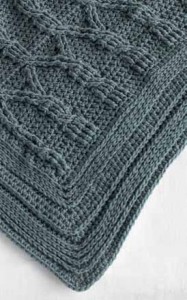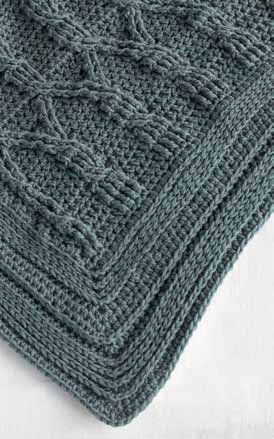 The design is both charted and written out (but try the charts, you'll surprise yourself at how simple they actually are!) and here's what I wrote in the pattern for a good tip to consider while working up the piece:
It may not be popular, but the best tip I can give is to create a SWATCH and practice the front post stitch. If you're not used to it, it can be a hard technique to handle over a large number of stitches. By chaining 20–30 stitches and playing with the technique, it will make sense much more quickly.
My idea of photographing it with folks' feet sticking out, as if the afghan was in use in someone's house, was nixed.  Dang.
The photo below was one I took in my own house before sending the piece off to be photographed by Interweave.  That USPS Priority Mail box in the background is placed there to lend authenticity.