I TOLD you all I had a lot of stuff to giveaway!
I was gifted with an iPad this past Mother's Day, and the more I use it, the more I wonder how I did without it!  I keep my pattern charts on it, do my email, write my blog and – best of all – carry around DOZENS of full color knit & crochet magazines and books.  It's a beautiful thing!
As much as I'd love to give away an iPad (or a kindle, or some other e-reader type of gizmo) I can't.  My giveaway budget isn't quite large enough to make that kind of magic happen.  Sad trombone.
Please note, Apple, that I would be HAPPY to give away
ANY product you'd like me to, call me…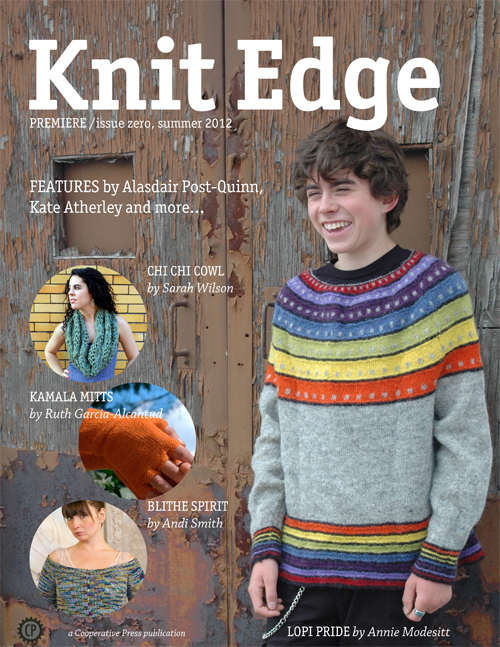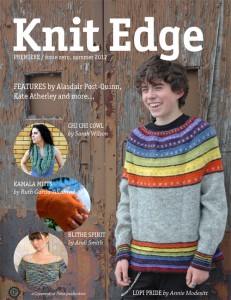 HOWEVER I can give away a magazine subscription to the fabulous new knitting e-magazine, Knit Edge
NOTE: YOU DO NOT REQUIRE AN IPAD TO READ KNIT EDGE, IT'S AVAILABLE IN PDF FORMAT!
Knit Edge is published by Cooperative Press, and the first issue features my rainbow sweater, Lopi Pride*.
I'm very excited to be part of Knit Edge, and look forward to future issues!
So here's the thing, you can WIN a one year subscription to Knit Edge (3 issues, not including issue #1)  by simply leaving a comment below and telling me WHAT you would most like to see in a knitting magazine that you're not seeing now.
I'll pick one winner at random, and announce it on Wednesday around dinner time (how's THAT for vague?)
If you 're not the lucky winner, fear not!  You can still be a winner…
Use the code "modeknit" when ordering Knit Edge and receive $1 off a yearly subscription.  You have until July 31 to take advantage of this code.
Additionally, one other lucky person, also chosen at random, who subscribes to Knit Edge and uses the code "modeknit" when checking out, will have their entire subscription fee refunded.  Too cool, huh?
Three ways to win!
So it's not exactly an iPad, but it's nothing to sneeze at, either!
*The pattern for Lopi Pride will be available for individual purchase at my website, anniemodesitt.com, this Fall