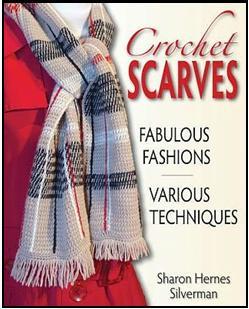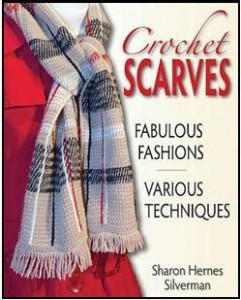 I really like Sharon Silverman's crochet books, I find them clear with great instructions, but also with patterns complex enough to keep me interested.
Often the complexity on one of Sharon's projects is a combination of simple techniques, each of which can be isolated and easily mistressed*, which makes the whole experience satisfying on MANY levels!
Sharon's new book, Crochet Scarves, Fabulous Fashions, Various Techniques is a perfect addition to her growing collection of "go-to" books for a crocheter of any skill level.
ANYONE can learn something from Crochet Scarves ending up with a lovely scarf in the bargain!
The thing about scarves is that they're FUN to work up.  I like to think of them as a huge swatch, and often use a scarf as an excuse to try a new stitch pattern or yarn.  I also live in Minnesota and have two teenage children, so we can run through a LOT of scarves in a year.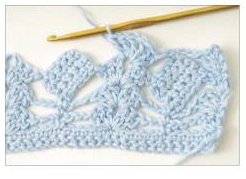 I have a simple 4-point criteria when considering making a project:
The finished product should be beautiful or visually compelling
The techniques involved in the project must be interesting.
I want to learn something from the creation of the project.
The project must be FUN!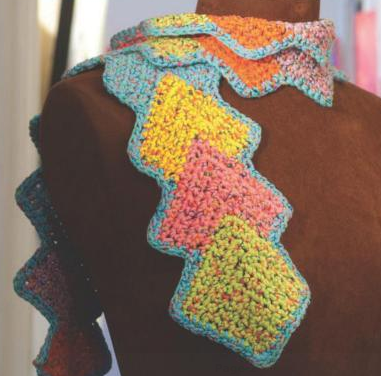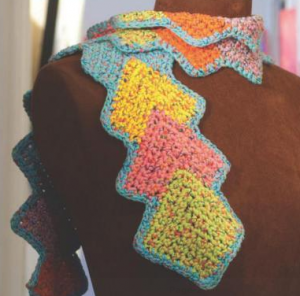 The scarves in this book fit all my criteria, with the added bonus that the charts are large and clear (and written in text, too) the technique images are plentiful and the patterns are well written.
One of my favorite projects is the simple mitered scarf which opens the book, Accordion Arrows.
This would be a HUGELY fun project to work up, one of those that would be as satisfying every step of the way, and garner as many compliments while it's being worked as when it's finished!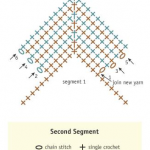 I really like how this pattern is explained in the book, and although the skill level is set at 3, I feel this would be an excellent project for a newer crocheter to move into a higher skill set – a project that would 'grow' a stitcher!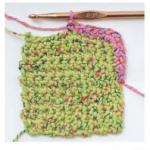 It would also be a GREAT project to use up stash!  Imagine this worked in many different yarns, with one color used throughout as an accent to bring all the yarns together?  THAT is a way to bust up that bag of yarns you're hiding in the spare bedroom!
AND – here's the good part – YOU can win a copy of this book!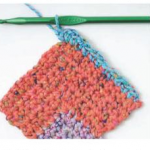 Simply leave a comment telling me what your favorite crochet technique is.  If you're not a crocheter, make one up.  If you'd like to link to a video or explanation of the technique, that would be great – that way we can ALL learn from your comment!
I'll select one comment at random on Monday, July 30, and will notify the winner by email.
SO let's hear what YOUR favorite crochet technique is – chop, chop!
*yes, I'm aware 'mistressed' not a real word, but I like to use it.  Seriously, what is the percentage of women vs. men who are reading this right now? 
I like to think in terms of 'mistressing' a technique, it's one of my idiosyncrasies that make me so – what? – loveable?  Irascible?  Lovably irascible?