Mentally, emotionally and work-wise, it's been a pretty great week!
Physically, though, it's been rough.
I haven't been able to get out for the bike rides I'd like, which allows soreness to grow in my unused muscles, which makes me hesitant to ride, which leads to more pain – you can see the pain cycle (no pun intended) that I fall into.
I'm on a new asthma medication, it's supposed to normalize my breathing (which has been steadily declining for about 10 years) and allow me to forego my regular prednisone battles.
Prednisone, for those of you who are fortunate enough to not know, is a wonder drug that allows my lungs to work well, a steroid – but the side effects are pretty brutal.
For me the worst are emotional fragility/sensitivity and weight gain.
(They should call it "pregnisone" because it's the drug that mimics pregnancy.)
Anyway, this new med, Xolaire, is a monthly two-shot injection.  Three months into it, it seems to be working well.  As I'm phased off of the prednisone, the Xolaire's supposed to pick up the slack – we'll see…
And I'm hopeful to get back to my long rides.  When my breathing's iffy, everything is hard.  When I give in to the difficulty, everything gets even harder.
BUT THE GOOD PART
…is that I'm getting a TON of stuff done for History on Two Needles.  Amazingly good progress!  I'm working through the layout of the patterns, trying to find ways to make the experience of reading the book interesting and instructive.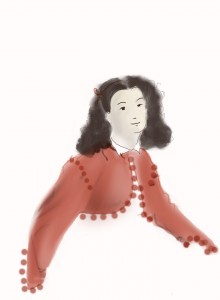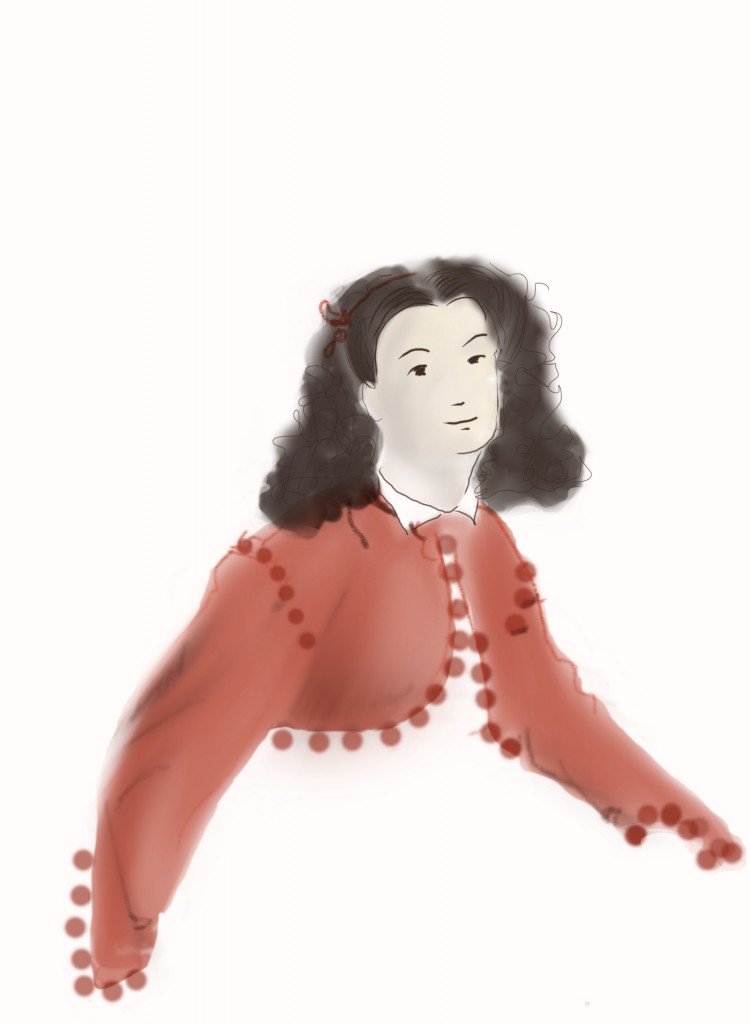 The license fees for the images are going to be heavy, but manageable (thank you kickstarter!) so I'm trying to work around that by paying lower fees for black and white images for some pieces, then augmenting those sections with my own color sketches.
It may work, or it may just look dumb, but so far I'm happy with the results.  This will also allow me to isolate the individual sections of the original artwork (which were so inspiring to my finished garment.)
I've been using an iPad app called Procreate, which is sensational!  I'm able to sketch – not awkwardly wrangle my Photoshop skills (as I've been doing – although not entirely unsuccessfully – in my previous computer sketches.)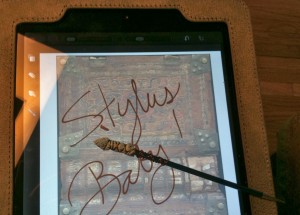 The best part of Procreate is that it allows me to use the techniques I spent years developing in grad school, my own style of shading, detailing and softening that I thought I could only do on paper.  I really love this application.
I can use my finger for a lot of the drawing, but a stylus is better.

So I found an online tutorial showing me how to make my own stylus with a pen, a sponge and some wire.  I changed things up by using a dpn (signature, of course!) because that feels better in my hand.
It's been working great, even if it is a little ugly, and I feel it should earn me the MacGyver level II merit badge.


NOTE: No needles were harmed in the making of this stylus, which can be easily taken apart.
So although my physical movement has been hampered with breathing difficulties and all-over body pain from the fibromyalgia, I've been able to get a great deal of work done, which is not bad!
I plan to get out for at least an 18 mile ride today.  With any luck I'll push a bit of that pain away as I pedal, and I can take my iPad with me and get some sketching done during rest breaks!