I turn 51 in a week†, and I have some nice stuff to give away!
THE GIVEAWAY
I have 2 lovely skeins of Buffalo Gold Earth Lite Yarn that I'd like to gift to 2 lucky readers.  This yarn is indescribably amazing; soft, strong, beautiful to work with and very comfortable to wear!
Buffalo Gold Earth Lite
1 Skein of Dark Grey (Arsenic)
1 Skein of Deep Red (Crimson)
Fiber Content- 90% American Bison Down, 10% Nylon
Yardage- 200 yards per 62 gram skein
Gauge- 23 to 26 sts per 4 inches on US 3-5
Earth Lite is among my favorite fibers, by one of my favorite yarn companies!  The folks who run The Buffalo Wool Company are great folks, I consider them wonderful friends in the world of fiber, and every time I see something made of their fiber, I loudly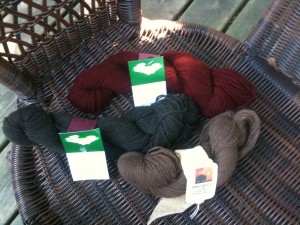 cheer!
Note: I intend to give away a skein of Buffalo Gold #11, 100% American Bison in a lightweight next week, so if you win this you won't be able to win that one, too…
Why am I giving this beautiful stuff away?  Why not design with it?  Well, I DO design with it, and I have more yarn than I know what to do with!  These happen to be duplicate skeins – I have other skeins of each of these colors to use for swatching – so these are pristine, unused skeins are perfect for a little gifting!
And I feel like the buzz from a giveaway of this GREAT stuff would be more beneficial than anything else I could do.
Plus, it's my birthday*, so I can do what I want, right?
And if we get our oven fixed, I'll make myself a gluten free cake!  This has nothing to do with a yarn giveaway, but it's my secret dream for my birthday – a fixed oven!  Huzzah!
HOW TO WIN
What I'd love for you to do is tell me what you'd make with a 200 yd skein of lovely sport-weight soft-as-silk bison yarn.  It doesn't have to be real, you can make up something.  You can be goofy or silly or dead serious, whatever you want!  I will tell you that each skein is a perfect amount for some fingerless mitts or a great winter headband.
I'll announce the winners on Labor Day.
Fine Print: If you win and you live in the US, I'll send the yarn.  If you live out of the country, I'll ask you for $5 to offset the shipping.
* My birthday is next week, date indeterminate.
† My hands don't give me away.
(However, my crow's feet & grey hair do.)