The winner of the book, Pure Wool: A Guide to Using Single-Breed Yarns, is cinderellen (and I didn't even look at her blog link before I chose her, but apparently she likes cycling and knitting – she must be great!)
I hope she enjoys the book, and I hope the rest of you will check it out.  I swear, it's one of the nicest, clearest explanations on different fibers that I've seen in a while – presented VERY simply with useful patterns.  I think Pure Wool would make a tremendous holiday gift (just sayin…)
FALL
I love this time of year, not least of all because my SOLD OUT retreat is happening this weekend (I'm keeping it very small to match my reduced energy levels, but it's still 13 folks!  Do I feel some Halloween related scary 13-is-unlucky vibe happening?)
Stuff is happening here chez Modeknit – good and bad – just like life is supposed to be (and I seldom used the word "supposed")
Gerry's cancer is definitely back, Revlimid ($4000 per month – yikes!) will be started soon and we're both VERY hopeful that we'll beat this beast back yet again.  After all, we have enough stem cells for TWO more transplants, we know what we're facing, and we're a good three years beyond the original prognosis.  Every day is, indeed, a gift.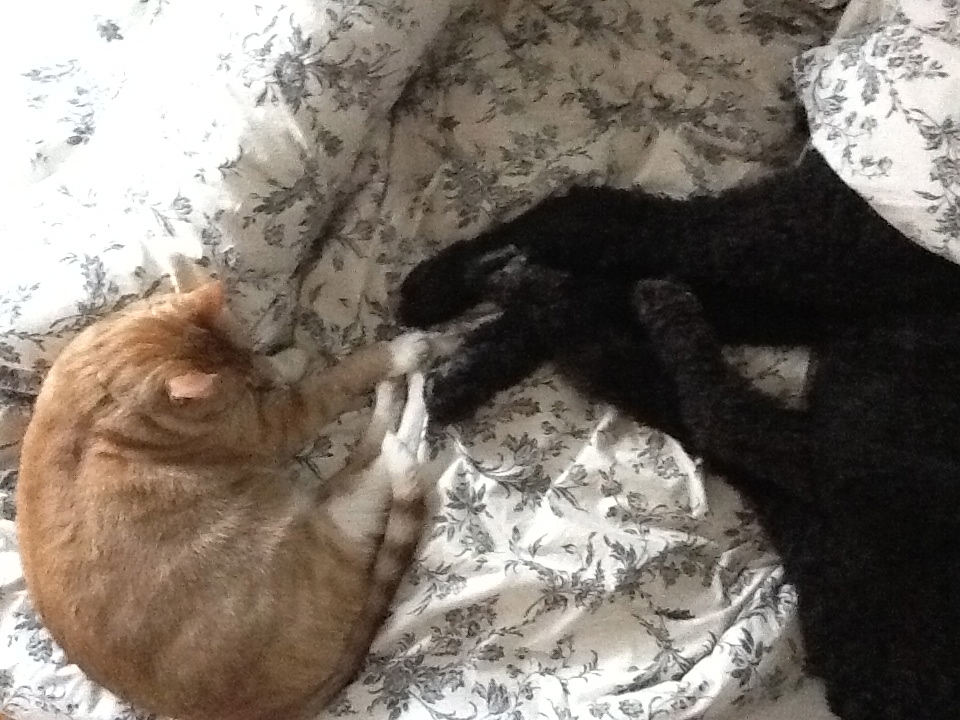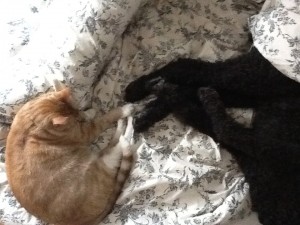 Atticus, too, is fighting the cancer beast, but his journey is probably going to be ending soon. It feels very, very odd to hold the life of a creature I love so much in my hands. I know we could ease him into a pain-free place today if we wanted, but I ALSO know how damned happy he is, how he still has moments when he frolics like a puppy, and his tail is constantly wagging.
Everyone says, "You'll know when it's time." but so far we haven't known.  Which may mean it's not yet time?